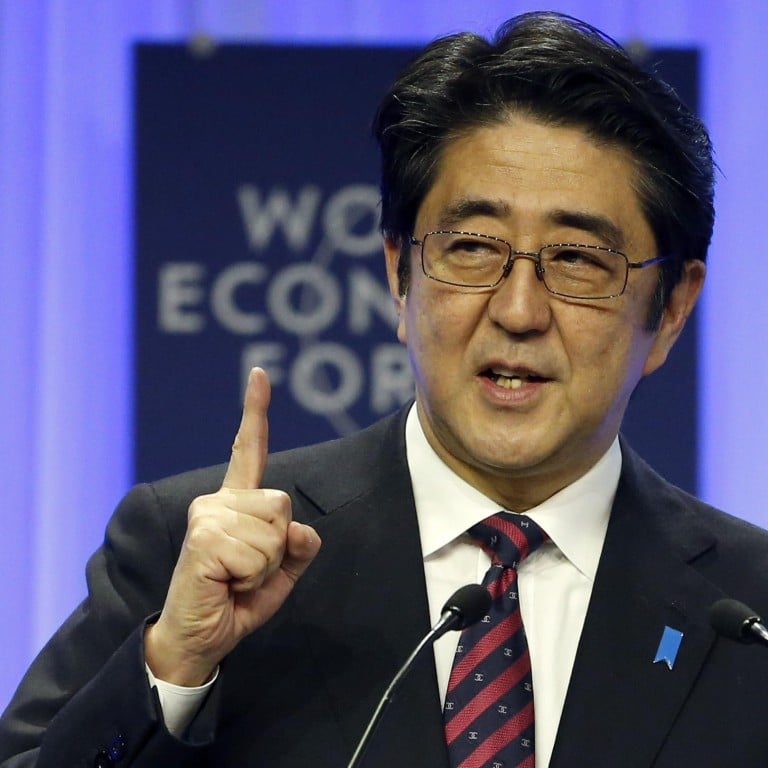 Japan PM Abe compares China-Japan rivalry to pre-war UK-Germany ties
Relations between China and Japan are like the rivalry between Britain and Germany before outbreak of conflict in 1914, prime minister says
Japanese Prime Minister Shinzo Abe compared current tensions between China and Japan to rivalry between Britain and Germany on the eve of the first world war, but his top spokesman yesterday denied the leader meant war between Asia's two big powers was possible.
Sino-Japanese ties, long plagued by what Beijing sees as Japan's failure to atone for its occupation of parts of China in the 1930s and 1940s, have worsened due to a territorial row, Tokyo's mistrust of Beijing's military build-up and Abe's visit last month to a shrine that critics say glorifies Japan's wartime past.
Abe, speaking to international journalists at the World Economic Forum in Davos, said on Wednesday that China and Japan were in a "similar situation" to that of Britain and Germany before the first world war.
Although the rivals then had strong trade ties, that did not prevent the outbreak of war in 1914, Abe said, adding that China's steady increase in military spending was a major source of instability in the region.
He also repeated Japan's call for a military hotline to avert an accidental conflict.
Yoshihide Suga, the chief cabinet secretary, said that Abe had by no means meant that war between the two Asian giants was possible.
"I don't know the specifics of the prime minister's comment," Suga told a regular news conference in Tokyo yesterday. He noted that Abe, in a keynote speech at the forum, said dialogue and the rule of law, not armed forces and threats, were needed for peace and prosperity in Asia.
"He clearly stated that endless military expansion in Asia must be curbed. I believe, in these words, he underscored the importance of peace and stability in Asia," Suga said.
In Beijing, Foreign Ministry spokesman Qin Gang said Abe was evading Japan's "history of aggression" by comparing Sino-Japanese relations to those of the UK and Germany prior to the first world war. "There's no need to make an issue of the UK-Germany relationship," Gang said. "Such remarks by Japanese leaders are to evade the history of aggression, to confuse the audience."
In his address at the Davos forum, Abe called for military restraint in the region and took a veiled swipe at China's military build-up.
"We must … restrain military expansion in Asia, which could otherwise go unchecked," Abe said. "Military budgets should be made completely transparent and there should be public disclosure in a form that can be verified."
He added that disputes should be resolved through dialogue and the rule of law, and not through force and coercion. Abe did not single out China by name.
He also defended his visit to the Yasukuni Shrine in Tokyo, which is seen by critics as a symbol of Japan's past militarism because it honours leaders convicted as war criminals along with those killed in battle.
Caroline Kennedy, the US ambassador to Japan, weighed in on the topic of wartime history in an interview published by the newspaper yesterday.
Kennedy said that the people of the world should cheer on leaders who try to overcome history to build a peaceful future, the newspaper said.
She said Japan had made a constructive contribution to the region and world and by building trust with its neighbours.
This article appeared in the South China Morning Post print edition as: Echoes of WW1 in tensions, Abe says