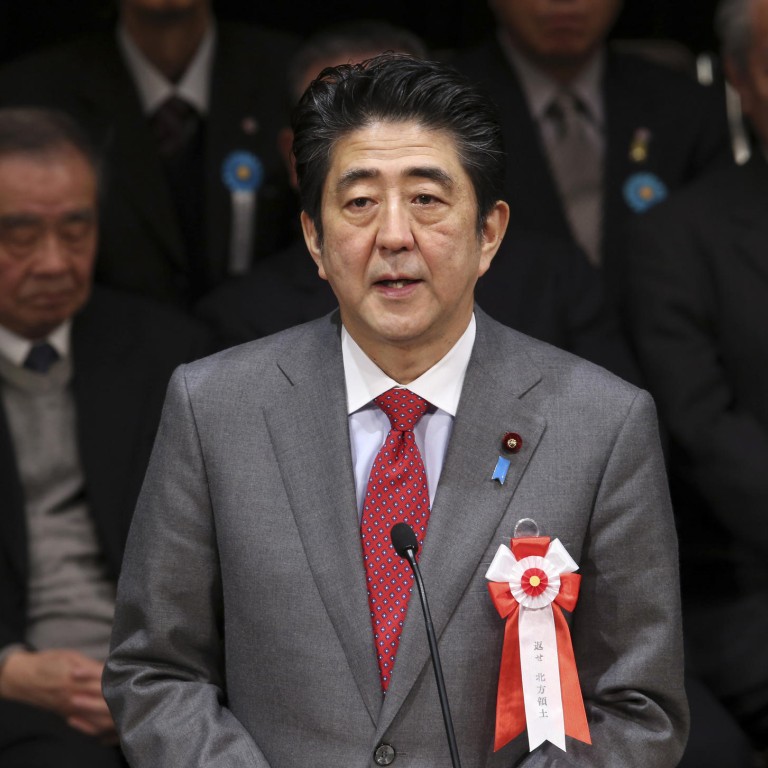 Shinzo Abe urges Japanese to take 'pride' in nation in public address
Prime minister risks stoking tensions with Seoul and Beijing but insists Japan wants world peace
Japanese Prime Minister Shinzo Abe addressed the nation yesterday on National Foundation Day to call on his country to be proud of their nation, its democratic principles and its place in the world.
The statement is only the second time Abe has addressed the Japanese public on a national holiday in the more than two years he has served as prime minister, over two terms.
Significantly, according to Jun Okumura, a visiting scholar at the Meiji Institute for Global Affairs, the previous occasion was on the Ocean Day national holiday in 2013, when Abe called for measures to protect the nation's territory. The message on yesterday's national holiday similarly reflected his world view, analysts said.
"The duties incumbent upon us are to express deep respect for the efforts of those who have gone before us, to develop further this peace and prosperity and pass it down so that the next generation can also live their lives with peace of mind," the prime minister's statement said.
"We will at the same time play a proactive role in addressing international issues and go forward as 'a Japan that has pride,' which brings about world peace and stability," he said. "As we observe National Foundation Day, I feel keenly once again the responsibility to make the nation we love, Japan, a more beautiful nation that has pride, and I have renewed my determination in this regard."
Abe's comments are likely to be leapt upon by China and South Korea as another example of the Japanese leader's nationalist credentials, and Okumura said he was "a leader who believes in the glory of the Japanese state".
"This will of course be a red flag to anyone who wants to see it that way," Okumura said.
"But that really ignores what Japan is doing," he emphasised. "Despite large amounts of money being spent on the military here, Japan's Self Defence Forces are unlike any other military in the world. They are truly unfit for aggression."
This article appeared in the South China Morning Post print edition as: Abe urges nation to take pride in 'beautiful' Japan