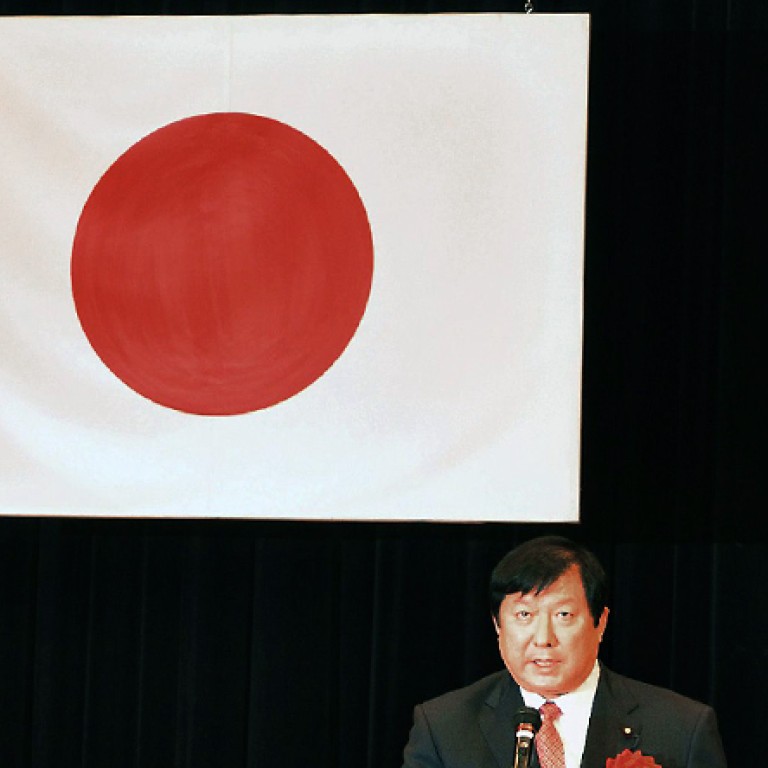 Seoul protests Tokyo's honouring of 'incorporation' of disputed islets
Seoul furious after more than a dozen Japanese lawmakers commemorate annexation of islands at centre of long-running territorial dispute
South Korea has lodged a protest with Japan over a ceremony held to commemorate the Japanese "incorporation" of islets at the centre of a territorial dispute between the two countries.
The protest to Hisashi Michigami, minister at the Japanese embassy in Seoul, followed the event in Matsue, the capital of the western Japan prefecture of Shimane, on Saturday, attended by Yoshitami Kameoka, parliamentary secretary with the central government's Cabinet Office. More than a dozen lawmakers also attended.
The annual ceremony relating to the islets, known as Dokdo in South Korea and Takeshima in Japan, has been held by the Shimane prefectural government since 2006, after the local government designated February 22 as Takeshima Day in 2005, 100 years after a Japanese cabinet decision to confirm the country's claimed sovereignty over the islets in the Sea of Japan, which is known as the East Sea in South Korea.
The South Korean Foreign Ministry condemned the event attended by government officials as a "provocation".
"Japan today conducted a provocative action by holding the event making such absurd claims, even attended by central government officials," South Korean foreign ministry spokesperson Cho Tai-young said.
"We will continue to strive to let the whole world know about Japan's retrogressive moves by joining hands with the international community and many honest Japanese people."
On the same day in Seoul, more than 200 South Koreans from two different groups took turns in staging protests outside the Japanese embassy, shouting slogans and waving banners.
They also demanded Japan apologise for its past wrongs and that its leaders stop visiting the Yasukuni shrine that commemorates Japan's war dead, including top war criminals.
Some 100 South Koreans, who have moved their home addresses to Dokdo, urged Japan to scrap "Takeshima Day" and stop attempts to encroach upon South Korea's territory.
Japan's chief cabinet secretary, Yoshihide Suga, on Friday defended Japan's claim to the islets, saying that Kameoka's attendance at the rally was aimed at stressing the Japanese stance on the issue.
"Takeshima is an integral part of our country," he said.
In its protest, South Korea's foreign ministry was also believed to have had taken up the issue of "comfort women", amid a move in Japan to re-examine testimony by South Korean women that led Tokyo to officially apologise in 1993 for the forcible recruitment of those women into sexual servitude during the second world war.
During a Diet committee session on Thursday, Suga said Japan would set up a task force to re-examine the testimony of the former "comfort women" after Nobuo Ishihara, the deputy chief cabinet secretary in 1993, admitted at the same parliamentary session that the government at the time did not verify the statements by the South Korean women.
Relations between the two countries have been strained by the territorial dispute and other issues arising from Japan's 1910-1945 colonial rule over the Korean peninsula. Tensions were further strained in 2012 following a surprise visit by then South Korean president Lee Myung-bak to the island chain. Tokyo is embroiled in separate territorial spats with China and Russia. Japan's premier has yet to hold a summit with South Korean President Park Geun-hye since she took office in December 2012.
US Secretary of State John Kerry called for the two US allies to mend ties during his visit to Seoul last week, saying that South Korea and Japan could "put history behind and move relations forward". His remarks came ahead of President Barack Obama's trip to Asia in April. Following Kerry's visit, foreign ministry officials from South Korea and Japan held talks in Seoul. South Korea's foreign ministry played down the meeting's importance.
This article appeared in the South China Morning Post print edition as: S Korea protests 'Takeshima' ceremony