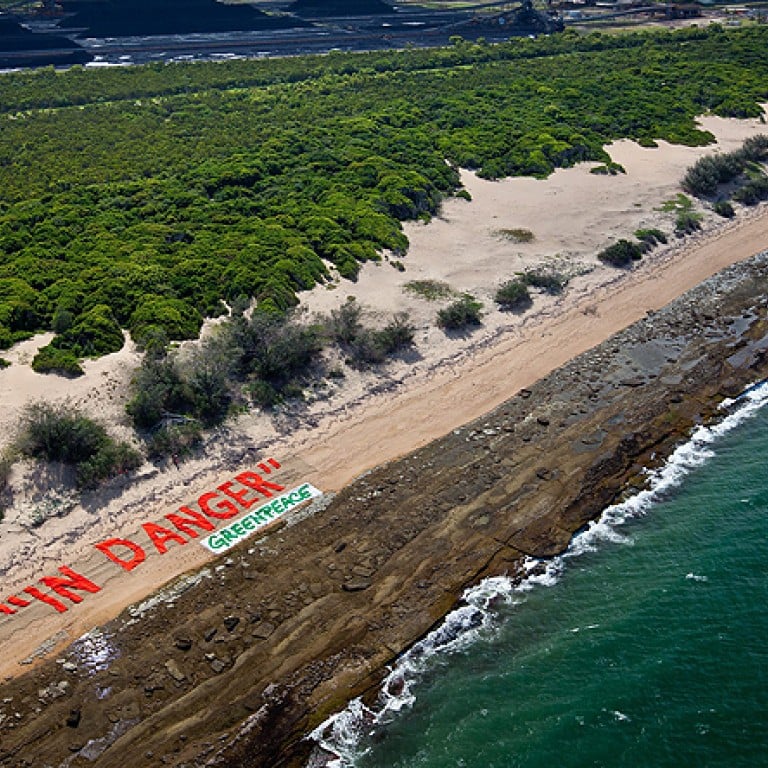 Green group fights sand dump permit near Australia's Great Barrier Reef
Activists campaign against Great Barrier Reef Marine Park Authority decision to grant permit allowing dumping of millions of cubic metres of sand near the Great Barrier Reef
Environmentalists launched an appeal on Thursday to overturn a permit granted for an Australian coal port to dump millions of cubic metres of sand near the Great Barrier Reef, arguing it fails to protect the World Heritage Site.
An independent agency charged with protecting the reef granted a permit in January for 3 million cubic metres of soil dredged up at the port of Abbot Point to be dumped about 25km from the reef.
The approval by the Great Barrier Reef Marine Park Authority (GBRMPA) sparked outrage among green groups opposed to coal expansions and fighting to protect the reef, as well as marine tourism operators, who help generate US$5 billion a year.
The North Queensland Conservation Council filed a challenge to the permit at the Administrative Appeals Tribunal in Brisbane on Thursday.
The port is being expanded for US$16 billion worth of coal projects planned in the untapped Galilee Basin by two Indian firms, Adani Enterprises and GVK, and Australian billionaire Gina Rinehart, projects actively opposed by Greenpeace.
The reef authority's decision to grant the permit came a day before the Australian government sent a report about the reef to Unesco that said: "There has been a serious decline in hard coral cover in the southern two-thirds of the region."
The marine park authority defended the decision saying the dump location was just seabed, with no coral or seagrass in the area, and limited North Queensland Bulk Ports Corp, operator of Abbot Point, to dumping only 1 million tonnes of soil a year.
"With GBRMPA and federal and state governments determining only last year that the condition of the inshore Great Barrier Reef World Heritage Area south of Cooktown is 'poor and declining', this decision to allow the dumping of dredge spoil is shocking and bewildering," North Queensland Conservation Council co-ordinator Wendy Tubman said in a statement.
Unesco awarded the reef its heritage listing and raised concern in 2011 about port expansions further south at Gladstone for three multibillion-dollar gas projects. It is due to decide in June whether to put the reef on the "in danger" list or possibly drop it from the listing.
North Queensland Bulk Ports Corp says the sand dumping will be far from any coral or seagrass beds along the reef, which covers an area larger than the United Kingdom, the Netherlands and Switzerland combined.
It says dredging is not the main cause of harm to the reef, pointing to a 2012 report by the Australian Institute of Marine Science that found that 48 per cent of the damage was caused by tropical cyclones, 42 per cent by the crown-of-thorns starfish, and 10 per cent from bleaching.
Water pollution from farm run-off has been blamed for spawning population explosions of crown-of-thorns starfish.