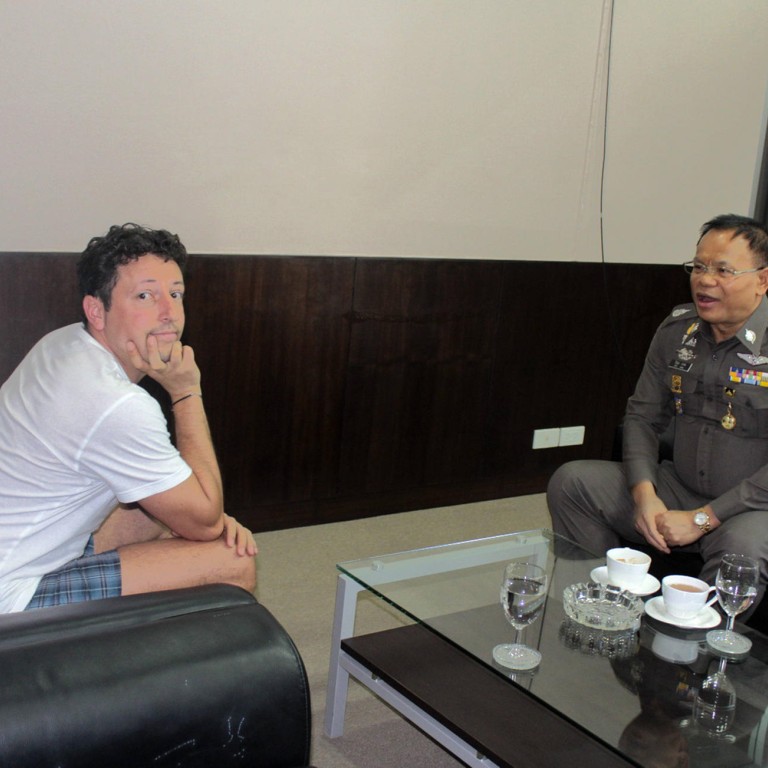 Passport used on lost Malaysia Airlines flight traced to bizarre theft in Phuket
Luigi Maraldi, the Italian man who was named as one of the 239 people on board the missing flight, has spoken of the bizarre circumstances in which he lost his passport last year while on holiday in Phuket.
Luigi Maraldi, the Italian man who was named as one of the 239 people on board the missing flight, has spoken of the bizarre circumstances in which he lost his passport last year while on holiday in Phuket.
A man on the flight from Kuala Lumpur to Beijing is missing, presumed dead, after apparently using the 37-year-old Italian tourist's passport. A second man on the flight used the same name as 30-year-old Austrian Christian Kozel, who lost his passport in Phuket in 2012.
Interpol said last night that no country had checked its database about the two stolen passports before the flight.
Maraldi returned to Phuket on holiday again this year and Phuket police traced him to an apartment in Patong.
They spoke to Maraldi yesterday at police headquarters, where he said he had lost his passport last year at a Patong motorcycle rental shop.
The shop owner told him that she had given his passport to an Italian man who "said Mr Maraldi was his husband".
The incident on Phuket is likely to renew criticism of the way passports are still being used as collateral for renting vehicles, despite diplomats' objections.
Maraldi said the passport disappeared on July 22 last year and he went to police on July 25 to report it missing. He flew back to Italy on a temporary travel document on August 3.
"I really don't have much to add," he said yesterday.
"I am not an expat who lives on Phuket. I have come and gone as a tourist."
Maraldi said he first learned about the disappearance of the Malaysia Airlines aircraft when his family called him to check whether he really was the Luigi Maraldi that Italian officials told them had been on the flight.
The men who disappeared on the flight using the identities of Maraldi and Kozel bought the flight tickets through China Southern Airlines, a Malaysia Airlines codeshare partner. One planned to travel on from Beijing to Copenhagen, while the other was headed for Frankfurt.
Malaysian Transport Minister Hishamuddin Hussein said authorities were also checking the identities of two other passengers and that help was also being sought from the FBI in the US. However, a terror attack was only one of the possibilities being investigated.
One US Department of Homeland Security official told the : "Just because they [the passports] were stolen doesn't mean the travellers were terrorists.
"They could have been nothing more than thieves. Or they could have simply bought the passports on the black market."
Former Australian honorary consul Larry Cunningham, who retired from his Phuket posting in September and has yet to be replaced, said: "In my time as consul, passport thefts did occur. You could even say it was a regular occurrence.
"Some passports were certainly lost, falling out of pockets or being genuinely misplaced.
"But there were also substantial incidents of passports being stolen."
Cunningham said he recalled being told at a conference in Hanoi that when thieves broke into hotel rooms "they will often take passports first because they can be sold on the black market".
HK passoprt checks
The Hong Kong Immigration Department has measures in place to prevent any stolen or lost passport being used, a spokesman for the department said yesterday.
An SAR passport would be cancelled immediately once the department has been notified of theft or loss, he said.
The department will send "the stolen-passport information to law enforcement agencies including the police", he said.
"We will also inform some embassies here as they require us to inform them about stolen passports," he added.
In a warning last month, Interpol's secretary general, Ronald Noble, said terrorists and criminals were increasingly using stolen passports to avoid detection when planning or committing crimes.
Noble said there was "tension between ensuring identity checks to identify criminals, while at the same time guaranteeing that these checks do not infringe on the rights of the public".
The Immigration Department spokesman added: "We keep the stolen-passport information on our computer. We also keep the stolen-passport information of any foreign passport holders [who have reported theft or loss in Hong Kong]."
He said staff at the airport or other border checkpoints would verify the photo on the passport with the traveller's face. It would also check if the passport was on the stolen list.
Anyone in possession of a stolen or lost passport faces a maximum fine of HK$150,000 and 14 years in jail, he said.
This article appeared in the South China Morning Post print edition as: Passport traced to bizarre theft in Phuket