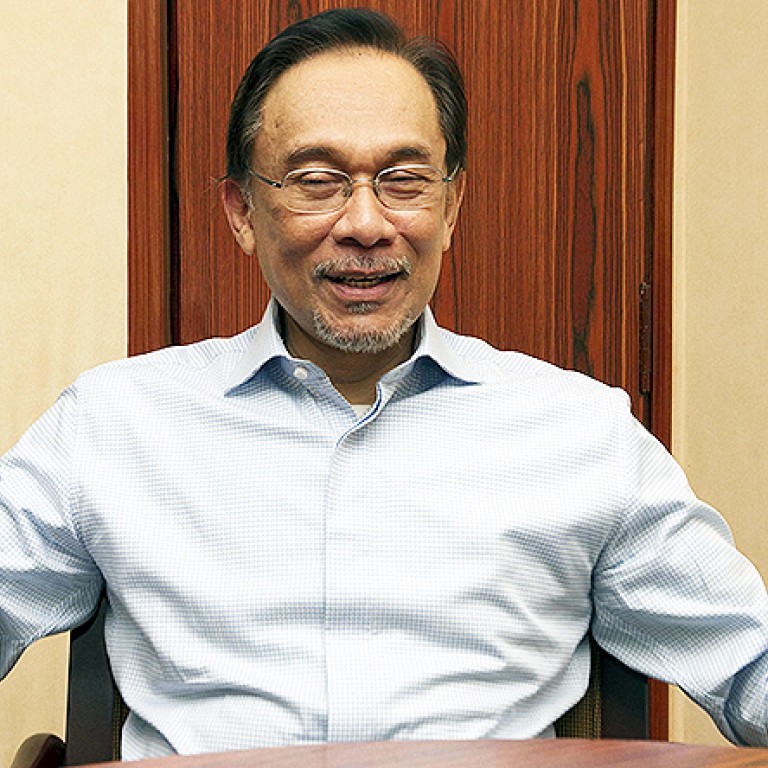 Top politician Anwar Ibrahim denies link to captain of missing Malaysia Airlines jet
Anwar Ibrahim reveals he saw pilot at party meetings but didn't know him personally, as he accepts China's criticism over handling of hunt
Malaysian opposition leader Anwar Ibrahim had seen the captain of the missing Malaysia Airlines plane at meetings of his political party, he told the South China Morning Post yesterday.
But he did not know him personally and criticised attempts to link the captain's political affiliations to the plane's disappearance 10 days ago.
He also said China's condemnation of Malaysia's handling of the search for the Boeing 777 was "absolutely justified".
Flight MH370 lost contact and disappeared from civilian radar screens less than an hour after it took off from Kuala Lumpur on March 8 under the command of pilot Zaharie Ahmad Shah. There were 239 passengers and crew on board, including 154 Chinese.
"I don't recollect the name, but when the photographs were shown I remembered I had seen him at party meetings," Anwar said of Zaharie at the headquarters of his People's Justice Party outside Kuala Lumpur. "He doesn't hold positions in the party, but is an active member in the sense that he has been seen with the party's parliamentary leaders, taking photographs with them," Anwar added.
He said they had had no personal contact, but said Zaharie was a follower of his Twitter account. Hours before the plane took off on its doomed flight to Beijing, Anwar was sentenced to five years in jail after a Malaysian court overturned his 2012 acquittal on a sodomy charge.
Watch: Last words from missing Malaysian jet spoken by co-pilot
But there is no evidence to suggest Zaharie was responsible for the plane disappearing in reaction to the ruling.
Malaysia says "deliberate action" in the cockpit led to the flight's disappearance and police have searched the homes of Zaharie and First Officer Fariq Abdul Hamid. But little has emerged to implicate either man.
Watch: Hunting MH370: A needle in a growing haystack
Attention on Zaharie has focused on his support for Malaysia's opposition and the flight simulator he built in his home.
Initial investigations showed it was Fariq who spoke the last words - "All right, good night" - to Malaysian air traffic controllers, acting transport minister Hishammuddin Hussein said yesterday. He also said both pilots had passed psychological tests.
Anwar said he thought the government was deploying its media to associate the missing plane with him. He said "they really should be focusing on carrying out transparent and objective investigations, instead of aligning it with me".
Beijing has demanded that Malaysia increases its efforts to find the missing plane and said there was "too much confusion" in the information released.
Anwar said Chinese officials he had met were all "extremely polite". But he added: "In this case, they lost their patience and came out with a stinging statement against the Malaysian government's lack of transparency.
"It is absolutely understandable for the Chinese to express anger and even disgust."
He added that Beijing spent millions of dollars on a search of the South China Sea when the plane had turned the other way.
"Feeling angry is absolutely justified, especially with so many of its nationals on board."
This article appeared in the South China Morning Post print edition as: Anwar rejects link to captain of lost plane