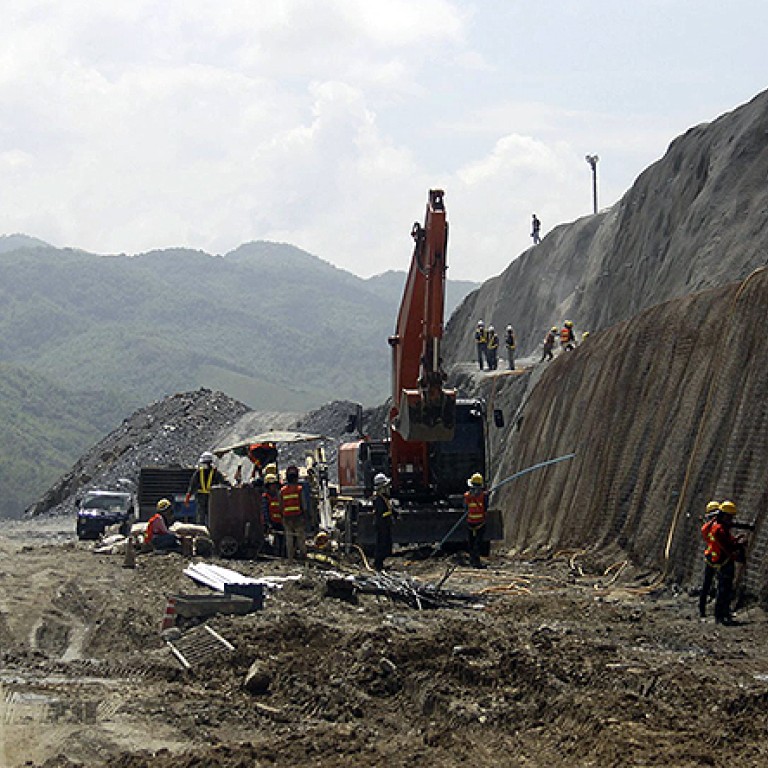 Experts renew quake fears over Xayaburi dam on Mekong River in Laos
Thai geologist notes the massive barrage on the Mekong lies close to fault zones; contractor insists seismic guidelines are being followed
Earthquake experts have renewed concerns about the potential for a seismic disaster hitting the massive Xayaburi dam, which is well under construction on the Mekong River in a quake-prone location in Laos.
Geologist Dr Punya Charusiri of Chulalungkorn University in Bangkok said: "The Xayaburi dam poses a potential danger because there are active faults close to the dam site."
Dr Punya said there was a 30 per cent chance of a medium-sized earthquake hitting the dam site in the next 30 years, and a 10 per cent chance of a powerful earthquake of up to magnitude 7. He said: "If the fault at the dam site becomes active … there is no chance for seismic engineering to take care of that."
He also said construction should "never have started" at such a site without further research into its seismic risk, although the dam's builders say it already complies with all earthquake safety rules.
There have been a series of earthquakes near the project site in recent years, and Dr Punya's warning comes after Phnom Penh expressed concerns about the earthquake risk at Xayaburi to the Laotian government in 2011.
In 2011, two quakes hit 48 kilometres from the dam site, one of 5.4 magnitude and one of 4.6. A month later a quake of 3.9 occurred 60 kilometres from the site. In 2007, a 6.3-magnitude quake hit the Xayaburi area.
Further away, in northern Myanmar, a 6.9 magnitude quake on March 24, 2011 killed 151 people.
Dr Punya said the quakes near Xayaburi occurred on what were thought to have been inactive faults, "an unusual development and one that causes additional concern".
The dam is being built by Swiss-based Poyry Energy and Thai company CH. Karnchang. They insist the dam will be safe.
Poyry Energy's general manager, Dr Martin Wieland, said seismic hazards at Xayaburi had been thoroughly studied and all aspects of the dam's construction were in accordance with seismic design guidelines prepared by the International Commission on Large Dams (ICOLD).
However, researchers at Chulalungkorn University used remote sensing techniques to identify two active faults nearby, one 60 kilometres from the site and one 20 to 40 kilometres away.
Dr Punya said: "The company should never have started construction of the dam on a fault, before the research into the seismic danger had been completed."
The government of Laos officially launched the Xayaburi dam project in November 2012, despite protests from the downstream nations of Cambodia and Vietnam, scientists and a host of NGOs. Critics fear the dam's environmental impact, as well as the risk posed to food production by massively reducing fisheries and the loss of sediment that would affect soil fertility and agriculture.
Te Navuth, secretary general of Cambodia's National Mekong Committee, said: "An independent and specialised research team must assess the risk of earthquakes and dam safety."
The Mekong River Commission, an advisory body with representatives from nations along the river, made several requests for information on dam safety management before the Laotian government last month released a "probabilistic seismic hazard assessment". Thirty per cent of the dam has already been built.
The US$3.5 billion hydropower project, which will sell energy to Thailand, is scheduled for completion in 2019.
Poyry Energy's Asia director, Knut Sierotzki, recently said "all relevant guidelines from ICOLD were followed by the design engineer to ensure the safety of such a large hydraulic structure".
Critics say the ICOLD is not an independent research body, but a forum for the dam engineering lobby largely funded by hydropower companies. Poyry's Dr Wieland is also chairman of the committee on seismic aspects of dam design for the ICOLD.
Last week the Vietnam Rivers Network, a group of NGOs based in Vietnam, called for the immediate suspension of the Xayaburi dam project, citing risks to fisheries, food security and livelihood.
This article appeared in the South China Morning Post print edition as: Experts flag quake fears at Laos dam