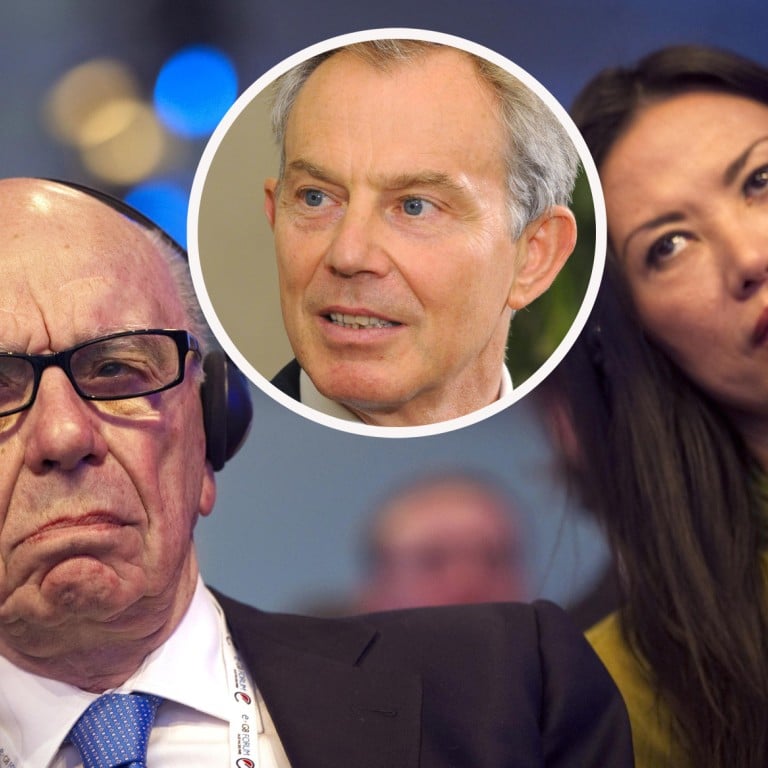 Wendi's rumoured affair with Tony Blair led to my divorce, Rupert Murdoch says
Media tycoon also confirms report the alleged dalliances may have occurred at his California mansion
Australian American media mogul Rupert Murdoch has admitted that his ex-wife Wendi Deng's rumoured affair with former British prime minister Tony Blair led him to divorce Deng after 14 years of marriage.
In an interview with magazine, the 83-year-old founder, chairman and CEO of News Corporation also confirmed the existence of a note in which she allegedly gushed to herself about Blair's physique and "piercing blue eyes". It was published by magazine last month.
Murdoch said he was "shocked" by the diary, which he said was only shown to him after he filed for divorce from Chinese-born Deng, his third wife.
"I regret the whole thing," he said. "I wish we just could have got divorced quietly."
"Whatever why I'm so so missing Tony. Because he is so so charming and his clothes are so good. He has such good body. Also I love his power on stage … and what else what else and what else," the note continued, in broken English.
Murdoch said his marriage dissolved after the magazine reported rumours that Deng and Blair had allegedly conducted an affair at the press baron's Carmel, California ranch.
"Well, you know, everybody was talking about these things and never telling me anything," he said.
"I don't really want to go into this. But then I was told two pretty circumstantial things about the ranch.
"I was in Australia. When I got back, I naturally asked the staff, and it opened up. That's the story. And then, you know, a week later I filed [for divorce]. As soon as I could find a lawyer."
The new details were part of a  question-and-answer piece about his life and business empire that spans television, newspaper and website holdings.
The Yale-educated Deng, 45, met the Australian-born Murdoch while interning at his subsidiary Star TV in Hong Kong. Blair is godfather of one of their two young daughters.