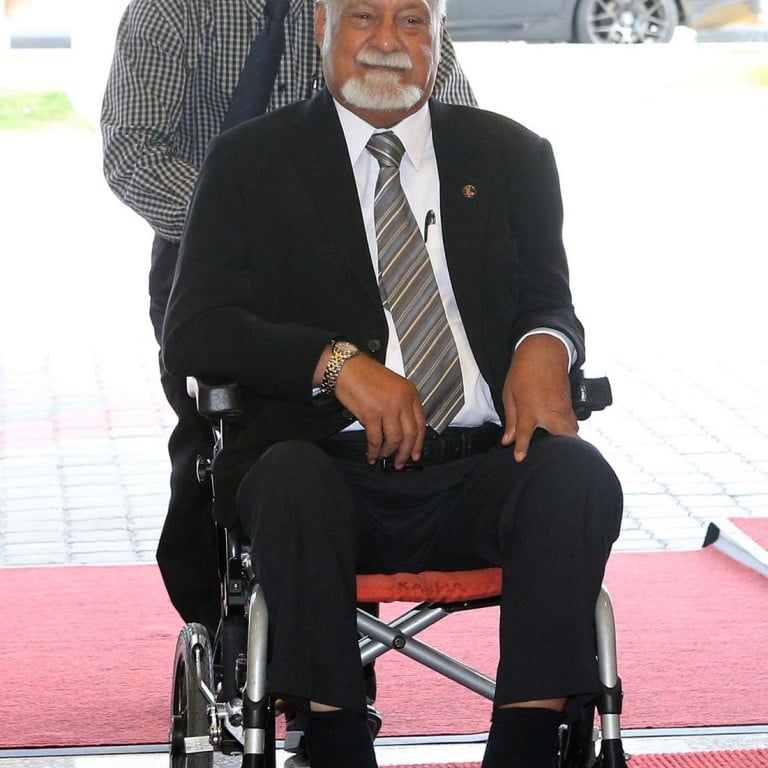 Disability did not stem the resolve of the 'Tiger of Jelutong', Karpal Singh
Campaigner argued some of Malaysia's highest-profile legal cases
A road accident in 2005 left Karpal Singh using a wheelchair and with neuromotor problems in his right arm.
But the "fearless tiger" of Malaysian politics and the law kept up his four-decade campaign for human rights. He took up some of the country's most high-profile court cases, from opposition leader Anwar Ibrahim's sodomy trial to those of drug traffickers facing the death sentence.
Media reports said Singh was headed to a court hearing in northern Penang state yesterday when he was killed in a car crash. He was 73.
"A good lawyer dies in the saddle. The same applies equally to a politician. They should work to the last," Singh said last year. Just last month he was found guilty of sedition and fined for publicly questioning the decision of an influential state ruler to remove a minister. He was appealing that decision, which could have seen him suspended from parliament.
His physical disability did not stop him from taking on controversial legal cases, including representing a Mongolian interpreter's family who sued the government in 2007 over claims she was murdered by Malaysian police.
The then prime minister, Abdullah Ahmad Badawi, pledged there would be no cover-up in the case. (An analyst accused of abetting the murder had worked for then deputy premier, now premier Najib Razak.)
Born on June 28, 1940, Singh started his law firm in 1970 after graduating from the National University of Singapore. In the same year, he joined the Democratic Action Party (DAP) - of which he later became chairman - after deadly racial riots prompted him to fight for racial unity.
Singh entered parliament in 1970 after winning the Jelutong seat, where his reputation as a fierce lawyer earned him the nickname the "Tiger of Jelutong".
The eight-term member of parliament also defended many people on death row. In 1977, he persuaded the king to pardon a 14-year old sentenced to death for possession of a firearm. He defended Australians Kevin Barlow and Brian Chambers, the first foreigners executed for drug trafficking in Malaysia in 1986.
Singh, and many other opposition politicians, were detained without trial under a harsh security law in October 1987 on allegations of inciting racial tensions. Amnesty International deemed him a prisoner of conscience. He was released in January 1989.
DAP secretary general Lim Guan Eng, who was held at the same time as Singh, recalled their time in detention.
"I had the honour of spending time in the same detention dormitory with [Singh] in Kamunting Detention Camp and he suffered from severe back pains but he refused to yield," said Lim. "With his passing, the DAP has lost an upstanding and outstanding leader, the nation has lost a brilliant legal mind, and the people have lost a fearless tiger with an indomitable spirit who stood up for the poor, weak, defenceless and disposed," Lim added.
Muslim scholar Chandra Muzaffar, a former opposition politician who fell out with Singh some 10 years ago, remembers him as the man who defended him in 2000 in a contempt-of-court case over a public statement supporting Anwar.
Singh won an acquittal for Chandra and refused to accept any money from him.
"I wanted to compensate him but he refused to take my money. I was acquitted thanks to Karpal's skills as a lawyer," says Chandra.
Singh is survived by a wife, five children and grandchildren.
This article appeared in the South China Morning Post print edition as: Disability did not stem the resolve of the 'Tiger of Jelutong'