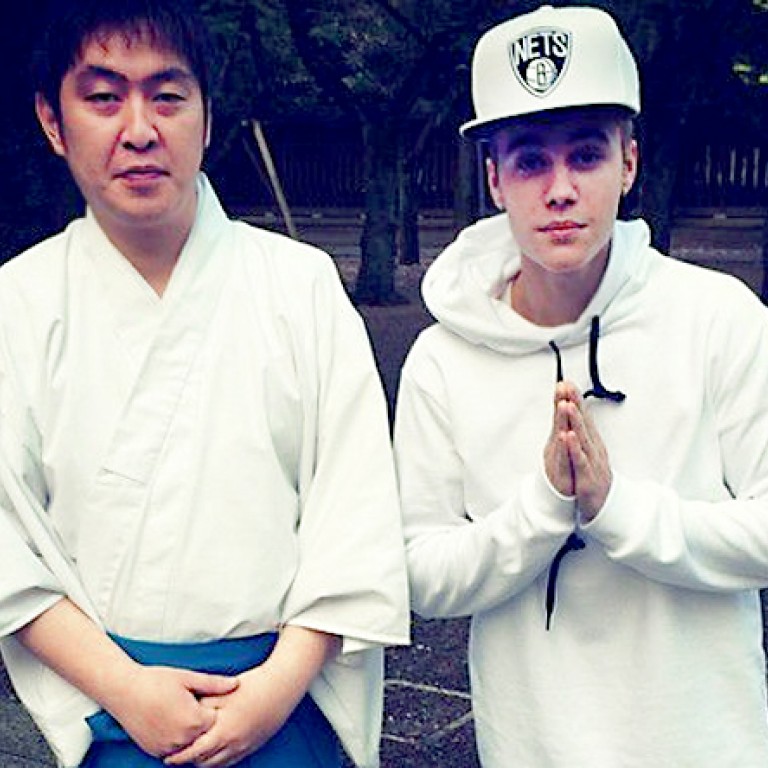 Update
'I am extremely sorry': Justin Bieber apologises after visit to Japan's Yasukuni war shrine
Canadian pop star visits controversial site just days after Japan lawmakers' visit and PM Shinzo Abe's offering caused uproar
Teenage heartthrob Justin Bieber tonight apologised for posting photos of himself visiting Japan's controversial Yasukuni Shrine earlier in the day. 
The photos courted a fresh round of controversy for the singer, infuriating many Chinese and South Koreans.
"While in Japan I asked my driver to pull over for which I saw a beautiful shrine. I was misled to think the Shrines were only a place of prayer," The singer wrote on his instagram post.
"To anyone I have offended I am extremely sorry. I love you China and I love you Japan."
Loved and loathed in equal measure, the Canadian star was in Japan on holiday with his mother, despite being due in a Miami court this week on charges of driving under the influence of alcohol.
His poorly timed holiday snaps came just days after some 150 Japanese lawmakers sparked outrage by visiting the Tokyo shrine, which critics slam for including the names of 14 Class-A war criminals among its war-dead. Prime Minister Shinzo Abe had stayed away from visiting the shrine this year and instead sending an offering.
Bieber's pictures immediately caused a storm of outrage as they were shared on social media sites, with many Chinese and South Koreans launching attacks.
Two photos were later deleted from Bieber's Instagram account.
One photo, of him standing in front of the shrine with an unidentified man, was captioned, "Thank you for your blessings". Another, where Bieber also posted, "Good morning" with a photo of him posing with a man in traditional Japanese clothing.
Foreign Ministry spokesman Qin Gang, when asked if he hurt the feelings of Chinese people, responded that Bieber should learn more about the history of Japanese militarism.
"I don't know the political stance of this Canadian singer, but China's view on Japanese leaders visiting the Yasukuni Shrine is clear and consistent," Qin said.
"I hope this singer can learn more about the history of Japanese militarism, and the wrongful historical and militaristic views promoted by the shrine after the visit," Qin added.
"The Yasukuni shrine is dedicated to [those who] killed countless Chinese   ... Japanese planned Nanjing massacre killed tens of thousands of people [in] China. Please face up to history. As a Chinese ... I am so sad that you visited the Yasukuni Shrine," one Bieber fan wrote in the comments.
"Say sorry to [the] Chinese," another wrote.
The visit was not Bieber's first cultural faux pas.
After visiting the Anne Frank Museum in Amsterdam last April, the singer wrote in the guestbook that the Holocaust victim would have been a fan. "Truly inspiring to be able to come here. Anne was a great girl. Hopefully she would have been a Belieber."
Last October, the now 20-year-old celebrity incensed Chinese fans when a video of him touring the Great Wall of China while being carried by his body guards was leaked online.
On January 23, he was arrested for suspicion of driving under the influence, driving with an expired licence and resisting arrest without violence. Toxicology reports showed traces of marijuana and the anti-anxiety medication Xanax in his system.
This article appeared in the South China Morning Post print edition as: Justin Bieber sparks controversy with Yasukuni Shrine holiday snaps