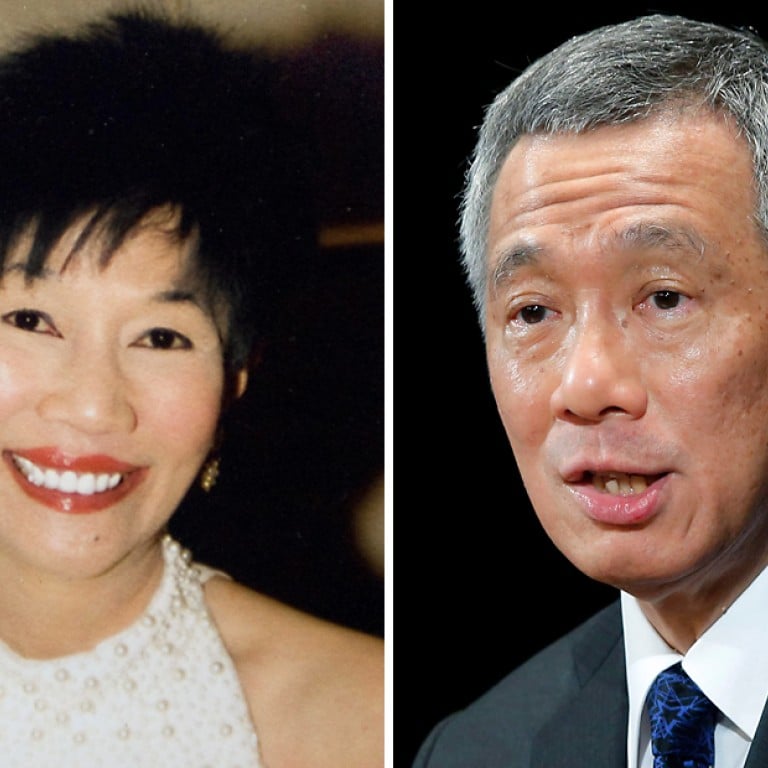 Singaporeans 'no longer trust their government': Writer Catherine Lim criticises PM in open letter
Singaporeans no longer trust their leaders, says writer Catherine Lim in open missive to Lee Hsien Loong that fuels social media debate
An open letter to Prime Minister Lee Hsien Loong, written by one of Asia's most iconic personalities in the field of literature, is spreading fast on social media, with many leaving comments on her blog thanking her for speaking up while others are sceptical.
Dr Catherine Lim is a well-known and prominent writer in the region, having published numerous novels and collections of poetry and short stories as well as political commentaries.
Her books have been used in government schools for literature studies. The award-winning Singaporean writer was made a Knight of the Order of Arts and Letters by the French government and received an honorary doctorate of literature from Murdoch University in Australia.
In her open letter, she claimed that Singaporeans "no longer trust their government and the government no longer cares about regaining their trust".
Lim, who is in her early 70s, said there were clear signs of a trust issue. She cited the recent case of graffiti at a public housing block that was targeted at the ruling People's Action Party (PAP) as well as the rising number of protests and the increased online criticism, among other examples.
The Malaysian-born author said the government had put in a lot of effort to improve the lives of citizens but warned that the better-educated internet generation demanded more.
She heavily criticised Lee's recent defamation suit against Roy Ngerng, a young blogger who allegedly accused the prime minister of misappropriating state pension funds. While supporters say the defamation suit is crucial to ensure Singapore does not embrace a culture of slander and libel, critics insist it will harm the image and reputation of Lee and his party, especially since the case is being pegged as a David-vs-Goliath duel.
International rights advocates have often chided the Singaporean government for using the threat of defamation suits as a way of stifling opposing voices.
"When Mr Lee Kuan Yew liberally used the defamation suit against his critics, one of the reasons he gave (if I remember correctly) was that he wanted to punish them for implying government corruption, and thus eroding the trust of the people, which he said was necessary for the government to do its work," Lim wrote.
"Today, in a twist of supreme irony that would have incensed Mr Lee, Singaporeans see the defamation suit itself, and not the act that has entailed it, as the very cause of the erosion of trust.
"A few more applications of this once-effective instrument of control, even if legally justifiable, would surely damage the PAP cause further, in the highly charged atmosphere of the new Singapore."
Even though it won the 2011 general election, the PAP suffered its worst performance since independence in what many observers have termed a watershed election. Since then, the government has faced criticism from citizens complaining about overcrowded public transport, plans to bring in more foreign workers and the rising cost of living.
Over the years, Lim has written many commentaries addressing sociopolitical issues, surprising many with her bravado.
"Thank you Catherine for speaking up and sharing your view, for being an eloquent voice and for remaining constructive," said a blog reader named Markus. But while many left positive comments on her blog, some attacked her for writing the letter.
"If you think being a prime minister is so easy, why don't you go ahead and run for the position?" asked a commentator who posted his name as Jason Chua.
"It is easy to complain, complain, complain … but can't you see that the government is already doing its best?"
Lim is no stranger when it comes to ruffling political feathers. In September 1994, one of her controversial commentaries, "The PAP and the people - a great affective divide", was published by , the country's main English-language broadsheet. The op-ed piece claimed that while citizens respected the PAP, there was little affection towards the party.
Two months later she wrote another damning piece. The staunch PAP critic was then rebuked by the prime minister at the time, Goh Chok Tong.
In his book , author Tom Plate, a former editorial director with the and acclaimed syndicated columnist, wrote: "By fax I asked him [Lee Kuan Yew] to offer some self- criticism.
"He referred me to Catherine Lim."
This article appeared in the South China Morning Post print edition as: Letter to P.M. stirs both fans and critics