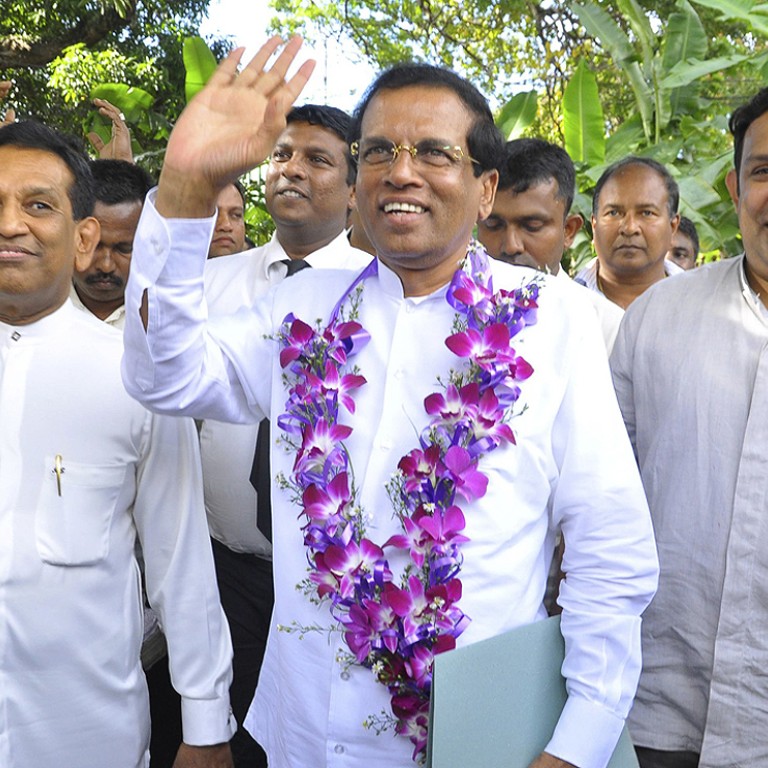 Sri Lanka ruling party in purge ahead of snap polls
President Mahinda Rajapaksa faces unexpected challenge from former health minister Maithripala Sirisena in election called two years early
Sri Lanka's ruling party was set for a purge on Saturday after a senior minister declared he was challenging President Mahinda Rajapaksa in snap elections called for January.
Rajapaksa's Sri Lanka Freedom Party (SLFP) suspended members who pledged support to health minister Maithripala Sirisena who on Friday defected and became the main opposition leader to run against the president.
The five senior party members, including Sirisena, the long-standing general secretary of the SLFP, were stripped of their posts, the government information department said.
"About a dozen MPs [in the SLFP] have been identified as potential defectors," an official close to President Rajapaksa said, asking not to be named. "Action will be taken against them," he added.
But to kick out the dissidents, they will have to be formally expelled from the ruling party.
The official said a new party general secretary had been appointed and changes were being made at the regional level to repair damage caused by the dissidents to the party's operations.
Sirisena, 63, accused his former boss of running a corrupt and a dictatorial administration and said he was confident of toppling him.
"He projects himself as virtuous, but he leads a dictatorial regime," said Sirisena, who also accused the president of nepotism and corruption.
Fisheries minister Rajitha Senaratne, who is supporting Sirisena, said the ruling party was split and he expected "many more" to jump ship.
"The SLFP is divided. They can't suspend or sack us from the party without due process," Senaratne told reporters.
"There will be more MPs joining our campaign to restore democracy and rule of law."
However, he said the dissidents were unlikely to block the national budget that comes up for a final parliamentary vote on Monday.
Rajapaksa called the election two years ahead of schedule in an apparent bid to seek a fresh mandate before his party's popularity tumbles further after dropping over 21 per cent in September local elections.
While Rajapaksa remains generally popular with majority-Sinhalese voters after he oversaw the end of a 37-year civil war against Tamil separatists in 2009, critics say he has become increasingly authoritarian.
Rajapaksa had believed the United National Party would field a candidate, but Sirisena's entry took him by surprise as did the unity displayed by the one-time fractured opposition party.
A key coalition partner, the JHU, or party of Buddhist monks, walked out of the government on Tuesday, accusing Rajapaksa of failing to deliver promised democratic reforms.