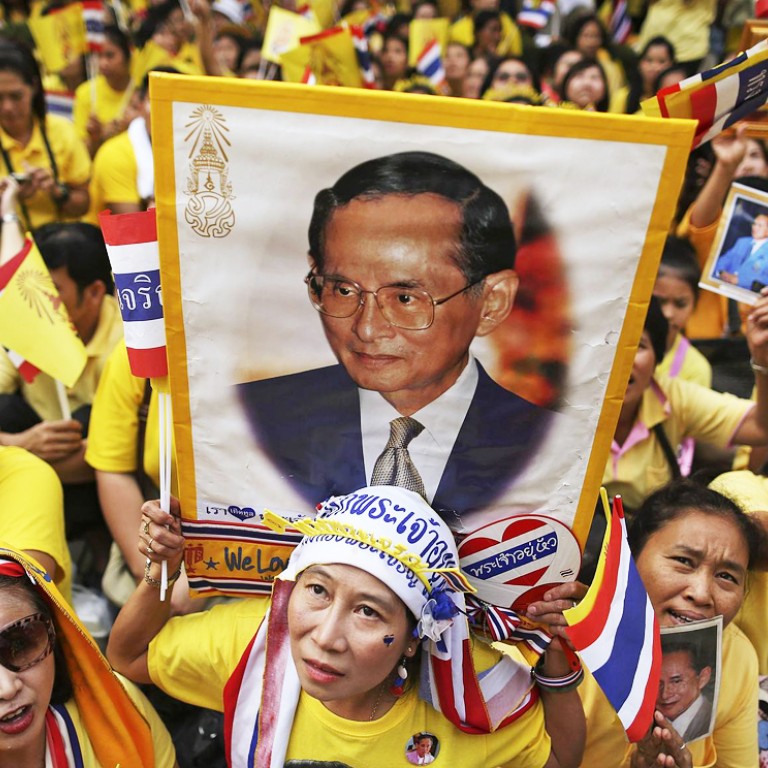 Thai king's birthday no-show stokes fears over divided country's future
Ailing monarch's failure to hold public audience for 87th birthday comes amid profound concern over the kingdom's future after his reign ends
Thailand's ailing King Bhumibol Adulyadej cancelled plans to hold a public annual audience marking his 87th birthday yesterday on his doctors' advice, heightening anxiety in the deeply divided kingdom over the leader's health.
The world's longest-serving monarch has been seen by Thais as a unifying father figure throughout a turbulent six-decade rule, and his absence comes at a time of profound concern over the kingdom's future as his reign enters its twilight years.
The king, formally known as Rama IX, has spent most of the last few months in hospital after undergoing an operation to remove his gall bladder in October but had been expected to appear publicly for his birthday.
The last-minute cancellation of celebrations came after doctors advised him against appearing, the Royal Household Bureau said in a statement early yesterday.
A palace official said that plans for a grand audience and live television broadcast were subsequently scrapped.
The king's no-show comes six months after the military toppled the elected government in a coup and amid a high-profile investigation into police corruption which has led to the recent arrest of relatives of Princess Srirasmi, the wife of Crown Prince Maha Vajiralongkorn.
May's coup was the latest chapter in Thailand's long-drawn political conflict, which broadly pits a Bangkok-based middle class and royalist elite, backed by parts of the military and judiciary, against rural and working-class voters loyal to the family of deposed premier Thaksin Shinawatra.
Experts said the monarch's absence - while not entirely unexpected given his ill-health - was significant.
"In time of political crisis, many Thais would rely on the wisdom of the king and his speech would be meaningful," said Pavin Chachavalpongpun, an associate professor at Japan's Kyoto University.
Hundreds of people, many dressed in the royal yellow colour and waving flags, gathered in the grounds of Bangkok's Siriraj Hospital, where King Bhumibol is convalescing, to chant "Long live the king!"
"I wish him good health and that he stays as the soul of the Thai people for a long time," said well-wisher Nonglak Thongliam.
Helped by well-publicised rural development projects - and shielded by one of the world's harshest royal defamation laws - King Bhumibol is revered by many Thais as a semi-divine figure and a benevolent moral force in a kingdom with a long history of instability and episodes of political bloodshed.
Most Thais have only known one king on the throne and anxiety over the future once his six-decade reign ends is seen as an aggravating factor in Thailand's bitter political schism.
While King Bhumibol has endorsed all the successful coups that permeated his reign, he also dramatically intervened at key moments in the 1970s and 1990s to halt further violence.
But he has remained silent in public on the latest army power grab which brought former general Prayut Chan-ocha to power in May.
Thailand remains under martial law, a condition the arch-royalist army says is necessary to keep the peace as it vows to expunge the kingdom of corruption and reboot Thai democracy.
Critics say the military used its status as the defender of the monarchy as a pretext to seize power from the elected government aligned with Shinawatra - the billionaire self-exiled former premier whose emergence as an electoral force in 2001 shook up Thai politics.
This article appeared in the South China Morning Post print edition as: King's no-show stokesfears over Thai crisis