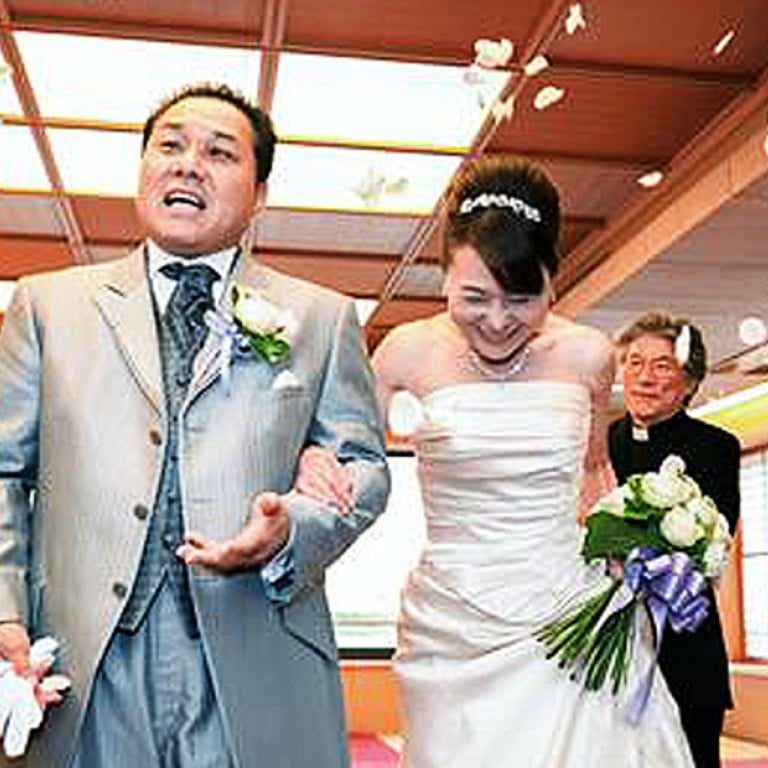 As family matters more, renewing wedding vows is on the rise in Japan
Renewing wedding vows has become more popular as Japanese face times of stress
Renewing wedding vows, which has been a way for couples to reaffirm their commitment in Europe and the United States for decades, has started gaining popularity in Japan.
Amid the country's prolonged economic stagnation and in the aftermath of the March 2011 tsunami disaster, many people have come to value family relationships more.
Some see vow renewal ceremonies as a means to express their appreciation to their partner as well as other relatives.
Masataka Okubo, for example, held such a ceremony with his wife Hiroko in April at their favourite restaurant. The husband and wife of two decades renewed their vows to "continue to get along and move hand-in-hand from now on."
As their marriage is Hiroko's second, the couple had refrained from holding any extravagant celebrations the first time around. But when Okubo, 57, heard his wife's wish to "put on a wedding dress for once in a lifetime," they decided to have a reaffirmation ceremony.
The event cost them more than 300,000 yen (HK$20,000), but Okubo, a company owner from Yokohama, said it was "well worth the money".
Having no children, the couple have faced various challenges together over the past few years, including taking care of Okubo's ailing mother, who died in 2013. Okubo himself also fell sick and spent time in hospital.
"She looked so beautiful," Okubo said. "With this as another starting point, I feel empowered to keep going and carry on." Similarly, 59-year-old Hiroko said: "It prompted me to realise once again that I must take good care of my husband's health and treasure it."
Some say promotion by bridal companies gave the trend a kick-start in Japan, but marketing writer Megumi Ushikubo says the "second wedding" phenomenon really got going after a female celebrity held one.
"In the face of the stress and severe environment in society amid the stagnant economy, many people feel their family members are the only ones who still believe in them," Ushikubo said.
According to Vow Renewal Japan, a Tokyo-based company launched last year that helps plan such ceremonies, there are also cases in which children arrange the occasion as a present for their parents to take place at the same time as their own wedding.
"If you put it off and wait for life's important events like the golden wedding (for 50th anniversary), you may end up regretting having lost the opportunity if something happens before that," said Asako Kihara, the company's representative director.
This article appeared in the South China Morning Post print edition as: Couples retie the knot as family bonds get stronger