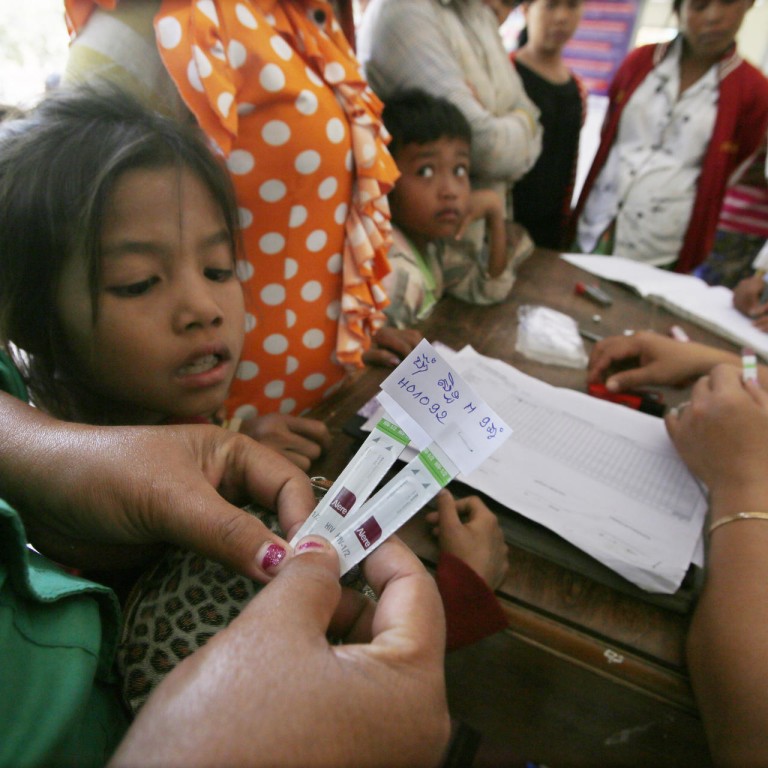 'Good doctor' in Cambodian village faces life sentence for allegedly infecting at least 140 people with HIV
So-called medical worker, who admitted reusing needles on patients, allegedly infected more than 140 people with HIV at his village clinic
Many of Yem Chrin's former patients still refer to him as "the good doctor", but others say the life sentence he faces for allegedly infecting more than 140 people in a Cambodian village with HIV is not enough.
"We want to kill him," said Seoum Chhorm, 63, a member of the commune council that includes Roka village in the remote northwest Cambodian province of Battambang.
He was speaking at the home he mortgaged, along with his rice fields, to pay medical fees to the doctor this year.
The burden of the debt was bad enough - interest on the US$1,300 loan was due yesterday, although Seoum Chhorm could not afford to pay it.
But it was only late last week that Seoum Chhorm and his fellow villagers discovered what may be the true cost of the treatments that were administered by Yem Chrin. Seoum Chhorm, his wife and two of their grandchildren are infected with the human immunodeficiency virus (HIV). All received injections from Yem Chrin, who has admitted reusing needles on multiple patients.
He was charged on Monday with three offences, including murder and running an unlicensed clinic. The Associated Press reported that Yem Chrin had no medical training.
Bone thin, feverish and weak, Seuom Chhorm is trying to focus on saving his home and rice fields. "I try to push thoughts of this disease out of my mind, but it does not work because the virus is in my blood," he said as he slouched in a hammock. "I have never been so far in debt," he continued while searching through the notebook he uses to record the number of infections in his village.
He said 141 residents of Roka have tested positive for HIV since mass testing at the commune health centre began on December 9. The outbreak caught Cambodian health officials and the international experts who advise them off-guard.
After the number of reported infections surpassed 100 late last week, local health officials said they were told to stop telling reporters how many new infections had been found.
International agencies also began emailing local news outlets with press releases touting theirI success in helping the country lower its HIV infection rate, from about 2 per cent of the population to less than 0.7 per cent over the last two decades.
The Roka outbreak, however, starkly reveals how dysfunctional Cambodia's public health system is, especially in rural areas. Unlicensed - and completely unregulated - practitioners are cashing in on this failure, while NGOs scramble for funding to clean up the mess.
Yem Chrin had been providing medical services for 21 years in the area, just a stone's throw away from the government-run health centre.
He was well-known to its staff, as well as those of the NGO Buddhism for Development, which provides Aids prevention education in the village.
That NGO is not answering questions about its failure to prevent the catastrophe that apparently unfolded on its doorstep. "The question should not be how did this happen, but what should we be doing now," one of its field workers said.
He declined to provide his name, but said Buddhism for Development was drafting a new proposal for funding to open a counselling centre for HIV/Aids patients in the village.
Pheak Kdai, 15, who tested positive on Saturday, said he had neither heard of the NGO nor received any Aids-prevention education. He said he had received two injections from Yem Chrin earlier this year.
Speaking after returning from the provincial hospital in Battambang town with a surgical mask and a jar of multivitamins, he said he was unaware that HIV was not an airborne virus and did not know it could not be spread by casual contact.
Kheng Rin, 50, and one of his three children tested positive on December 18. Yem Chrin charged them US$70 - about one month's income for the family - to treat intestinal pain with injections. "Who is going to pay for our medicine?" he asked, unaware that antiretroviral medicines are provided for free in Cambodia.
The rice farmer was reluctant to blame Yem Chrin, describing him as "the good doctor". That phrase was also used by the mother of an infant who tested positive for HIV last week. "He was the good doctor. He should not be blamed," she said.
Yem Chrin was trusted because he was believed to have worked for United Nations agencies and spoke English, Seuom Chhorm said. He charged less than the four other unlicensed "doctors" in the commune. "We thought he was the best doctor in the village," Seuom Chhorm said.
This article appeared in the South China Morning Post print edition as: Terrible toll of untrained doctor