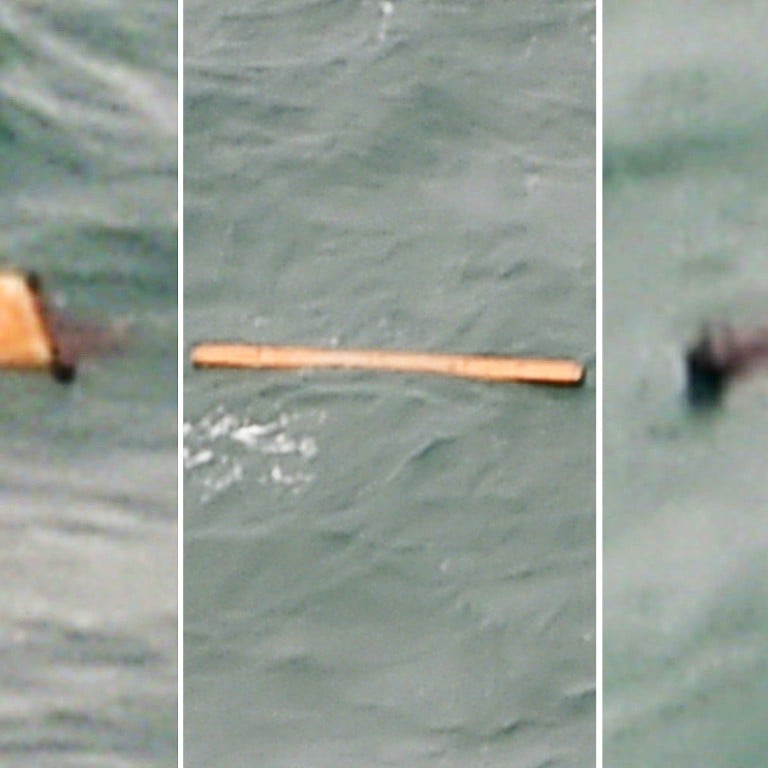 Update

|
Over 40 bodies recovered at sea as debris pulled from possible AirAsia crash site
More than 40 bodies have been recovered from the sea near to where AirAsia flight QZ8501 went missing, according to the Indonesian navy, which is helping lead the search.
More than 40 bodies have been recovered from the sea near to where AirAsia flight QZ8501 went missing, according to the Indonesian navy, which is helping lead the search.
An Indonesian warship had recovered 40 "and the number is growing", navy spokesman Manahan Simorangkir said.
Officials coming off a search flight this afternoon said they had spotted several bodies, which were taken to a navy ship, while a spotter plane crew said they had seen a "shadow" on the seabed believed to be the missing plane.
The reported "shadow" marks where the search will be concentrated, National Search and Rescue Agency chief Bambang  Soelistyo said, referring to the area about 160 kilometres southwest of the town of Pangkalan Bun in Central Kalimantan on Borneo island. The town has the nearest airstrip to the search zone.
Debris floating on the Java Sea's surface have also been photographed. A navy spokesman said a plane door and oxygen tanks had been recovered and taken away by helicopter for tests.
Relatives of the 162 people missing on the plane hugged each other and burst into tears in Surabaya, where the plane departed from on Sunday, as they watched footage of at least one body on a television feed of Soelistyo's press conference in Jakarta.
The corpses did not have life jackets on, National Search and Rescue Director SB Supriyadi told reporters in the nearest town, Pangkalan Bun.
Some fainted or became hysterical. Two distraught family members had to be carried out on stretchers from the room where they had been waiting for news in Surabaya.
"My heart will be totally crushed if it's true. I will lose a son,"  said 60-year-old Dwijanto.
Following news of the discovery AirAsia chief executive Tony Fernandes tweeted: "Words cannot express how sorry I am."
Items resembling an emergency slide, a plane door and lifejackets were earlier spotted floating in the sea, Indonesian authorities said.
"We spotted about 10 big objects and many more small white-coloured objects which we could not photograph," Indonesian air force official Agus Dwi Putranto told a press conference. "The position is 10 kilometres from the location the plane was last captured by radar," he said.
He displayed 10 photos of objects resembling a plane door, an emergency slide, and a square box-like object.
"It is not really clear... it could be the wall of the plane or the door of  the plane," he said.
The Jawa Post reported that a body in a white T-shirt and orange life jacket had been identified, while Kompas TV quoted the co-pilot of a spotter aircraft as saying that floating objects resembled humans, suitcases and aircraft debris.
Indonesia National Search and Rescue spokesman Yusuf Latif said the crew of an Indonesian military aircraft had seen white, red and black objects about 105 miles south of Pangkalan Bun.
He said the agency had dispatched at least one helicopter to pick up the debris. The items will be taken to the search and rescue coordination post on Belitung Island.
"This is the most significant finding, but we cannot confirm anything until the investigation is completed," he said. 
Djoko Murjatmodjo, acting director general of air transportation at the transportation ministry, said: "For the time being it can be confirmed that it's the AirAsia plane and the  transport minister will depart soon to Pangkalan Bun [on the island of Borneo].
"Based on the observation by search and rescue personnel, significant  things have been found such as a passenger door and cargo door. It's in the  sea, 100 miles southwest of Pangkalan Bun."
The discovery of the wreckage came as the search for the flight entered its third day.
Earlier it was revealed that shortly before the flight vanished from radar screens the pilots had requested permission to climb to a much higher altitude to avoid bad weather, but that permission was not immediately granted due to air congestion above.
The AirAsia pilots had been worried about the weather and had sought permission to fly at 11,600 metres instead of 9,800 metres. Air traffic control could not immediately give permission as six other airliners were crowding the airspace.
Minutes later, Singapore air traffic controllers - who were relayed the altitude request by Indonesian officials - said QZ8501 could climb, but only to a height of 10,400 metres due to other aircraft in the vicinity. "But when we informed the pilot of the approval at 6.14 am, we received no reply," AirNav official Wisnu Darjono said.
Four minutes later, the flight disappeared from radar screens.
Countries around Asia today stepped up the search for the plane carrying 162 people that is presumed to have crashed in shallow waters off the Indonesian coast, with the United States also sending a warship to help find the missing jet.
Soelistyo, head of Indonesia's search and rescue agency, told local television that the search area between the islands of Sumatra and Borneo was expanded.
The Airbus A320-200 operated by Indonesia AirAsia lost radar contact in poor weather on Sunday morning during a flight from the Indonesian city of Surabaya to Singapore. The plane could be at the bottom of the sea, Soelistyo said yesterday.
Around 30 ships and 21 aircraft from Indonesia, Australia, Malaysia, Singapore and South Korea were tipped to search around 10,000 square nautical miles today, officials said.
They said the sea was only 50 to 100 metres deep, which would be a help in finding the plane.
What happened to Flight QZ8501, which had sought permission from Indonesian air traffic control to ascend to avoid clouds, is still a mystery.
Online discussions among pilots have centred on unconfirmed secondary radar data from Malaysia that suggested the aircraft was climbing at a speed of 353 knots, about 100 knots too slow in poor weather, and that it might have stalled.
There were seven crew members and 155 passengers, mostly Indonesians except for three South Koreans, a Briton, a Malaysian and a Singaporean. The co-pilot was French.
The Singapore national is a two-year-old girl who was travelling with her British-born father. She was among 17 children on the flight.
The US military said the USS Sampson, a guided missile destroyer, would be on the scene later today.
The US Defence Department said assistance to Indonesia "could include some air, surface and sub-surface detection capabilities". "We stand ready to assist in any way possible," Pentagon spokesman Mark Wright said.
Searchers had picked up an emergency locator signal off the south of Borneo, but no subsequent signal was found.
This morning, at a crisis centre at the airport in Surabaya, where the plane took off on Sunday, anger had grown among about 100 relatives.
"We only need clear information every hour on where they [search teams] are going," said Franky Chandra, who has a sibling and three friends on the flight.
"We've been here for two days but the information is unclear. That's all we need."
The plane, whose engines were made by CFM International, co-owned by General Electric and Safran of France, lacked real-time engine diagnostics or monitoring, a GE spokesman said. Such systems are mainly used on long-haul flights and can provide clues to airlines and investigators when things go wrong.
Watch: Distraught families wait for news about missing AirAsia plane
The plane's disappearance comes at a sensitive time for Jakarta's aviation authorities, as they strive to improve the country's safety reputation to match its status as one of the airline industry's fastest growing markets.
It also appears to be a third air disaster involving a Malaysian-affiliated carrier in less than a year, further denting confidence in that country's aviation industry and spooking air travellers across the region.
Indonesia AirAsia is 49 per cent owned by Malaysia-based budget carrier AirAsia.
Malaysia Airlines Flight MH370 went missing on March 8 on a trip from Kuala Lumpur to Beijing with 239 passengers and crew and has not been found. On July 17, the same airline's Flight MH17 was shot down over Ukraine, killing all 298 people on board.
US law enforcement and security officials said passenger and crew lists were being closely examined but so far nothing significant had turned up and that the incident was still regarded as an unexplained accident.
Pilots and aviation experts said thunderstorms, and requests to gain altitude to avoid them, were not unusual in that area.
"The airplane's performance is directly related to the temperature outside and increasing altitude can lead to freezing of the static radar, giving pilots an erroneous radar reading," said a Qantas Airways pilot with 25 years' experience flying in the region.
The resulting danger is that pilots take incorrect action to control the aircraft, said the pilot, who requested anonymity.
The Indonesian pilot was experienced and the plane last underwent maintenance in mid-November, the airline said.
The AirAsia group, including affiliates in Thailand, the Philippines and India, had not suffered a crash since its Malaysian budget operations began in 2002.