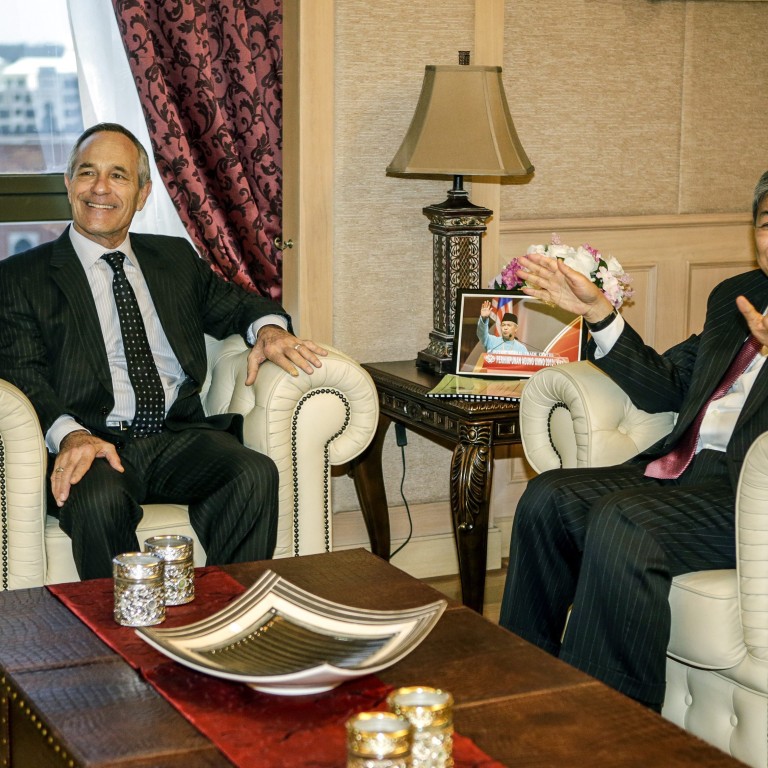 Accused gambling kingpin Paul Phua 'assisting Malaysia on matters of national security'
Malaysian citizen who used to be Macau's top junket operator is not a triad member, Kuala Lumpur's Minister of Home Affairs tells FBI
Paul Phua Wei-seng, the former Macau junket operator facing illegal bookmaking charges in Las Vegas, is assisting the Malaysian government in matters of national security and is not a member of Hong Kong's 14k triad society, a Malaysian cabinet minister has told US authorities.
"Mr Phua is neither a member nor is he associated with the '14k Triad', Malaysia's Minister of Home Affairs Ahmad Zahid Hamidi wrote in a letter to Mark Giuliano, deputy director of the US Federal Bureau of Investigation.
"Mr Phua has, on numerous occassions [sic], assisted the Government of Malaysia on projects affecting our national security and accordingly we continue to call upon him to assist us from time to time and as such we are eager for him to return to Malaysia," Hamidi wrote in the letter dated December 18.
The letter, marked "private & confidential", was submitted to the United States District Court in Las Vegas on Monday by Phua's defence team. Phua's lawyers have consistently refuted the allegation that Phua has ties with Hong Kong's organised crime groups since his arrest in July.
In his letter, the minister did not elaborate on what matters of national security Phua assisted the Southeast Asian nation. His office could not be reached for immediate comment on Tuesday. 
Phua, 50, and his son stand accused of running an illegal gambling operation from suites at the Caesar's Palace Hotel in Las Vegas during the soccer world cup earlier this year.
An online message found on his computer during a police raid suggested that bets of the alleged operation reached a "grand total" of HK$2.7 billion, according to court documents. US federal prosecutors alleged the group made a profit of US$13 million in June and July on soccer bets.
Phua's lawyers are challenging the admissibility of evidence including the online message in court.
The allegation that Phua is a triad member is based on an FBI internal document previously submitted to the court, according to which Royal Malaysian Police (RMP) informed the FBI's representative in Kuala Lumpur, the capital, of his ties to the criminal organisation.
"The RMP has identified the 14K Triads as a local organised crime syndicate involved in illegal drugs, illegal gambling and money laundering activities in Malaysia," the internal FBI document dated July 17, 2008, read. "The RMP has also identified Malaysian Phua Wei Seng as a 14K Triad member."
The Malaysian citizen with roots in Sarawak was Macau's top earning junket operator a decade ago, before becoming a prominent high-stakes poker player. In 2011, he was granted a diplomatic passport by the European microstate of San Marino as its ambassador to Montenegro. 
In June, Phua was arrested in Macau in a crackdown on an online betting ring that, according to Macau police, took HK$5 billion in wavers. He was deported from the territory.
The raid remains the largest strike on illegal bookmaking in the gambling hub's history. 
The Las Vegas trial's other defendants - who include three Hongkongers and Malaysian junket operator Richard Yong Seng-chen - this week pleaded guilty to misdemeanours and were sentenced to unsupervised probation and fines.
Among the documents US prosecutors submitted to the court in Las Vegas is a passport scan of another key casino junket operator Cheung Chi-tai, labelled under the file name "HK Boss".
Cheung is wanted for questioning by Hong Kong police. The Hong Kong resident has been called a leading triad member in the money-laundering trial of Carson Yeung Ka-sing, the former owner of soccer club Birmingham City.
In response to a question about Phua's ties to Cheung, defence co-counsel David Chesnoff and Tom Goldstein said he had none. "The only link to the case at all comes from documents found in the Caesars Palace villa of another defendant who is unrelated to Mr. Phua and has pleaded guilty in the same case. It is a false connection."
This article appeared in the South China Morning Post print edition as: Alleged gambling kingpin 'actually aiding Malaysia'