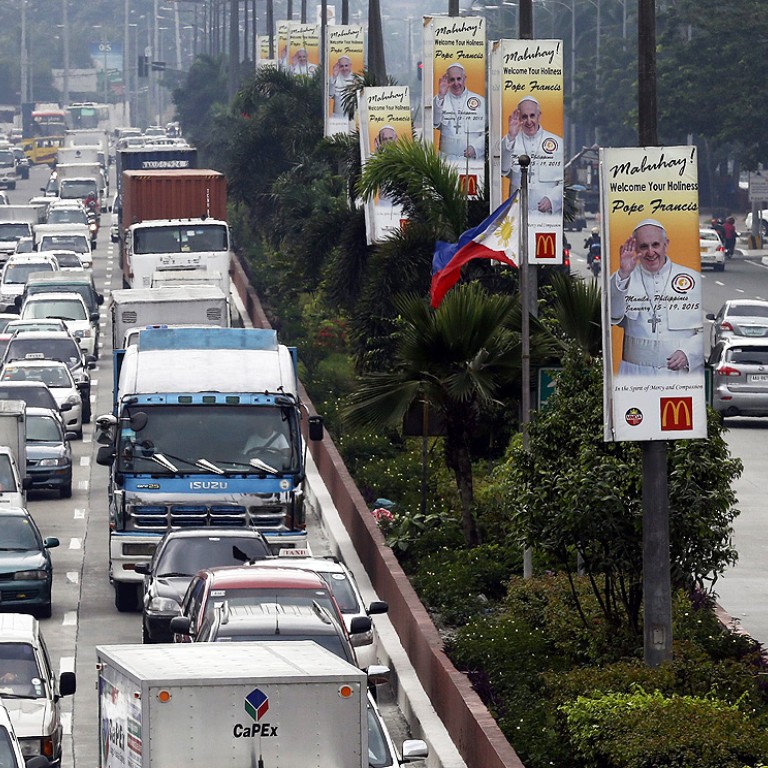 Traffic police told to wear adult nappies during Pope's visit to the Philippines
Metropolitan Manila Development Authority Chairman Francis Tolentino has told traffic officers to wear adult nappies, or diapers, during Pope Francis' visit
When Pope Francis visits the Philippines next week, traffic enforcers won't let the capital's streets get gridlocked if they have to answer the call of nature.
About 2,000 traffic enforcers who will be on duty during the January 15-19 papal visit will be required to wear adult nappies, also known as diapers, said Metropolitan Manila Development Authority Chairman Francis Tolentino.
Tolentino also encouraged spectators, who will wait for hours to see the pope, to wear nappies.
The prospect of wearing nappies while on duty was "well received" by his men, the chairman said on Wednesday.
Tolentino said the idea will be tested on Friday by some 800 traffic enforcers who work shifts during the nearly 24-hour annual procession of the Black Nazarene. It will be the first time that traffic enforcers in the Philippines will wear nappies while on duty in the streets, he said.
The Black Nazarene procession attracts hundreds of thousands of barefoot mostly-male Filipino Roman Catholics who parade a centuries-old black statue of Jesus Christ devotees believe possesses mystical powers that could cure ailments and answer wishes of good health and fortune.
Tolentino says there won't be enough portable toilets for the millions of people expected to see Pope Francis hold an open-air Mass at the seaside Rizal Park on January 18.
"If you attend an event that will last for 24 hours, you cannot go around looking for a [portable toilet]," Tolentino said.
Priests, nuns, seminarians, and the elderly also should consider wearing nappies, he said.
Asked if he will also wear one, Tolentino said, "I will try, but in my case, I have less hydration."