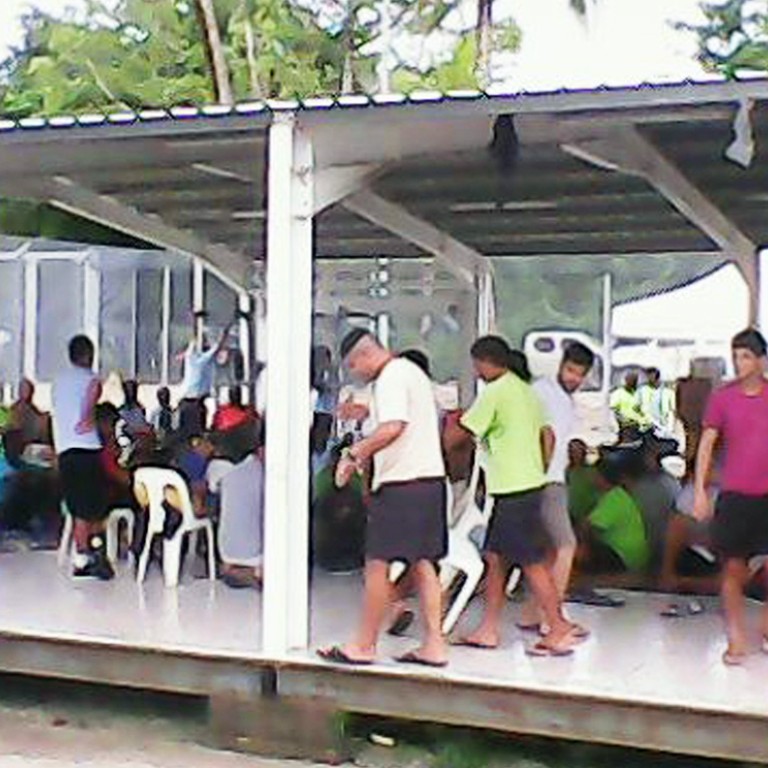 Hundreds protest as tension rises at Australian asylum seeker camp in Papua New Guinea
Detention centre inmates sew up their lips and refuse to eat over fears so their security as island residents complain over scarce resources
Hundreds of asylum seekers have gone on hunger strike at an Australian immigration detention centre in Papua New Guinea, rights groups said on Wednesday, with some sewing their lips shut to highlight fears for their security.
Australia uses offshore detention centres in Papua New Guinea and the tiny South Pacific island nation of Nauru to process would-be refugees trying to reach the country, often in unsafe boats after paying people-smugglers in Indonesia.
The detention centre on Manus Island in Papua New Guinea was the scene of deadly riots in February last year, in which one asylum seeker was killed and more than 70 injured after residents overran the camp, attacking detainees with makeshift weapons.
The protests began after detainees were told they would be moved into new accommodation, which they feared could make them more vulnerable to attack, said Ian Rintoul, executive director of the Refugee Action Coalition.
"Things have just come to a head. It's impossible to exaggerate the real fears that people have for their safety and for their lives," he told reporters.
Manus Island is one of the poorest regions of Papua New Guinea, and residents have repeatedly expressed anger at the prospect of refugees being resettled in a community already lacking enough jobs.
Last year, a senate inquiry found that the Australian government was guilty of human rights abuses for failing to protect asylum seekers in its custody during the 2014 riot.
Many of the detainees have been in the camps as long as 18 months and a technical problem has left them without running water for bathing.
Prime Minister Tony Abbott's tough line on people smuggling has been credited with grinding the trade to a virtual halt, but thousands remain in camps like Manus Island.
A spokesman for Australian Immigration Minister Peter Dutton was not immediately available for comment.
Under tough new laws instituted by former prime minister Kevin Rudd, none of the asylum seekers in Papua New Guinea will ever be eligible for resettlement in Australia, even if they are found to be genuine refugees.
But settling in Papua New Guinea would appear to be out of the question.
"There simply is no safe arrangement for resettlement in Papua New Guinea. It is a gaping whole at the end of the Australian government's offshore processing arrangement and as long as that exists, there isn't a remedy," Rintoul said.