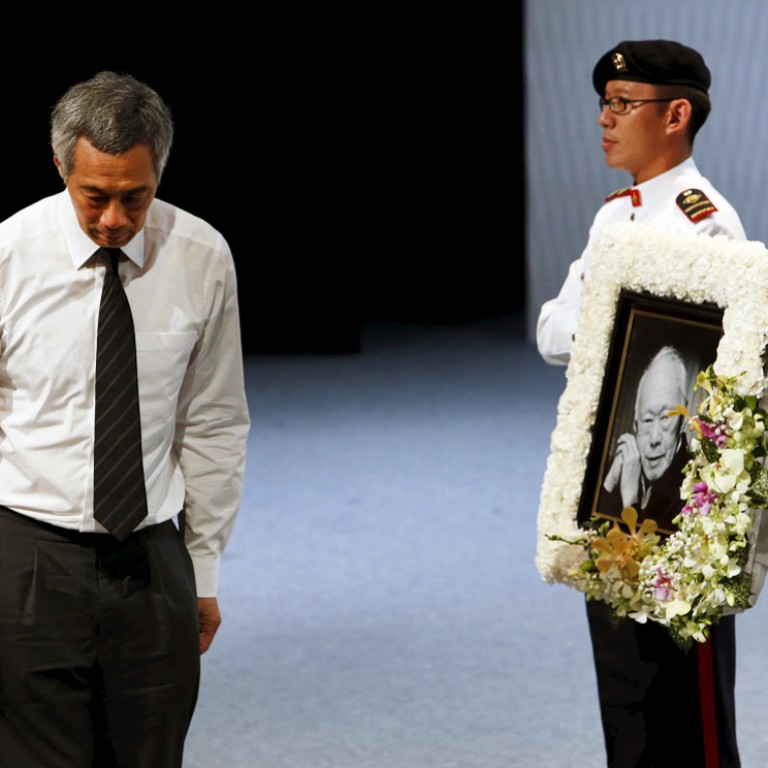 Lee Kuan Yew eulogised as a 'leader, not a populist politician'
Eulogies describe a leader prepared to make unpopular decisions for good of the country
Lee Kuan Yew was a more caring and open leader than the severe and ruthless persona portrayed by critics, said those who mourned him at a state funeral yesterday.
Singapore Prime Minister Lee Hsien Loong and former prime minister Goh Chok Tong were among the 10 speakers who gave eulogies as they looked back at the life of the city-state's founding father, who died last Monday at the age of 91.
Another was former senior minister of state for education Sidek Saniff, who spoke of Lee as a "fatherly figure" looking after his well-being.
In 1979, he recalled, before he went on a trip to China with then finance minister Hon Sui Sen, Lee asked him if he had a coat and boots to protect him from the cold Chinese winter. When Saniff answered no and said he would buy them, Lee urged him not to and directed him to borrow the boots from Goh and the coat from another minister.
"So I went to China in borrowed things," said Saniff, who said the incident showed Lee's frugal side as well.
In his eulogy, Goh acknowledged the "long-term painful policies" that Lee implemented.
"Gangsters and drug traffickers were detained without trial. Some people allege these policies lacked compassion," he said.
"But Mr Lee taught people how to fish and brought the fish to Singapore waters. He housed and schooled millions. He was a leader, not a populist politician."
Lee consulted widely with colleagues and "people he trusted", asking members of parliament to bring him the people's concerns and talk from the coffee shops, Goh said. "Mr Lee never muzzled anyone," he said.
But the former leader robustly defended his convictions and Singapore's interests, very often to the discomfort of his critics, including those in the foreign media, Goh said.
"To those he believed were out to destroy Singapore, he put on his knuckle-dusters", Goh said.
Goh, who succeeded Lee in 1990, said his predecessor "single-mindedly planned for leadership succession".
"In pushing for leadership renewal, he had to cut short the political careers of his old colleagues. He said it was emotionally difficult but necessary," Goh said.
"Learning from Mr Lee, I too planned for leadership renewal. He was surprised when, soon after the 2001 general election, I intimated my intention to step down. He told me there was no hurry.
"I explained that deputy prime minister Lee Hsien Loong was already approaching 50. I wanted to give him a long runway to lead Singapore and develop the fourth-generation leadership," said Goh, who handed over to the younger Lee in 2004.
Current Singapore President Tony Tan Keng Yam praised the swift economic growth that occurred under the elder Lee, saying the "severe measures" that were implemented to curb corruption helped create a thriving economy.
Ong Pang Boon, who was a minister in Lee's first cabinet, acknowledged not all of the former prime minister's policies were popular. "During cabinet meetings, there would sometimes be differing views, but he was able to accept alternative views," the 86-year-old said. "But he was always fighting for the best interests of this small and vulnerable nation."
Lee Kuan Yew did not make his decisions lightly. "He was seen as a hard-hearted man who acted without feelings," said former Singapore minister Suppiah Dhanabalan. "But on the few occasions he discussed privately with me the decision to act against someone, I know that he agonised over the decision."
This article appeared in the South China Morning Post print edition as: 'He was always fighting for our best interests'