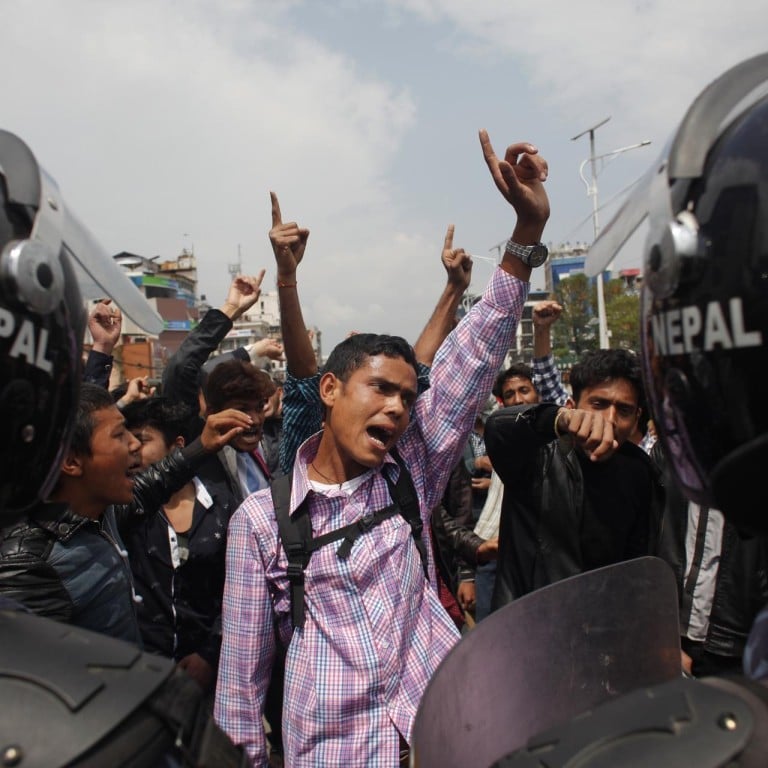 Riot police intervene as anger erupts among Nepal quake survivors
Nepalese representative in Hong Kong requests emergency supplies as riot police are deployed
The Nepalese consulate in Hong Kong said tents, mattresses, blankets, water purifiers, sanitation kits, utensils and materials for outdoor living were urgently required in quake-affected regions.
The country also needed surgeons with equipment, it said.
The consulate has urged people to make donations to the country's disaster relief fund.
The Li Ka Shing Foundation has donated US$1 million to Nepal for relief and rescue efforts, it said.
The generous contribution came as desperate Nepalis clashed with riot police and seized supplies of bottled water in Kathmandu yesterday as anger boiled over among survivors of an earthquake that killed more than 5,000.
Supplies are running thin, and aftershocks have strained nerves of people in the ruined capital city, home to 2.5 million before it was shattered by Saturday's powerful quake.
Anxious to leave, thousands of people began gathering from before dawn outside the main bus station after the government promised to provide special services to reach far-flung areas. "We have been waiting since dawn. They told us that there would be 250 buses coming, but we haven't seen any," said Kishor Kavre, a 25-year-old student.
"We're in a hurry to get home to see our families, but we've no idea when they're coming now." The Nepalese government acknowledged it had been overwhelmed by the devastation from the deadliest quake in the country in more than 80 years.
"There have been some weaknesses in managing the relief operation," Communications Minister Minendra Rijal told Nepal's Kantipur Television.
"The disaster has been so huge and unprecedented we have not been in a position to meet the expectations of the needy people. But we are ready to accept our weakness, learn and move ahead in the best way."
Back in Hong Kong seven Chinese University students returned to the city five days after the initial earthquake in Nepal.
For parents and friends who met them at the airport, the embrace capped a seemingly endless wait. Exactly an hour after landing, the medical students emerged to a contingent of family and media.
Justin Ma Ming-yin, 23, said the group left "beautiful" Nepal with a heavy heart. "We are very happy to be back and really tired, but inside we are tremendously joyful," he said. A Hong Kong post-crisis counselling charity is also calling for volunteers to aid the recovery. The Post-Crisis Counselling Network wants to train them in counselling skills, particularly psychotherapy - to send to Nepal. The first batch of volunteers - up to 140 people - are due to fly to Kathmandu by May 13 to provide counselling.
Timothy To Wing-ching, the charity's director, said it was vital for volunteers to step forward.
This article appeared in the South China Morning Post print edition as: Consulate calls for aid as survivors' anger erupts