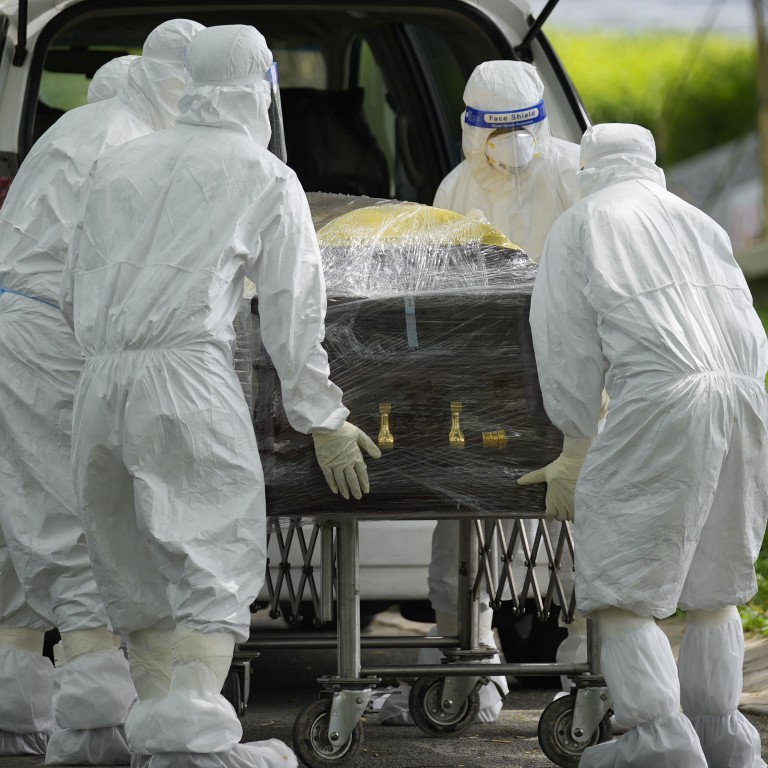 Coronavirus: Malaysia warns of rising child deaths; Singapore says sorry after teen gets wrong vaccine
Malaysia has for several weeks been reporting Asean's heaviest caseload, per capita, with at least 50 virus-related deaths every day since May 17
Elsewhere, the highly infectious Delta variant was detected for the first time in Melbourne and the 'Quad vaccine initiative' was highlighted on a US-India call
Malaysia
's health authorities have raised concerns about a growing number of coronavirus deaths and serious cases involving children, after a surge in overall infections forced the Southeast Asian nation into
lockdown
.
Prime Minister
Muhyiddin Yassin
declared a two-week "total lockdown" from June 1-14, as daily Covid-19 cases and deaths hit record numbers, with the government warning the outbreak may be linked to more contagious variants.
Malaysia recorded the deaths of three children aged below five from the coronavirus in the first five months of this year, the same number recorded over the whole of 2020, according to Health Ministry director-general Noor Hisham Abdullah.
A total of 27 children, including 19 below the age of five, also had to be treated in intensive care between January and May after contracting the virus, up from eight cases last year.
"The health ministry hopes all parties, especially parents and guardians, play an important part in protecting those with low immunity, such as babies and children, from Covid-19," Noor Hisham said in a statement.
He did not say how many children had been tested for Covid-19 or if authorities planned to ramp up testing among minors.
Neighbouring Singapore also warned last month that new coronavirus variants, such as the one first detected in India, were affecting more children.
On Monday, Malaysian Health Minister Adham Baba said a total of 82,341 children had been infected with the coronavirus between January last year and May 30 this year.
Malaysia's total caseload shot past 600,000 on Friday, the third highest total in the region behind Indonesia and the Philippines.
It saw a record daily rise in cases of 9,020 on Saturday, and its highest daily death toll of 126 on Wednesday.
About 2.2 million people had received at least one vaccine dose as of Friday, the health ministry said.
Singapore apologises after teen gets Moderna vaccine
The boy's date of birth was erroneously entered when booking a vaccination appointment, which resulted in his age being incorrectly registered as above 18, thus allowing a Moderna vaccination centre to be selected, the country's health and education ministries said in a joint statement. The vaccination centre staff had failed to verify his age during registration, they said.
The boy remains "generally well" and the Expert Committee for Covid-19 Vaccination does not expect him to suffer any safety issues, according to the statement.
"The safety of those receiving the vaccination is of utmost priority," the ministries said, adding that they apologised for the inconvenience and anxiety caused.
The vaccination error was discovered on-site at the Kolam Ayer Community Club Vaccination Centre during the post-vaccination observation period. As an additional precaution, the individual was placed under a longer observation time of 50 minutes.
The ministries are in close contact with the boy's family and will monitor his health, with the health ministry conducting a review of internal processes and putting stricter measures in place to prevent a recurrence.
Data from a trial involving more than 3,700 adolescents between ages 12 to 17 found that the Moderna vaccine is safe and effective among adolescents with no significant safety issues identified, the health ministry said in a separate statement.
Singaporean authorities detected seven new coronavirus cases in the local community, with the majority linked to earlier infections, according to ministry of health data published on Friday.
Two of these Covid-19 cases were untraceable while five were linked to earlier infections. No new cases were discovered in the foreign worker dormitories, while six imported cases were already under quarantine.
On Friday, authorities announced tighter controls on travellers from China's Guangdong to be imposed from Saturday following a rise in cases in the province.
Delta variant found in Melbourne outbreak
"It is a variant of significant concern," Victoria state Chief Health Officer Brett Sutton told reporters in Melbourne. "The fact that it is a variant different to other cases it means it is not related, in terms of transmission, with these cases."
Sutton said the new variant had not been linked to any sequenced Covid-19 infections across Australia from hotel quarantine or elsewhere.
"It is a concern that it is not linked to other cases but we are chasing down all those primary case contacts ... and looking into where it might have been acquired," Sutton said.
The Delta variant was detected in two members in a family who travelled to neighbouring New South Wales (NSW) two weeks ago while likely infectious and visited several popular tourist locations in the state's south.
Sutton said it was "within the bounds of possibility" that the cases could have contracted the Delta variant in NSW but that more tests would be needed.
NSW has not reported any locally acquired cases in a month.
Victoria is battling to contain its latest outbreak – 64 infections since May 24 – after more than three months of no cases, placing tough restrictions on movement of people and shutting down large parts of its economy. The government has linked all the cases to a single traveller released from quarantine after testing negative.
Melbourne is into a second week of hard lockdown after it was extended for another week until June 10, but some curbs elsewhere were eased in the state from Thursday night.
Authorities blamed the extension of tough curbs in Melbourne on the Kappa variant, first detected in India, which they described as a contagious strain, although new cases have remained in single digits for eight days in a row. Four new locally acquired cases were reported on Friday, versus three a day earlier.
US highlights 'Quad vaccine initiative' on call to India
"They highlighted the potential of the India-US partnership as well as the Quad vaccine initiative in addressing the long-term health impact of the pandemic," it said.
Separately, a spokesman for India's foreign ministry said New Delhi was in dialogue with Washington to ensure the supply of raw materials for vaccine production.
India also raised the issue during its foreign minister's recent US trip, the spokesman said. "It is in our mutual interest to combat the global pandemic by expediting vaccination efforts."
EU eases restrictions on travellers from Japan
However, it remains up to each EU member state to decide exactly which requirements it imposes on travellers.
The ban was slightly eased in early July, but only in a handful of countries was the epidemiological situation deemed good enough to allow freer entry into the bloc.
Vietnam approves China's Sinopharm vaccine
The decision to approve the Sinopharm vaccine was issued by the health ministry, the official Vietnam News Agency reported. Vietnam has previously approved the AstraZeneca vaccine and Russia's Sputnik V. The ministry did not immediately respond to an emailed request for comment.
Vietnam is trying to accelerate its vaccine procurement drive to tackle a more stubborn wave of infections, even though its overall caseload and fatality numbers remain relatively low.
Minister of Health Nguyen Thanh Long said on Wednesday Vietnam was nearing its target of acquiring 150 million doses of vaccines this year to inoculate 75 per cent of its 98 million population.
Vietnam has recorded 49 deaths and just 8,115 cases overall, although nearly 60 per cent of infections were in the past month.
"Based on evidence to date, this is not a new variant nor a hybrid variant but an additional mutation found in the Delta variant," said Kidong Park, the WHO's representative in Vietnam, referring to the Delta variant first identified in India.
"It is premature, at this stage, to conclude on the characteristics of this additional mutation that occurred in the Delta variant," Park added in an emailed statement.
Philippines eases quarantine for fully vaccinated travellers
Fully vaccinated travellers will now only need to stay in a quarantine facility for seven days, down from 10 days, presidential spokesman Harry Roque said.
If they do not develop symptoms during those seven days, they will be cleared to proceed to their destination.
"An individual shall be considered as having been fully vaccinated two or more weeks after receiving the second dose in a two-dose series, or two or more weeks after receiving a single-dose vaccine," Roque said in a statement. "A fully vaccinated individual must carry his or her vaccination card, which must be verified prior to departure."
Roque said the national Covid-19 task force has also directed health, finance, trade, foreign affairs and socio-economic officials to discuss recommendations to "further relax testing and quarantine protocols for certain classes of travellers".
The Philippines' total Covid-19 caseload stood at 1,247,899, with 7,217 new cases on Thursday, the health department said. The death toll was up by 199 to 21,357.
Despite thousands of cases reported daily, the government has been easing coronavirus restrictions in a bid to jump-start the economy, which has contracted for the fifth straight quarter since last year.
Myanmar outbreak builds near Indian border
Official figures released late on Thursday showed 122 cases across the country for the second time in three days – a low number compared with many Asian neighbours, but the highest in nearly four months.
Many of the cases are from Chin State, bordering India, raising concerns that the more transmissible variant first found there is now spreading in Myanmar.
"Three people died yesterday alone. Many got scared," Lang Khan Khai from the Zomi Care and Development aid group said from the town of Tonzang, just over 20km (13 miles) from the border with India. "People rarely go out."
Doctors are concerned that few cases are being detected. The rate of confirmed infections to tests of over 8 per cent on Thursday was the highest since late November, when the last wave of infections peaked.
Tests averaged just over 1,400 a day in the seven days to Thursday compared with well over 17,000 in the week before the coup.
Nepal reports first 'black fungus' death
The 65-year-old man who died was being treated at the intensive care unit at a hospital in western Nepal after being diagnosed with temporal lobe encephalitis.
"He died on 3 June 2021 ... after a nasal swab test showed fungal hyphae and a biopsy test of nose and lips showed mucor," said a statement by the Seti Provincial Hospital on Thursday.
The man had however tested negative for coronavirus, the hospital said.
Previously very rare, mucormycosis is highly aggressive and surgeons sometimes have to remove patients' eyes, nose and jaw to stop it reaching the brain. The death rate is over 50 per cent.
Thousands in India have caught the fungus in recent weeks in a wave of infections blamed on excessive use of steroids to treat the country's millions of virus patients.
Nepal began recording a sharp rise in coronavirus cases in early April that peaked in mid-May at more than 9,000 infections a day. The daily rises have declined slightly but the health care system remains under pressure.
Over 7,000 people have died since the pandemic began.
Reporting by DPA, Reuters, Bloomberg, AFP