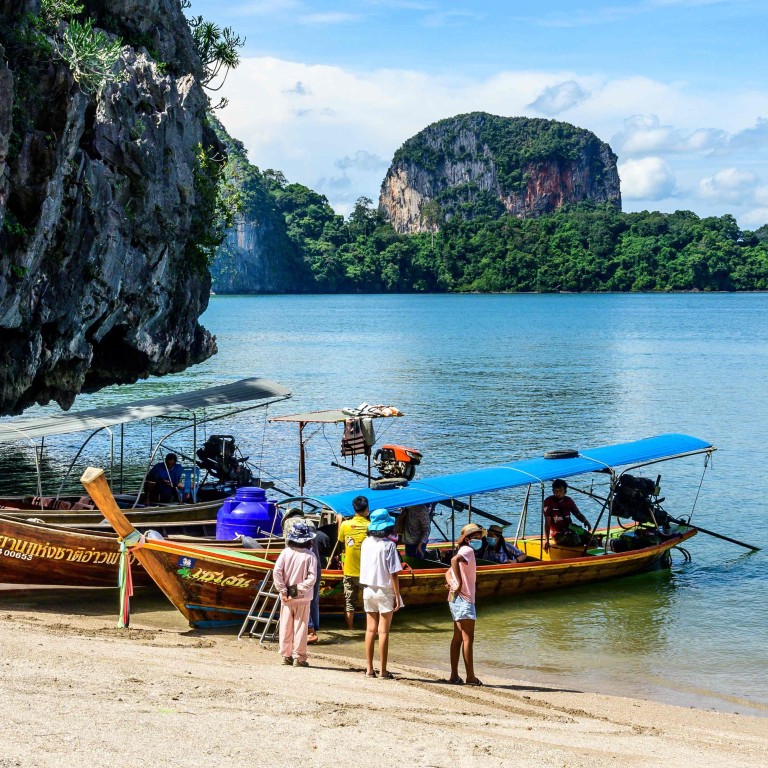 Coronavirus: Thailand ends quarantine for vaccinated visitors from China, US, Singapore, others
From Monday, fully-inoculated travellers will be able to freely tour Thai beaches, temples and tropical islands after testing negative for Covid-19 on arrival
Elsewhere, Singapore is boosting the number of ICU beds, while hundreds of workers at seafood firms in south Vietnam have tested positive for Covid-19
Thailand is ending quarantine for vaccinated visitors from more than 60 countries including China, India, Japan, Singapore and the US, in the biggest reopening gamble in Asia and one that could mark a turning point for the revival of mass tourism during the pandemic.
From Monday, fully-vaccinated travellers will be able to freely tour Thailand's sandy beaches, temples and tropical islands after testing negative for Covid-19 on arrival.
Inoculated visitors from countries not on the list can travel to Bangkok and 16 other regions, but they will be confined to their initial destination for the first seven days before being allowed to travel elsewhere.
It is the biggest step Thailand has taken to welcome back a slice of the nearly 40 million visitors it hosted the year before the pandemic, and is billed as a "fight to win foreign tourists" as countries from Australia to the UK also loosen Covid-19 curbs.
A successful Thai experiment could help salvage its battered economy and serve as a model for countries wary of a virus resurgence from reopenings.
"We're not expecting the rooms to be full overnight, but it's a great first step," said John Blanco, general manager at luxury hotel Capella Bangkok. "All countries are taking the same posture – that is, we need to learn to live with Covid-19. It's a general theme around the world."
To boost the confidence of tourists and the public, Thailand is linking the reopening to a higher vaccination rate, which "is a measured approach that has a lot of logic to it", according to Amar Lalvani, chairman of US boutique hotel operator Standard International.
"You have examples in places like Mexico and Turkey, which have been quite wide-opened and very low on restrictions, and their business is actually booming," Lalvani said. "Countries in Asia, Thailand included, have prioritised public health. Now that you have that under control, you're going to feel more comfortable opening up."
The travel industry is already preparing for the Thai reopening. International carriers have scheduled more flights to the Southeast Asian nation, while hotels and beach resorts are offering bargains and the island of Phuket is hosting a New Year's Eve party featuring Italian opera tenor Andrea Bocelli. 
Meanwhile in Australia, the government will from November 21 allow fully vaccinated travellers from Singapore to travel to the country without quarantine, starting with New South Wales and Victoria, The Sydney Morning Herald newspaper reported on Sunday.
It will be up to the other Australian states and territories to decide if they similarly want to accept vaccinated travellers without the need for 14 days of hotel quarantine, according to the report.
The decision follows an announcement by the Civil Aviation Authority of Singapore (CAAS) earlier this week on extending the vaccinated travel lane to Australia and Switzerland, which will allow vaccinated travellers from both countries to enter Singapore without the need for quarantine from November 8.
Singapore Transport Minister S Iswaran called it a "significant move".
"Families and loved ones can reunite, students can resume their studies, and businesspeople and tourists can once again travel," Iswaran said in a Facebook post on Sunday.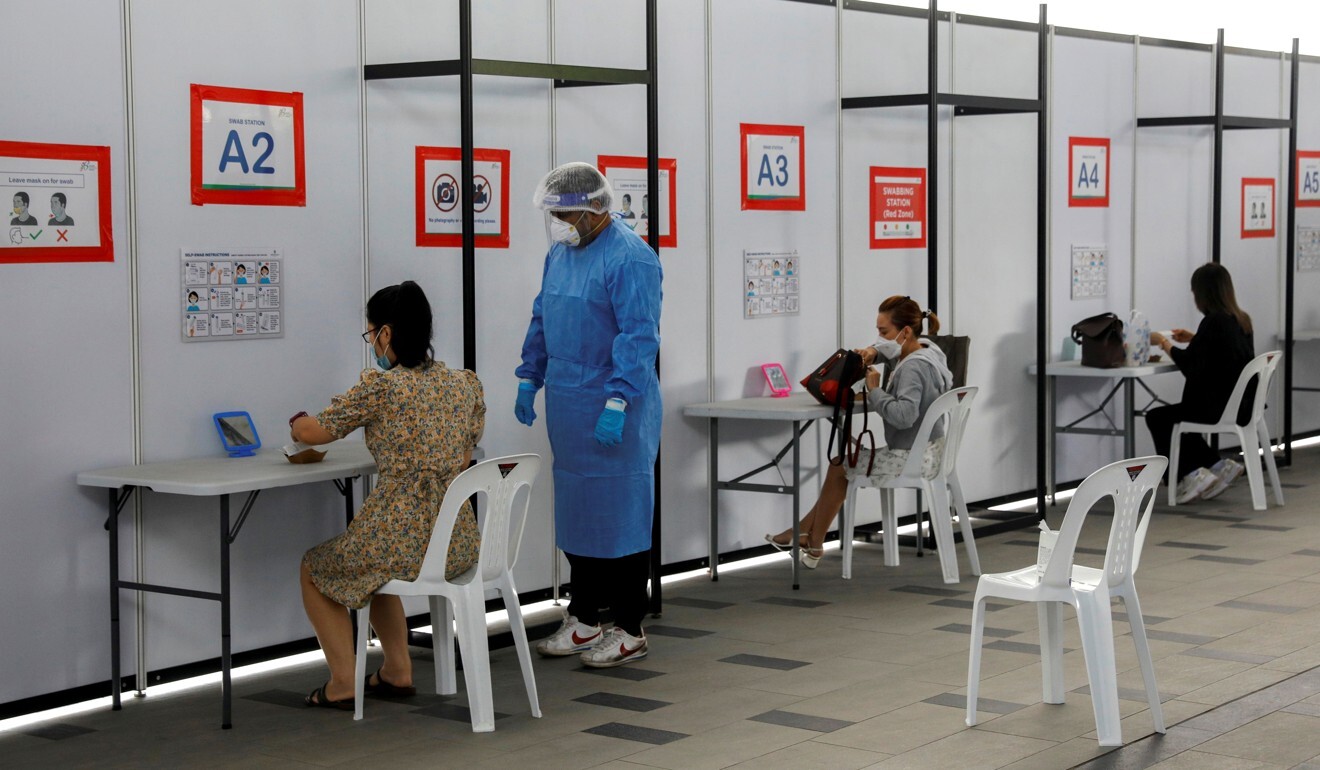 Singapore boosts ICU beds as serious infections remain high
Singapore is increasing the number of hospital beds in intensive care units as serious Covid-19 infections in the current outbreak remain at an elevated level.
Authorities will set up 280 ICU beds this week, up from about 200 now, Health Minister Ong Ye Kung said in a Facebook post on Sunday. About 70 per cent of Singapore's ICU beds are occupied, he said.
"Our hospital capacity is dynamic – we step them up as the number of cases that require acute or ICU care goes up, and vice versa," Ong said. "But with each increase, health care workers will come under even greater strain. There is a human limit."
Singapore is trying to ease the strain on the health care system by maintaining domestic restrictions at least until late November, including limiting social gatherings to two people.
Daily infections surged above 5,000 for the first time last week. ICU bed capacity is being closely watched as authorities warn of hospitals being overwhelmed.
Janil Puthucheary, senior minister of state at the health ministry, will give an update in Parliament on Monday on the ICU situation and hospital capacity. He will also explain the possible course of action and the trade-offs Singapore is facing, Ong said.
Singapore has one of the highest inoculation rates in the world, allowing its government to open borders up with vaccinated travel lanes including to parts of Europe, Australia, Canada and the US.
01:43
Indonesia's Covid-19 medical waste swamps country's rubbish mountains
Indonesia's Covid-19 medical waste swamps country's rubbish mountains
Indonesia's Jokowi seeks vaccinated travel lane with Australia
Indonesian President Joko Widodo proposed the establishment of a vaccinated travel lane with Australia to improve tourism and economic ties between both countries.
Under such an arrangement, fully-vaccinated people arriving from Indonesia and Australia will be able to enter without having to undergo quarantine requirements.
Further recognition of both countries' vaccination certificates will help accelerate travel as well, Widodo, known as Jokowi, told Australian Prime Minister Scott Morrison during a meeting on Saturday on the sidelines of G20 leaders' summit.
Indonesia relaxed travel restrictions in early October. It cut down quarantine periods to five days from eight, and reopened tourist hotspot Bali to foreign visitors.
The country is on a drive to vaccinate 208 million people. More than 73 million people have received their full Covid-19 inoculation regime as of Saturday, official data show.
Vietnam seafood firms in south of country hit by virus outbreak
Hundreds of workers at seafood companies in the south of
Vietnam
have tested positive for coronavirus, according to the media, after officials eased some restrictions in and around the nation's commercial hub of Ho Chi Minh City.
More than 150 of the 1,000 workers at an unidentified seafood export company in Can Tho City's Tra Noc Industrial Park tested positive for Covid-19, according to the news website VnExpress.
The factory suspended operations for 14 days beginning October 27, it said. The city, a four-hour drive from Ho Chi Minh City, has recorded about 500 virus infections in the past seven days, including 180 at three industrial estates.
Nearby Bac Lieu province reported 414 new virus cases on Sunday morning, including 210 tied to an outbreak at two seafood companies, Thanh Nien newspaper reported on its website.
Local authorities ordered virus tests for everybody in high-risk areas and has increased efforts to vaccinate factory workers, VnExpress reported.
Another 230 employees at a seafood company in Soc Trang Province tested positive for the virus, the news website said.
The new clusters come after officials began easing restrictions earlier this month in Ho Chi Minh City and surrounding provinces, allowing for factory re-openings and greater travel across the south.
Health Minister Nguyen Thanh Long warned in a post on the ministry's website last week that the country risked another Covid-19 outbreak because of people flooding back to rural provinces from virus hotspots.
Vietnam on Saturday reported 5,244 new local virus cases and 64 deaths, bringing the country's total infections to 915,603 with 22,030 fatalities, according to the health ministry.
More than 24 per cent of its population has been fully vaccinated, according to the ministry.
Australia set for international border reopening for vaccinated public
Quarantine-free travel from New Zealand to Australia will resume from Monday, Australia's tourism minister said on Sunday, as the country readies itself for a partial reopening of its international borders for the first time since March 2020.
Vaccinated Australian citizens and permanent residents living in New South Wales, Victoria and the capital Canberra will be free to fly internationally from Monday without the need of an exemption or to quarantine upon return.
For now, however, only tourists from neighbouring New Zealand will be allowed into Australia, provided they are vaccinated.
"The resumption of quarantine free travel from New Zealand to Australia is another important marker on our road to recovery," Tourism Minister Dan Tehan said in a statement.
Australia closed its borders at the start of the pandemic, allowing only a limited number of citizens and permanent residents to return from abroad, subject to a mandatory 14-day quarantine period in a hotel at their own expense.
Over 80 per cent of people 16 and older in New South Wales, Victoria and Canberra are fully vaccinated – a condition for the resumption of international travel – meaning that some 14 million Australians will be free to leave and re-enter the country if they are fully vaccinated.
But while airlines and tourism agencies have reported "massive demand" for services, only 23 per cent of Australians feel confident about making travel plans in the next year, a survey by consumer advocacy group Choice showed last week.
There were more than 1,200 new coronavirus cases recorded across Australia on Sunday, with 1,036 in Victoria and 177 infections in New South Wales. There were 13 related deaths.
While the Delta outbreak kept Sydney and Melbourne in lockdowns for months until recently, Australia's Covid-19 cases remain far lower than many comparable countries, with just over 170,500 infections and 1,735 deaths.
Nearly 77 per cent of all Australians have been now fully vaccinated, and more than 88 per cent have received their first dose.
Reporting by Bloomberg, Reuters