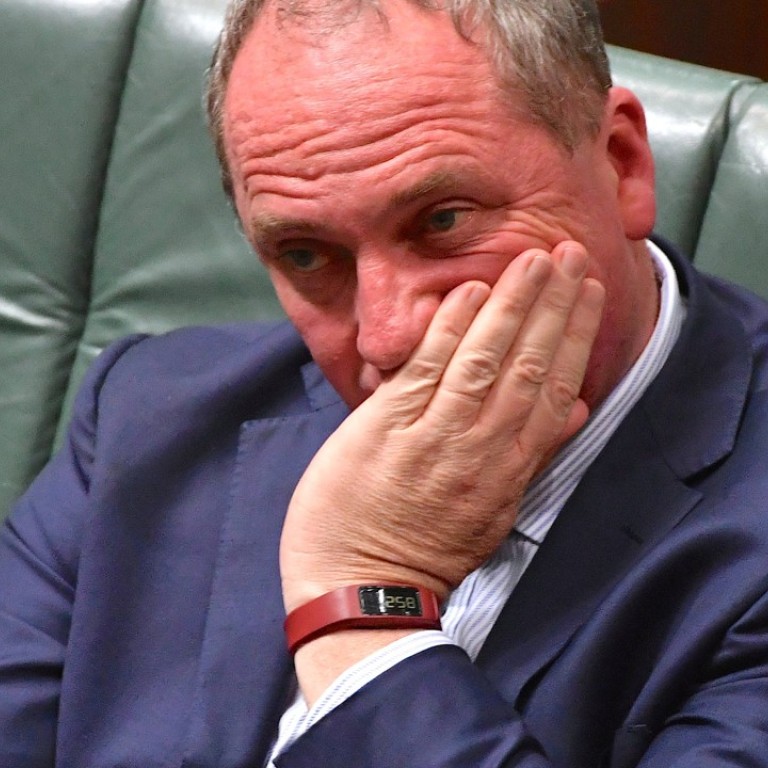 Australian deputy PM Barnaby Joyce facing pressure from own Nationals party to resign over affair
Newspapers revealed last week that he and his former media adviser are expecting a baby together, and the scandal has angered many within his conservative, rural-based party
Australia's deputy prime minister was under mounting pressure on Wednesday to resign as his party's leader over revelations of a relationship with a former staffer.
Newspapers revealed last week that Barnaby Joyce and his former media adviser are expecting a baby together, and the scandal has angered many within Joyce's conservative, rural-based Nationals party. As leader of the junior party in the governing coalition, Joyce is both the deputy prime minister and acting prime minister when the prime minister is overseas.
Nationals lawmaker Ken O'Dowd said he expected a party delegation would confront Joyce soon to consider his position.
"The party will probably talk to him and discuss the future of Barnaby and the future of the … party," O'Dowd told reporters. "He'll probably need the advice and someone needs to tell him where the party stands at this stage."
If Joyce resigns, "we would find a good leader, I feel sure about that", O'Dowd added, without naming a potential replacement.
Agriculture Minister David Littleproud, a senior Nationals lawmaker, said most of the party still supported Joyce's leadership.
"If people believe that Barnaby Joyce has broken the law, then lay charges. Otherwise leave him and his family alone," Littleproud told Australian Broadcasting Corporation.
Nationals President Larry Anthony, the party's most senior bureaucrat and a former legislator, arrived at Parliament House on Wednesday telling reporters he was helping lawmakers deal with "a very difficult time".
"The … party always works through these issues," Anthony said. "That is why I am down here today."
Joyce, 50, revealed in December that he had separated from his wife of 24 years who is the mother of his four daughters. But he has kept tight-lipped about his relationship with Vikki Campion, 33, describing it as private. The reports have said they are expecting a son in April.
He has denied allegations that he had breached guidelines surrounding giving jobs to ministers' partners when Campion was given a promotion last year to leave his office for another government job. He has also denied recently published allegations that he sexually harassed women in a Canberra bar while drunk in 2011.
Former Nationals leader Warren Truss, who retired from politics in 2016, said distractions Joyce had created from the government's performance were "unhelpful and therefore must be resolved quickly".
Joyce is to become Australia's acting prime minister next week when Malcolm Turnbull travels to the United States.
Questioned by the opposition in Parliament, Turnbull said he still had confidence in Joyce and intended to leave the nation in the beleaguered lawmaker's care.
Turnbull also denied an opposition suggestion that he had advised Joyce to resign.
Foreign Minister Julie Bishop, who is deputy leader of Turnbull's conservative Liberal Party, said she would return to Australia to step in as acting prime minister if Joyce was not available.
While Australia's major parties are known for ruthlessly deposing leaders, the Nationals have only dumped a leader once in their history, in 1989.
This article appeared in the South China Morning Post print edition as: Joyce facing calls from party to quit over affair