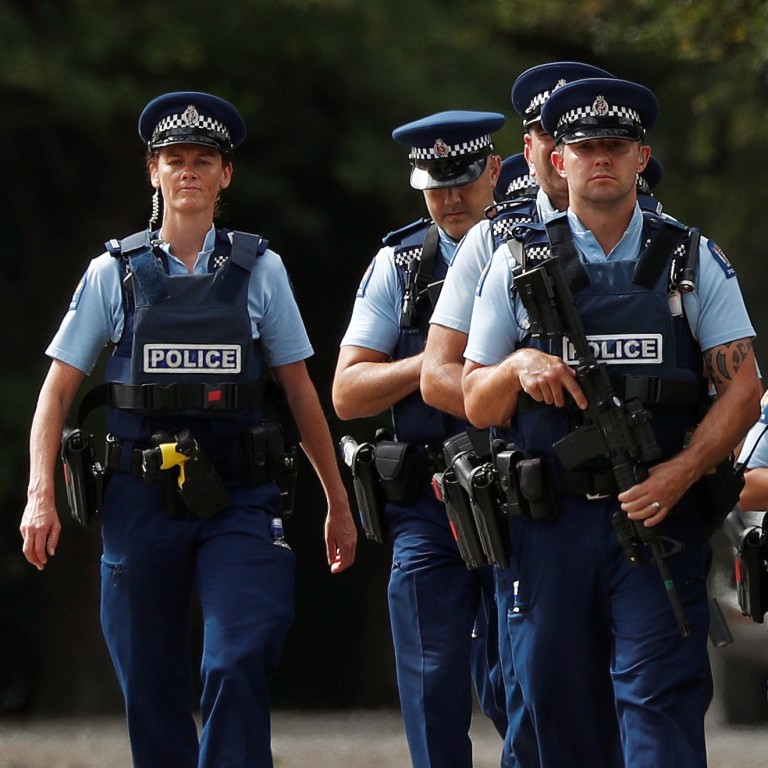 New Zealand shooting: Police visited terror-accused Brenton Tarrant's home in Dunedin before granting him gun licence
Police in October 2017 interviewed terror-accused Brenton Tarrant at his home in Dunedin, a city about a five-hour drive from Christchurch
They inspected his house and spoke to two of his referees, before granting him the gun licence which allowed him to buy the weapons used in the mosque attacks
New Zealand
police met with the accused Christchurch attacker in October 2017 before granting him a gun licence, authorities revealed on Friday, as the nation turned out en masse to honour the 50 victims in a nationwide prayer.
Brenton Tarrant, an Australian white supremacist, applied for the gun licence in September 2017 and a police "firearms vetting team" visited his Dunedin home a month later, a police spokesman said.
"One of the steps to gaining a firearms licence is a home visit to meet the applicant in person and inspect the security of their property," he said in a statement.
The police team interviewed Tarrant in October 2017 and carried out a "security inspection" of his home, he said.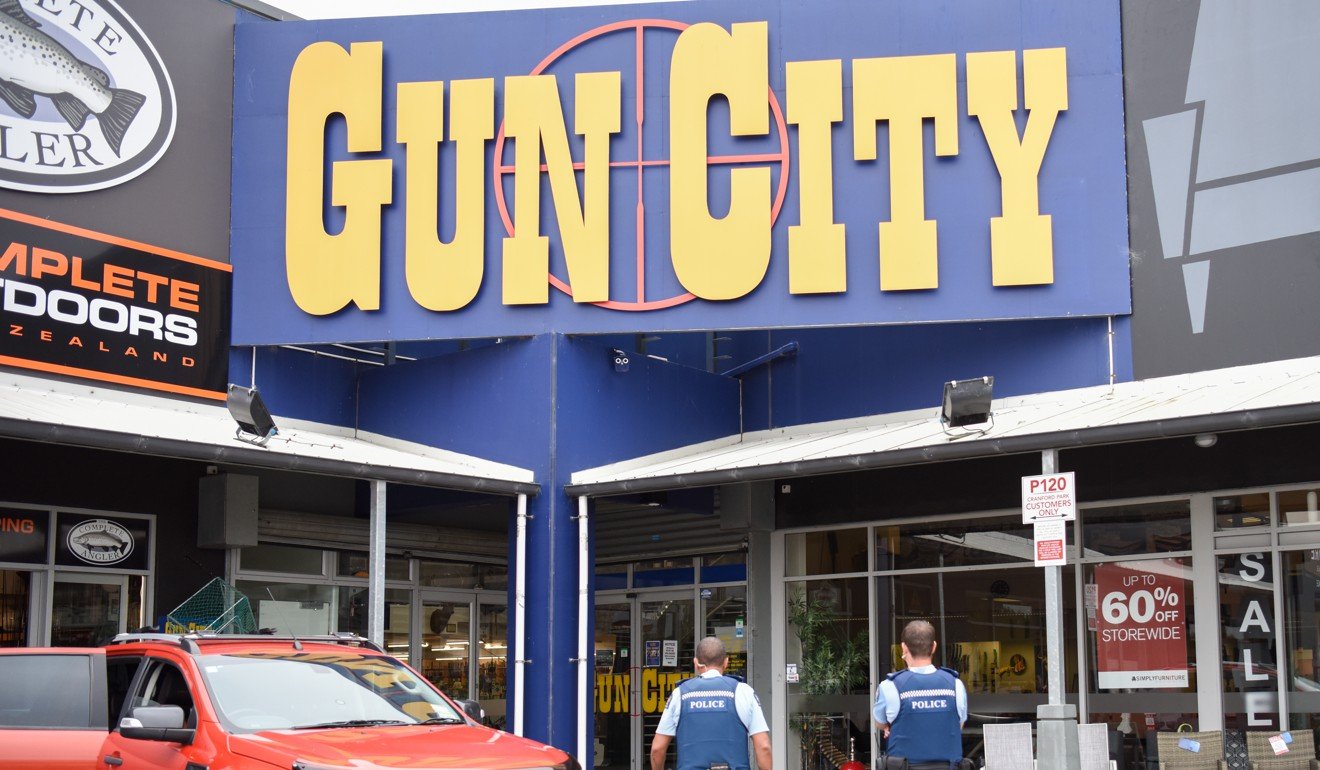 Tarrant also provided the names of two New Zealand residents as references, who were also interviewed by police and "met the requirements of the process", he said, without identifying the two persons. "Following this, all the available information was reviewed and the licence was approved in November 2017."
The terror-accused later bought the weapons used in the
twin mosque attack
from a gun store's website.
The revelation came two days after local media reported there were no mentions of the threat of right-wing extremists in 10 years of public reports released by the country's intelligence agencies.
The security reports focussed heavily on Islamic fundamentalists, in the context of terrorist attacks in other countries and conflict in the Middle East and parts of Africa, Radio New Zealand said.
Prime Minister Jacinda Ardern on Monday announced a high-level inquiry to investigate possible lapses in spy monitoring services and whether the massacre was preventable.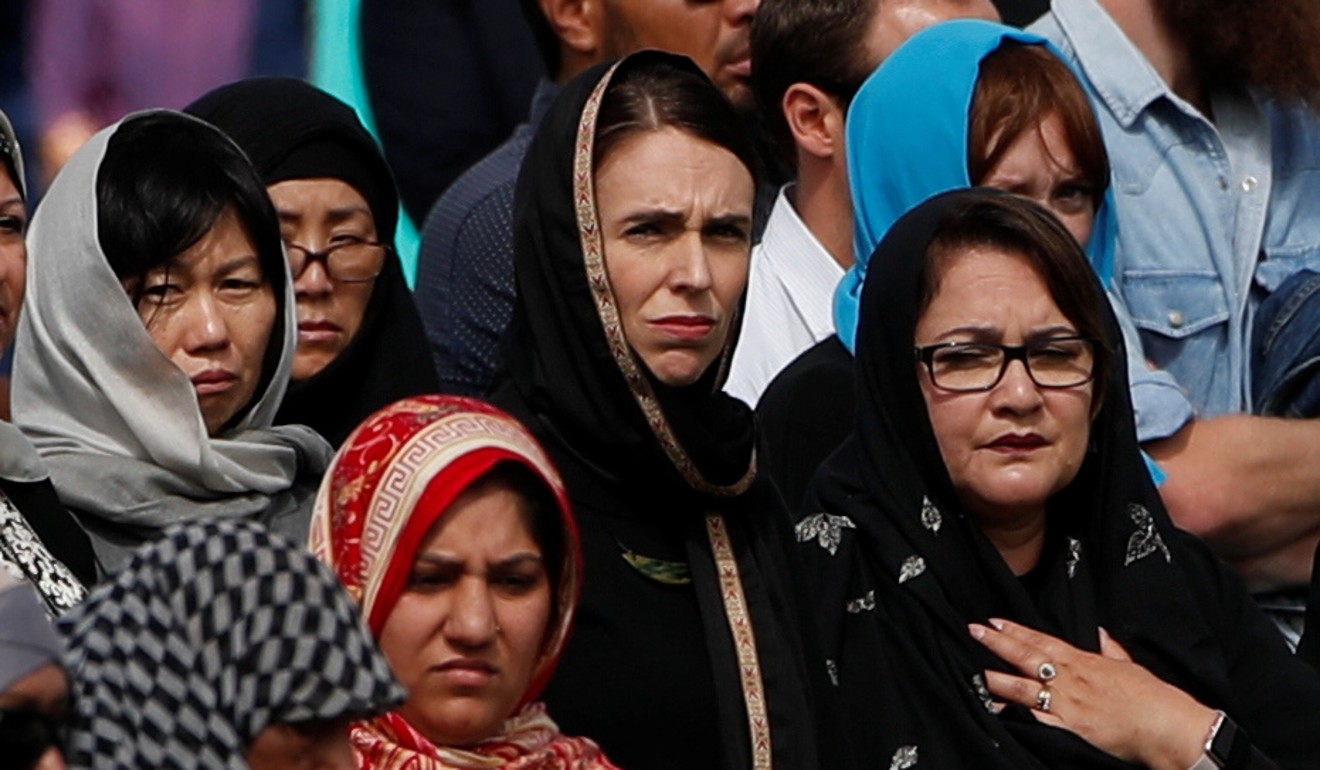 Meanwhile, New Zealanders across the country on Friday gathered to honour the 50 Muslim worshippers in a national vigil.
Ardern and thousands of others congregated in Hagley Park, opposite the Al Noor mosque in Christchurch, to observe the Muslim call to prayer at 1.30pm.
Thousands more were listening in on the radio or watching on television as the event was broadcast live. The prayer was followed by two minutes of silence.
The gunman "broke the hearts of millions around the world", said Imam Gamal Fouda, who was leading prayers. "Today, from the same place, I look out and I see the love and compassion," he said in a 20-minute speech. "New Zealand is unbreakable."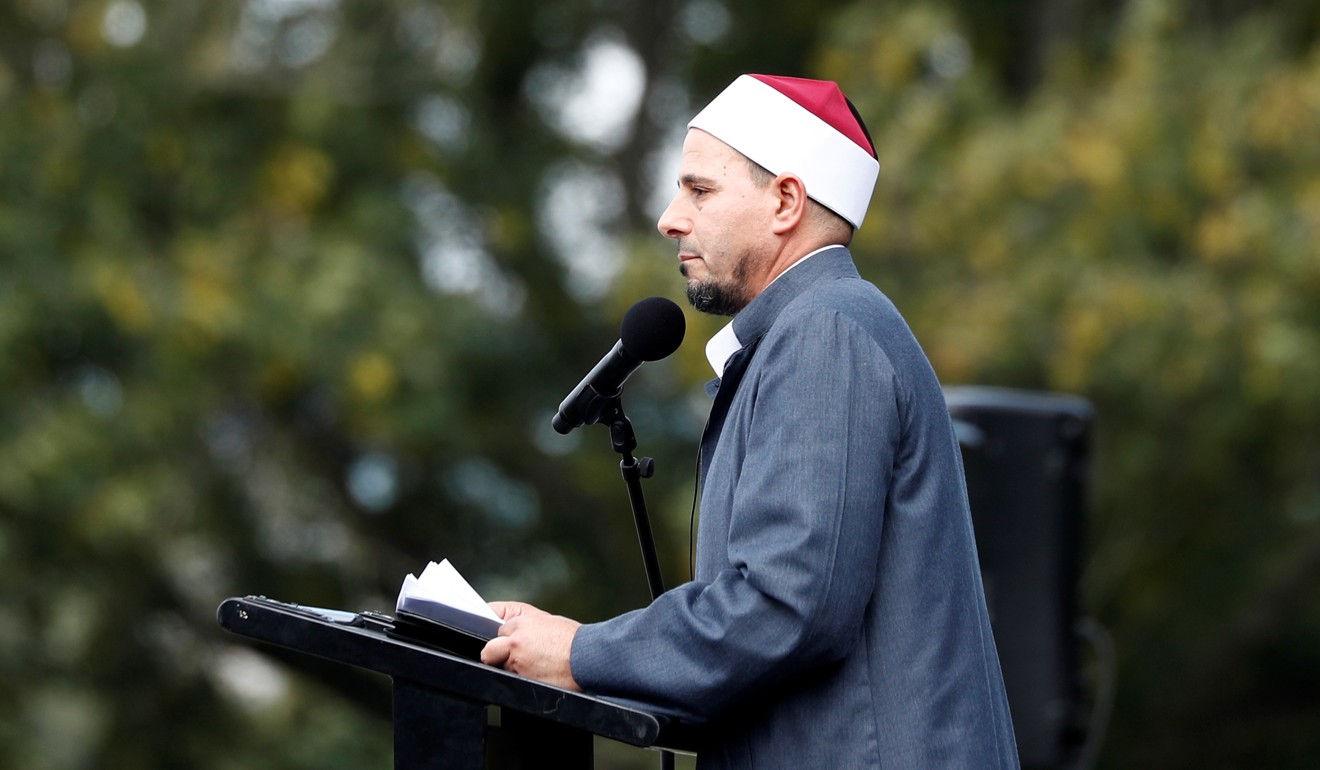 Calling for the end of Islamophobia, hate speech and the politics of fear, he said: "Last week's event is proof and evidence to entire world that terrorism has no colour, race or religion. The rise of white supremacy is a great global threat to humanity and this must end now."
The Imam thanked Ardern for her compassionate leadership.
"It has been a lesson for world leaders," he said. "Thank you for holding our families close and honouring us with a simple scarf."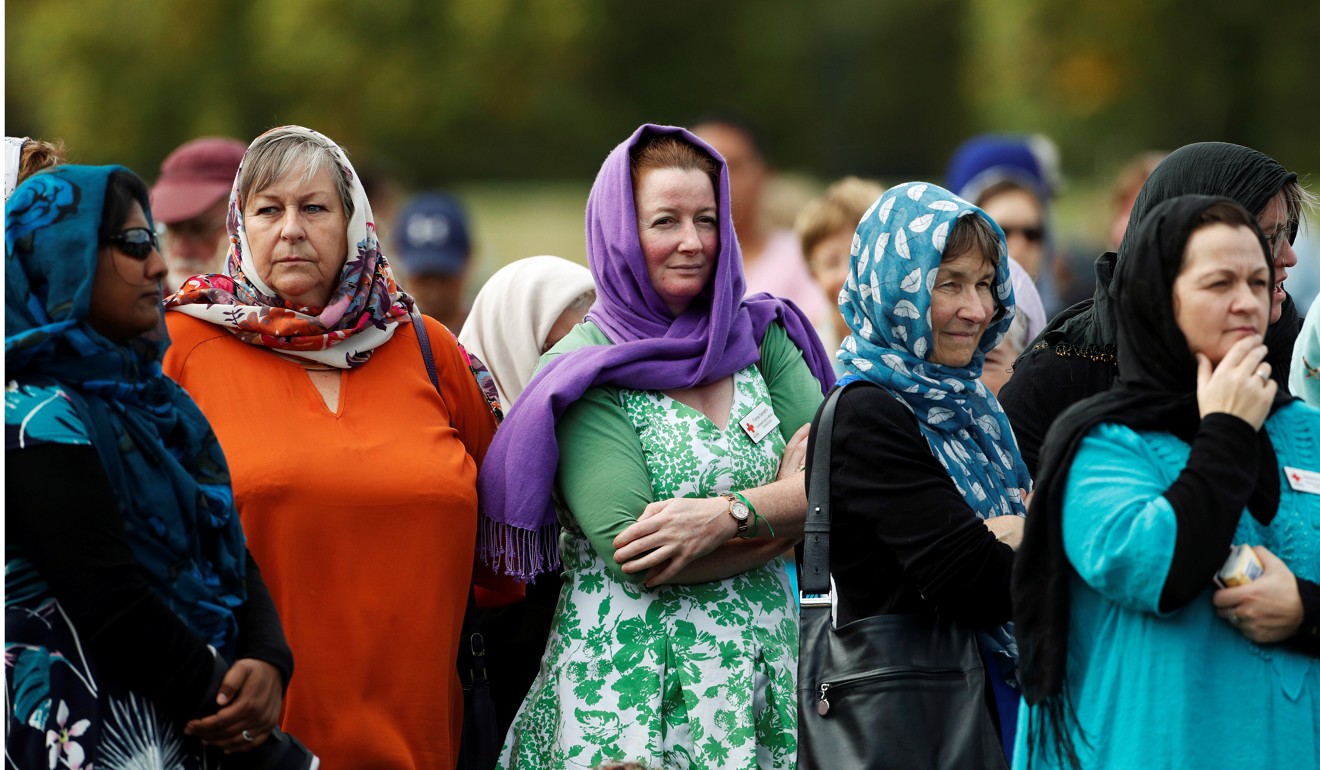 Many women in Christchurch turned out in makeshift hijabs as a statement of peace and solidarity.
Rafaela Stoakes, 32, said wearing the head covering gave her an insight into what it meant to stand out and feel part of the minority.
The mother-of-two was one of many women who was embracing #HeadScarfforHarmony to make a stand against the hate espoused by the terror-accused. She covered all but a few locks of her dark chestnut-coloured hair in a loose red-and-white scarf, crossed neatly beneath her chin and tucked into a black hiking jacket.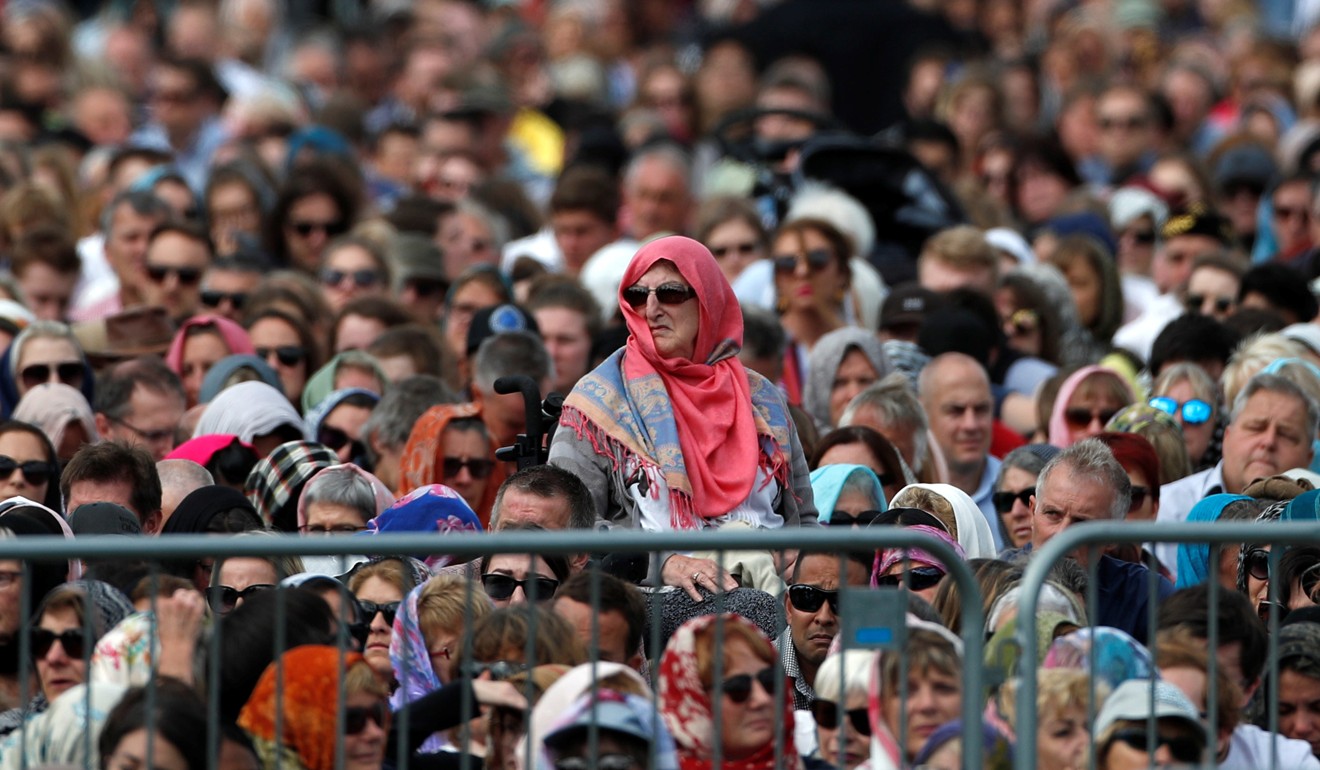 Headscarves were also being worn as a mark of respect by policewomen and non-Muslim volunteers directing the crowds around the park.
"It is amazing how different I felt for the short time I was out this morning," Stoakes said.
"There were a lot of confused looks and some slightly aggressive ones. I did feel a sense of pride to honour my Muslim friends, but I also felt very vulnerable and alone as I was the only person wearing one," she said. "It must take a lot of courage to do this on a daily basis."
Fahim Imam, 33, flew in on Friday morning from Auckland for the service.
"It's just amazing to see how the country and the community have come together," he said before the event.
"As soon as I got off the plane, I saw a sign someone was holding that said 'jenaza', denoting Muslim funeral prayer. Others were offering free rides to and from the prayer service," said Imam, who was born and raised in Christchurch.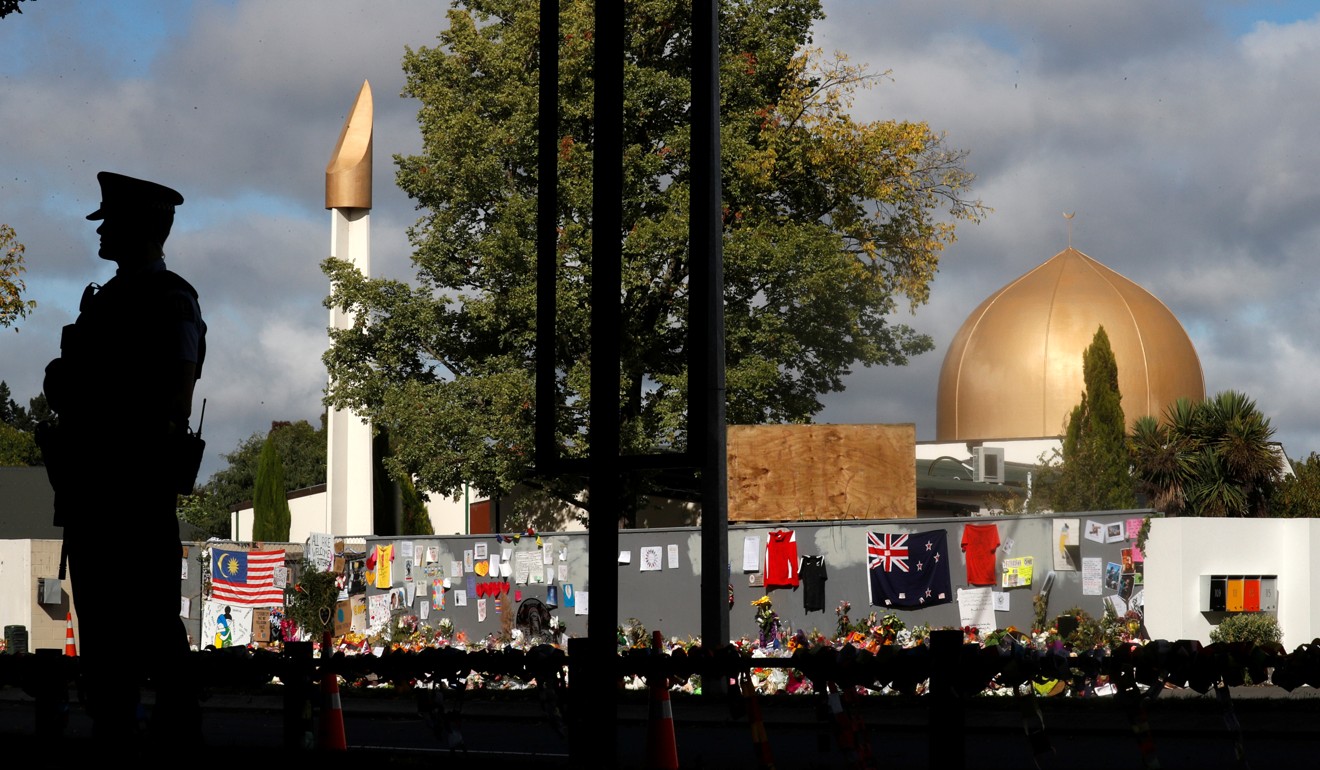 "The moment I landed in Christchurch, I could feel the love here. I've never felt more proud to be a Muslim, or a Kiwi, for that matter. It makes me really happy to be able to say that I'm a New Zealander," he said.
More than two dozen victims were buried in a mass funeral in Christchurch hours after the prayer, with thousands in attendance.
Family members took turns passing around shovels and wheelbarrows to bury 26 of their loved ones.
Among those interred was the youngest victim of the terrorist attack, three-year-old Mucaad Ibrahim.
On Thursday, Ardern
announced a ban
on "military-style" semi-automatic firearms and high-capacity magazines.
The ban was effective immediately to prevent stockpiling, and new laws would be rushed through Parliament that would impose a complete ban on the weapons, Ardern said.
The crackdown applied to new gun purchases but also effectively rendered the targeted weapons already owned by New Zealanders illegal. Ardern said these would be subject to an amnesty and buyback programme.
In the first 20 hours after the ban took effect, nearly 500 people had called a special hotline for people to arrange the gun hand-ins, police said.
Reporting by Agence France-Presse, Associated Press, Reuters
This article appeared in the South China Morning Post print edition as: Police visited suspect before gun granted