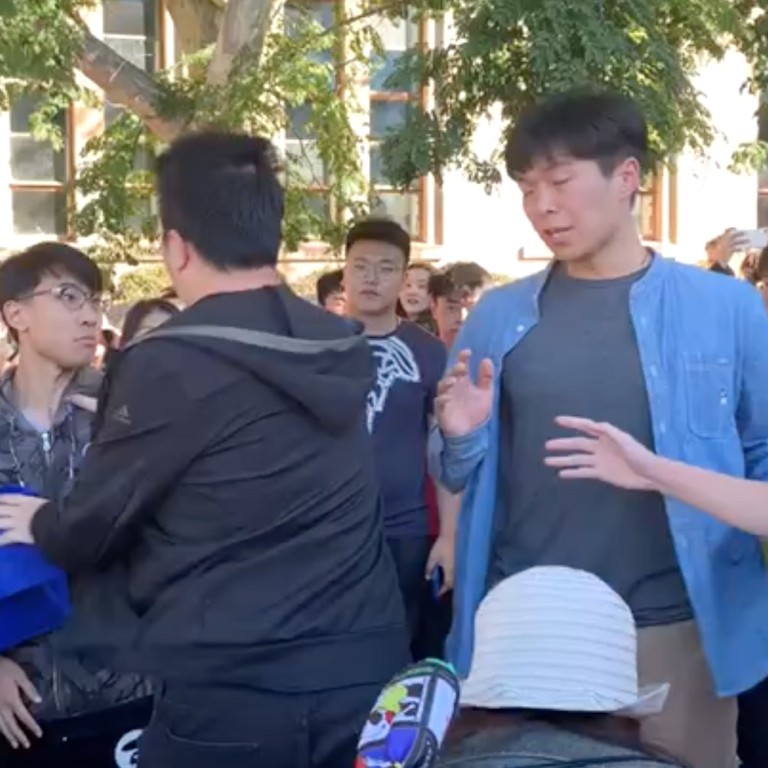 Hong Kong and mainland China students clash at rally at Australian university
Pro-democracy students staged a sit-in supporting the anti-extradition protests in Hong Kong
Mainland students singing the Chinese national anthem allegedly attacked the pro-democracy protesters
Students from Hong Kong and mainland China clashed during a pro-democracy protest at a university in
Australia
on Wednesday.
Scuffles broke out between opposing groups at the University of Queensland in Brisbane after pro-democracy students staged a sit-in supporting the
extradition bill protests
in Hong Kong and also condemning China's treatment of Uygurs in Xinjiang.
Student activist Tony Chang said mainland students singing the Chinese national anthem attacked the pro-democracy protesters without provocation.
"They robbed our loudspeaker, and also some of our slogans, and even tore our slogans," he said, adding that mainland students had punched a number of pro-Hong Kong protesters in the face.
Richard Murray, a journalism lecturer at the university, said he saw punches thrown between several students before campus security intervened.
Up to 40 police officers arrived on the scene to keep the groups apart but no arrests appeared to have been made, he said.
Murray said up to 1,000 students had gathered at the scene, most of them mainland Chinese.
An internet petition condemning the pro-democracy protest had attracted more than 1,100 signatories by late afternoon.
"I came to this country for education, peace, and the careful community environment," said a student named Keira Gao, who started the petition. "However, today's protest unveiled the other facet of this school, which I felt strong discomfort [about]."
"China has absolute respect for
Xinjiang
and Hong Kong in terms of politics and human rights," said a signatory named Flora Zhang.
"Hong Kong is a part of China!" said another signatory calling himself Dawen Si.
The University of Queensland said campus security called police to the scene.
"One of the roles of universities is to enable open, respectful and lawful free speech, including debate about ideas we may not all support or agree with," the university said in a statement.
"The university expects staff and students to express their views in a lawful and respectful manner … Earlier today, in response to safety concerns resulting from a student-initiated protest on campus, the university requested police support.
"On the advice of police, protesters were requested to move on. The safety of all students is paramount to the university."
Last month, the University of Queensland's student union voted in support of pro-democracy protesters in the city and to condemn the "Hong Kong and Chinese governments for their subversion of democratic rights and freedoms in both Hong Kong and the People's Republic of China".
Ian Hall, an international relations professor at the Griffith Asia Institute in Brisbane, said that such clashes were likely to become more common, but that Australian universities were "woefully unprepared" to deal with them.
"They are partly to blame too, because they have allowed Chinese student associations on campuses to be funded and controlled by the People's Republic of China embassy and consulates," Hall said.
"This has allowed PRC diplomats to monitor students, to intimidate them, if necessary, and to orchestrate shows of strength or support for the PRC."
Fears of Chinese influence
, including the monitoring and direction of international students by embassies and consulates, led Canberra to pass sweeping anti-foreign interference laws last year that strained relations with Beijing.
In 2008, Chinese students scuffled with pro-Tibet activists in Canberra as the Olympic torch passed through the Australian capital.
Several weeks later, Chinese students in
South Korea
hurled rocks and other objects at demonstrators during the relay as they protested Beijing's treatment of North Korean refugees.
There were about 175,000 Chinese studying in Australia last year, according to the Department of Education.
About 9,244 Hongkongers chose the country for study in 2013, according to the ICEF Monitor, which covers the international education industry.
Connect with us on Twitter and Facebook .
This article appeared in the South China Morning Post print edition as: Hong Kong and mainland students clash during rally at Australian university