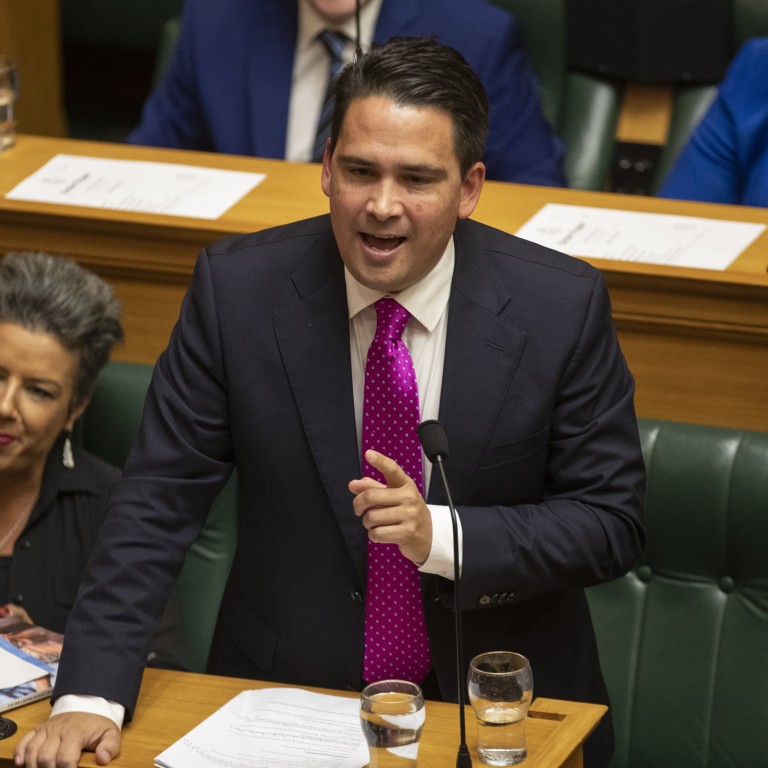 New Zealand MP Simon Bridges defends Beijing visit, interview with Chinese state media as criticism mounts
Leader of the opposition National Party has been criticised at home for 'looking overly sycophantic' in praising the Communist Party
He met Politburo member Guo Shengkun, whose current responsibilities include law order
The leader of
New Zealand's
biggest opposition party has come under fire at home for meeting China's former public security chief in Beijing last week, and praising the
Communist Party
during an interview with Chinese state-owned television.
Simon Bridges, accompanied by fellow National Party members of parliament Yang Jian and Gerry Brownlee, met Politburo member Guo Shengkun on Friday in the Great Hall of the People. During an interview over the weekend with English-language CGTN, Bridges described China's economic transformation under the Communist Party as an "amazing story", saying New Zealand and China enjoyed a strong trading relationship.
Bridges replied: "We understand and accept China's sovereignty in Hong Kong. We want to see the peaceful resolution. I think the recent step around the extradition bill, to remove it, that's been very positive."
New Zealand's Finance Minister Grant Robertson mocked the interview in parliament, saying Bridges' "praise for the Chinese Communist Party went to a level that even the most loyal members of that party would struggle with".
On social media, analysts took aim at Bridges over the meeting and the interview. Professor Anne-Marie Brady, a vocal critic of Chinese foreign influence, tweeted that the "leader of NZ's main opposition party … just met the leader in charge of China's secret police".
Guo is Secretary of the Central Political and Legal Affairs Commission of the Communist Party. His current responsibilities cover law and order.
Yang is an academic and although he is now a New Zealander he has admitted to previously training Chinese spies to monitor other countries' communications.
Brownlee is a former minister of defence and minister of foreign affairs. He is the National Party's spokesman for foreign affairs, a brief which includes New Zealand's intelligence services.
Jason Young, director of New Zealand Contemporary China Research Centre said the "astonishment many in New Zealand had watching Simon Bridges' interview" was due to him referring to the country's relationship with the Communist Party, rather than New Zealand's relationship with the Chinese government and people.
"He appeared to drop a long-standing New Zealand convention that politicians speak with a New Zealand voice and appeared to speak about China as it is spoken of in the Chinese state media," said Young.
Euan Graham, the executive director of La Trobe University's Asia department in Melbourne, said the visit set a "new jaw-dropping standard in cringeworthiness for Western politicians visiting China".
"While the questions were leading, Bridges took up the challenge of buttering up the party with obvious enthusiasm, praising
Xi Jinping
in such obsequious terms that he sounded like a paid-up party member," Graham said.
Upon his return to Wellington on Tuesday, Bridges defended the meeting and refuted Brady's description of Guo's position as the leader of China's "secret police".
He told local media he raised a "variety of issues" on his trip, adding that concerns about the detention of an
estimated 1 million ethnic Uygurs
in camp in Xinjiang "came up briefly".
"Of course, we disagree with them on human rights," he said. "Of course, we'll push for rule of law. Of course, we don't like what's happening in Hong Kong and we want a peaceful resolution.
"But to run the woke line that some of you love so much on Twitter that that somehow means we shouldn't be visiting and we shouldn't be having a relationship with a superpower that we trade with more than any other country in the world, I think is pretty irresponsible."
Nathan Attrill, a PhD candidate studying Chinese domestic politics at ANU Crawford School in Canberra, said Bridges' interview suggested he did not understand how the Chinese political environment worked, "especially the role of state media in framing and promoting the narratives the [Communist Party] wants".
"He is effectively being used as a prop to endorse the premises of the interviewer's [party]-approved questions, especially as most go unchallenged by Mr Bridges," said Attrill, who is from New Zealand.
"Such party-to-party meetings by foreign political leaders with [Communist Party] officials tend to go unreported in the former's domestic press, and unfortunately Mr Bridges' attempts to appear as a 'Friend of China' come off looking overly sycophantic rather than just being diplomatic."
In a Facebook post on Tuesday, Bridges said he had discussed the ongoing
US-China trade war
in his meetings with senior Chinese ministers and Politburo members, and that a full-scale dispute would hurt New Zealand.
The China-New Zealand free trade agreement, signed in 2008, has allowed China to become New Zealand's largest trading partner, with trade increasing from a few billion dollars a year to US$30 billion.
"As a side note, this is important for many back home to remember," Bridges said. "Our chai lattes and indeed our health, roads and education rely on our trade."
Last year, nearly 15 per cent of New Zealand's 3.8 million international tourist arrivals were from mainland China, contributing US$16 billion to the economy. China consumed over a quarter of New Zealand's dairy exports, which were worth a total of US$15 billion.
This article appeared in the South China Morning Post print edition as: Opposition leader 'cringeworthy'