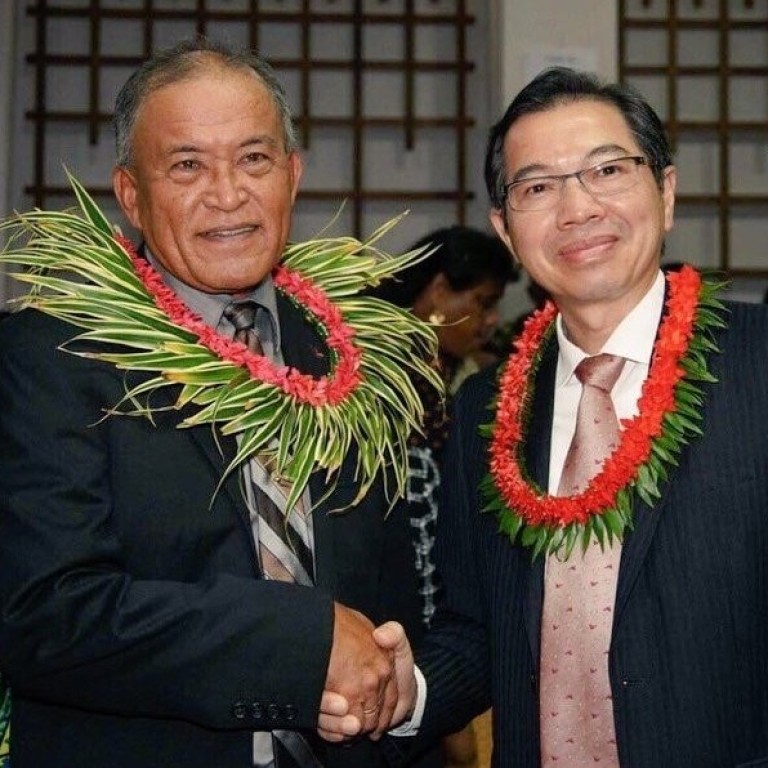 Marshall Islands' new president David Kabua likely to keep diplomatic ties with Taiwan
Kabua, a son of the nation's founding leader, beat incumbent Hilda Heine in a parliament vote by a count of 20 votes to 12, with one abstention
He is seen as a 'steady' leader who is likely to maintain the Pacific nation's status quo with Taiwan, observers say
The Republic of the Marshall Islands on Monday announced David Kabua as its new president. Kabua is a political veteran and moderate who is expected to maintain diplomatic relations with Taiwan despite speculation that a new administration could prompt the archipelago to cut ties in favour of Beijing.
Kabua, the second son of founding president Amata Kabua, beat incumbent Hilda Heine by a count of 20 votes to 12, with one abstention, in a parliamentary vote by the Marshall Islands, an archipelagic nation which maintains a unique defence agreement with the United States.
Observers say he is expected to be "steady at the helm" of the country, which has recently come under scrutiny for maintaining ties with Taiwan while neighbouring Pacific nations switched diplomatic allegiance to China.
Six countries have dropped their recognition in favour of Beijing since Taiwan's current president Tsai Ing-wen took office in 2016, including the Solomon Islands and Kiribati.
Just four of Taiwan's remaining 15 allies are located in the Pacific, giving the Marshall Islands has a "strong hand" in its relationship with Taiwan, said Patrick Gerard Buchan at the Washington think tank Centre for Strategic and International Studies.
"Taipei really can't afford to drop any more of its existing partners," said Buchan. "Kabua has served for many years in the National Assembly, and I don't see him seeking to adjust the current relationship with Taiwan."
Kabua, previously a minister of health and minister of internal affairs, was appointed by members of parliament who were directly elected in November, when several Heine supporters lost their seats.
Kabua formerly signed a resolution upholding the country's diplomatic relationship with Taiwan, which Heine vocally supported.
Observers had speculated if Heine was ousted, the nation could reconsider its ties in favour of Beijing, but Kabua is likely to maintain the status quo, said Buchan.
Taiwan's ambassador to the Marshall Islands Jeffrey Shengzhong Hsiao congratulated Kabua on the win.
The Marshall Islands are made up of 1,200 islands which form part of an area Beijing calls "the second island chain", where control of surrounding waters is central to China's defence strategy in the Pacific. The island nation holds claim to an exclusive economic zone that measures about 2 million square kilometres (770,000 square miels) of the Pacific.
The nation maintains a defence agreement which allows Marshallese citizens to live and work in the US in exchange for granting Washington exclusive defence access to its strategic territorial waters.
The president of the Marshall Islands is expected to be inaugurated within a week.