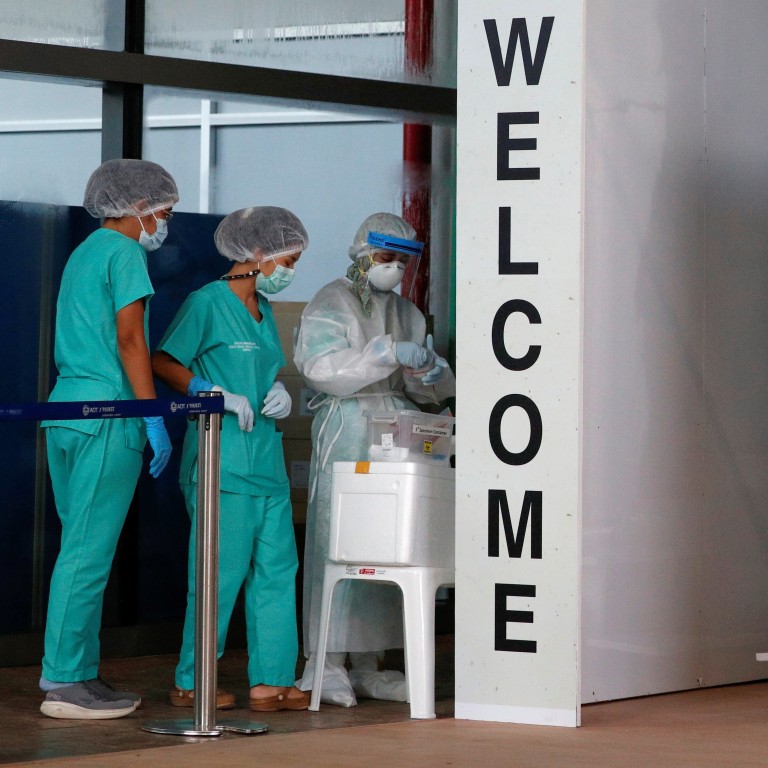 Coronavirus: Thailand, Japan cut quarantine for vaccinated travellers
Thailand will halve its quarantine to seven days as it seeks to revive its tourism-dependent economy, while Japan will cut it from 14 to 10 days
Elsewhere, Australian PM Scott Morrison plans to open international border before the end of the year, as New South Wales seeks an end to lockdown
Thailand
agreed to halve its mandatory quarantine to seven days for fully vaccinated visitors starting next month, and will remove any isolation period for such travellers in 10 key provinces including Bangkok in November to help revive its tourism-dependent economy.
The country's main
Covid-19
task force also approved the reopening of a variety of businesses and services, including theatres, sports venues and nail salons, as of October 1, when a nightly curfew in many parts of the country will be cut by one hour, according to spokesman Taweesilp Visanuyothin. The new curfew hours will be from 10pm to 4am.
The Southeast Asian nation previously delayed and adjusted its tourism-reopening programme several times due to low vaccination rates and concerns that the easing of rules would enable infections and hospitalisation to surge again. The programme began in July in the resort island of Phuket, after a high number of vaccine doses were delivered and administered.
The latest decisions by the virus panel, chaired by Prime Minister Prayuth Chan-ocha, are part of its "living with Covid" strategy to restart the economy, while maintaining infections at a level that does not overwhelm Thailand's health care system. The moves come after the pace of inoculations have been ramped up to major population and economic centres, with as many as 1 million doses administered daily in the past week.
Before the pandemic in 2019, Thailand's tourism sector attracted nearly 40 million visitors annually and generated about US$60 billion per year. Various plans to ease restrictions on both domestic and international travel, as well as an array of businesses have been hampered by vaccine shortages and clusters of infections in markets and factories.
Quarantine days for unvaccinated air travellers cut to 10 days from 14
Japan to shorten quarantine for vaccinated travellers
The Japanese government also said on Monday it will ease quarantine rules for people vaccinated against Covid-19 entering the country starting October 1, shortening the required period for self-isolating at home from 14 days to 10 days as it looks to restart international travel.
People who have been fully vaccinated will be able to go outside as long as they test negative for the virus after 10 days following their arrival, Chief Cabinet Secretary Katsunobu Kato told a press conference. Only shots developed by Pfizer, Moderna or AstraZeneca are eligible.
People travelling from any of 45 countries including Britain, India and the Philippines had been required to spend three of the 14 days in a government-designated facility, but will no longer be required to do so if they are fully vaccinated.
Meanwhile, Japan plans to lift its Covid-19 state of emergency, which covers 19 prefectures, in all of the regions at the end of September, broadcaster NHK reported on Monday.
Prime Minister Yoshihide Suga said he discussed easing measures with relevant ministers on Monday, and would seek the views of a government panel of advisers on Tuesday.
"We will make a final decision on the matter based on the advice and discussions we have with the government expert panel tomorrow," he told reporters on Monday evening.
If approved, Japan would be free of such emergency restrictions for the first time in nearly six months. Current measures require restaurants to close early and refrain from serving alcohol. People have been asked to avoid non-urgent outings and refrain from crossing prefectural borders.
Japan saw a spike in cases over the summer as it struggled to contain the contagious Delta variant of the coronavirus, reaching a record high of 25,000 new daily infections. However, that number has dropped in recent weeks, and the country recorded just over 2,000 cases on Sunday. Over 57 per cent of the population is now fully vaccinated.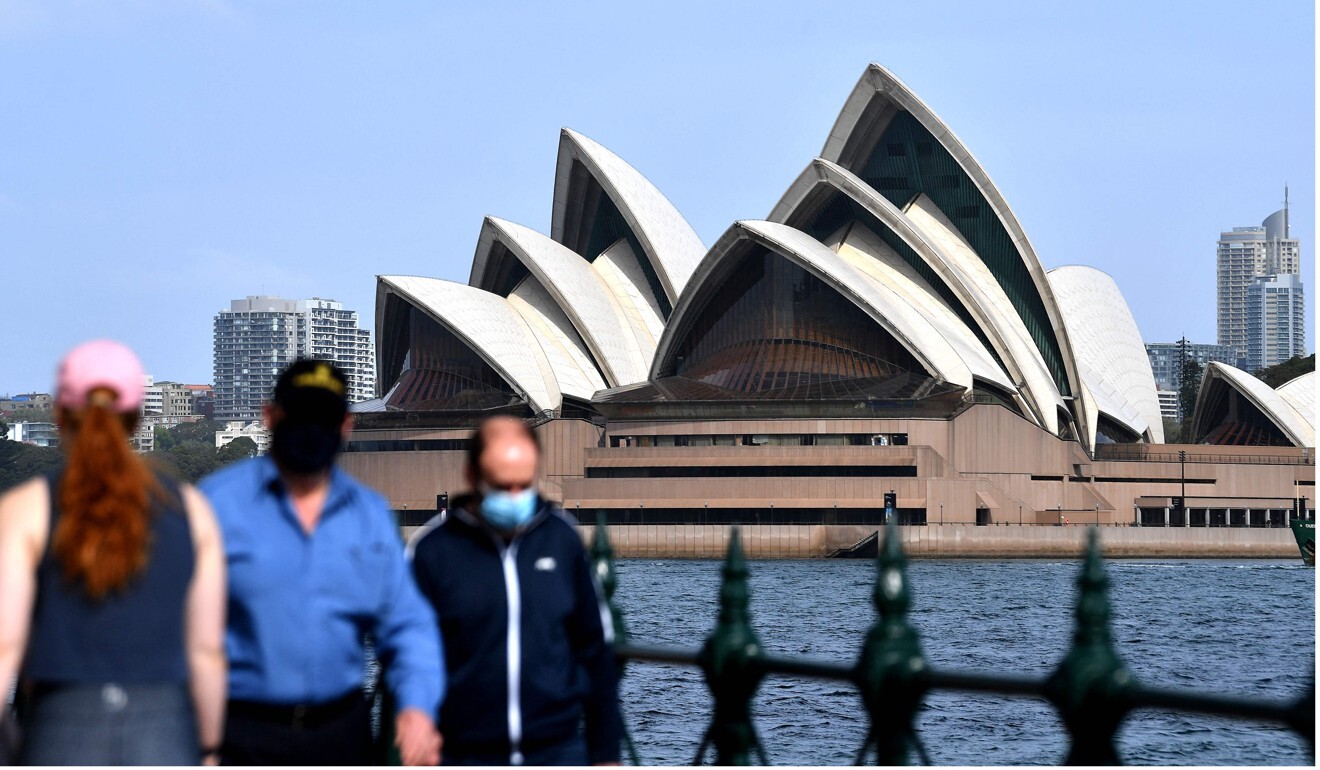 Australian PM plans border reopening
Prime Minister Scott Morrison on Monday said he expected
Australia
to open its international border well before the end of the year, as New South Wales state announced a "blueprint for freedom" after a lengthy lockdown.
Local Australian governments have agreed to ease tight restrictions on overseas travel when 80 per cent of the population aged 16 and older are fully vaccinated.
Morrison said the first steps would allow Australians to leave and fully vaccinated citizens and permanent residents to return home.
"That will occur before the end of the year. It could happen well before that," Morrison told American broadcaster CBS News.
In New South Wales, state authorities on Monday announced plans to gradually reopen locked-down capital city Sydney, unveiling a two-tiered system that would give vaccinated residents more freedoms than their inoculated neighbours for several weeks.
Movement restrictions across New South Wales, the country's most populous state, will be lifted gradually between October 11 and December 1 as vaccination rates push through 70 per cent, 80 per cent and 90 per cent.
However, people who are not fully inoculated will not be allowed to join in renewed activities, like community sports, dining out and shopping, until the final date.
"It is very important to note that in unlike most cases in the world if you are not vaccinated you will have to wait at least four or five weeks … in order to participate in things that the rest of us can participate in," state Premier Gladys Berejiklian said in a televised briefing.
"The message is if you want to be able to have a meal with friends and welcome people in your home, you have to get vaccinated."
Berejiklian did not detail how the block on activity by the unvaccinated would be enforced.
Sydney, along with Melbourne and Canberra, has been in lockdown for several weeks, with the three cities bearing the brunt of a third wave of Covid-19 infections that has taken national case numbers to almost 100,000 – 68 per cent recorded since mid-June.
At 1,245 deaths, the national fatality rate, however, has slowed due to higher vaccination levels among the most vulnerable.
The Delta-fuelled outbreak has divided state and territory leaders, with some presiding over virus-free parts of the country indicating they will defy a federal government plan to reopen internal borders once the adult population reaches a 70-80 per cent vaccination rate, expected toward the end of October.
In New South Wales, where around 60 per cent of people aged 16 and over are fully inoculated, restaurants, pubs, retail stores, gyms and indoor recreation facilities will be allowed to reopen on October 11 – days after the state is expected to reach 70 per cent vaccination – with capacity limits.
Once 80 per cent vaccination is achieved, expected a couple of weeks later, statewide travel will be allowed. Limits on people attending funerals and weddings lifted, while retaining social distancing, and the number of vaccinated people allowed to gather in a home will double to 10.
From December 1, there will be no limits on home gatherings and informal outdoor gatherings. Capacity limits will continue at indoor venues, but masks will no longer be required. Businesses will be allowed to impose their own rules requiring patrons be vaccinated after this date.
In neighbouring Victoria, Premier Daniel Andrews refused to commit to a date that would ensure all citizens in his state, including the unvaccinated, would have significant freedoms before Christmas.
"I will say to people, just wait five weeks and you will have all the freedoms," he said. "No, that is not a guarantee at all here. We have not made that decision."
New South Wales, Victoria and the Australian Capital Territory, home to Canberra, reported a total of just over 1,500 new coronavirus cases on Monday – the vast bulk almost evenly split between Sydney and Melbourne.
The daily numbers have been tracking lower in recent weeks.
Victoria is expected to relax some curbs from Wednesday when the state's first-dose vaccination rate is forecast to tick over 80 per cent, while New South Wales on Monday allowed construction sites to return to full capacity and outdoor swimming pools to reopen with social distancing rules.
Qantas Airways, which has already stated its intention to require travellers to be fully vaccinated, said after Monday's announcement it would bring forward its reopening date for travel between Sydney and Melbourne to November 5, from December 1.
Vietnam epicentre may have 40 per cent more unrecorded cases
Authorities in
Vietnam
's biggest city are urging the government to recognise positive rapid tests for Covid-19 to present a clearer picture of its outbreak, state media reported on Monday, a move that could increase the city's case total by 40 per cent.
Ho Chi Minh City, home to about 9 million people, has borne the brunt of Vietnam's coronavirus crisis, accounting for 80 per cent of its more than 18,500 Covid-19 deaths and half of its 756,000 cases.
Positive rapid tests of 150,000 people in the city since August 20 have not been included in the overall tally, Tuoi Tre newspaper said, citing the deputy head of the city's health department, Nguyen Huu Hung. Like many countries, Vietnam only counts positive swab-based Polymerase Chain Reaction (PCR) tests.
The southern economic hub has recorded 372,180 infections overall. If 150,000 more cases were confirmed to be positive, it would reduce the city's death rate from just over 3.8 per cent to 2.75 per cent. The health ministry did not immediately respond to a request for comment from Reuters.
Tuoi Tre cited an unnamed official at the city's health department as saying the 150,000 individuals were being treated, but had not undertaken swab tests due to insufficient resources.
Ho Chi Minh City is set to ease coronavirus curbs and allow the resumption of some businesses from Friday to try to revive economic activity after long periods of restrictions. The move is part of a shift away from its policy of targeting zero Covid-19 cases, which was pursued aggressively before April this year, when it was hit by a devastating wave of infections fuelled by the highly contagious Delta variant.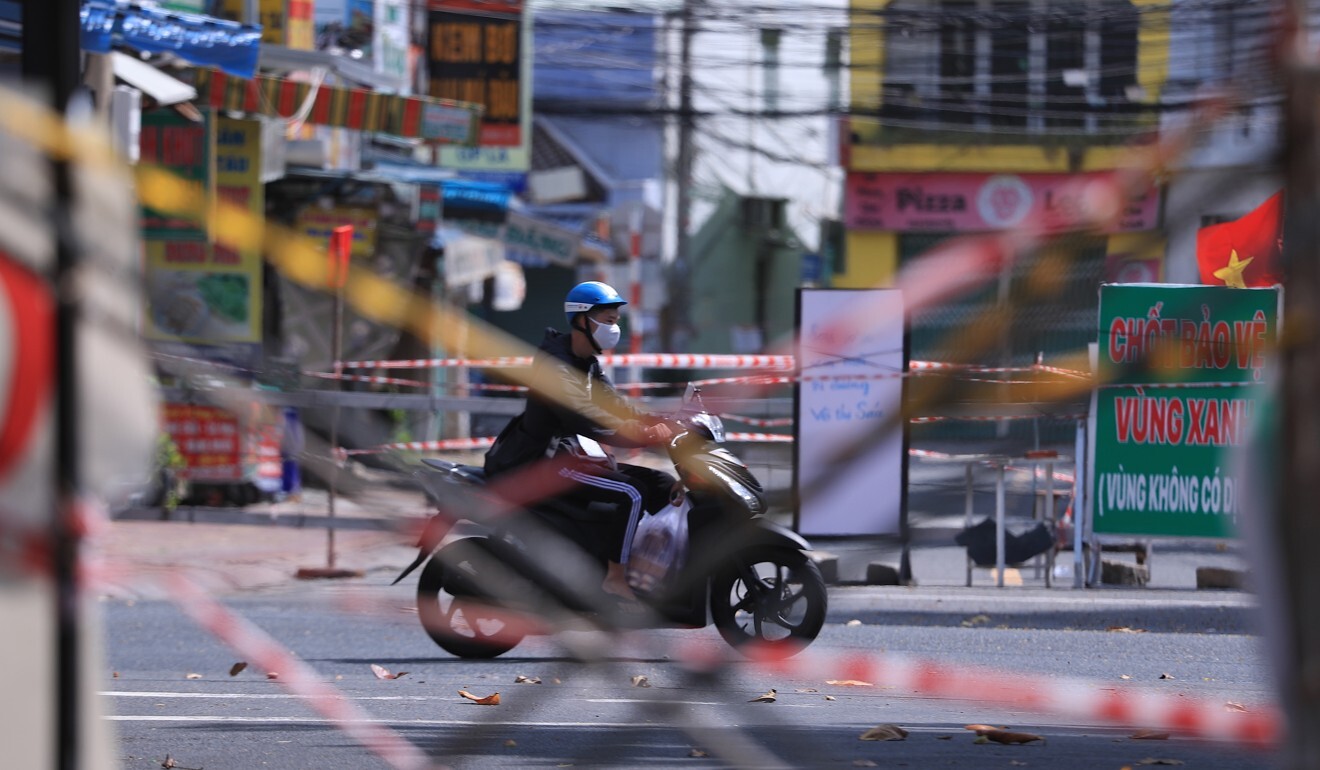 New Zealand to allow home isolation for travellers
New Zealand
's prime minister says the government will start a pilot programme of home isolation for overseas travellers, ahead of what she expects to be increasing vaccination levels. Currently New Zealanders have to quarantine in hotels for two weeks when they return home from abroad.
Prime Minister Jacinda Ardern said on Monday a pilot programme that will allow New Zealanders to quarantine at home will include 150 business travellers who arrive between October 30 and December 8. The programme will involve monitoring and testing.
"The only reason that we are running this self-isolation pilot now is in preparation for a highly vaccinated population," Ardern said. "The intention is that in the first quarter of 2022 when more New Zealanders are vaccinated, it will be safer to run self-isolation at home."
Of the eligible population in New Zealand aged 12 and older, 43 per cent had been fully vaccinated, Ardern said.
In Auckland, the nation's most populous city which has been locked down since August 17 after the highly-contagious Delta variant leaked from hotel quarantine, 82 per cent of the eligible population had at least a single dose of the double-shot Pfizer vaccine, she said.
New Zealand has taken an unusual zero-tolerance approach to the coronavirus and has been trying to completely eliminate the delta variant.
South Korea to vaccinate children over 12
South Korea
said on Monday it would begin inoculations next month for children aged 12 to 17 and offer
Covid-19 vaccine
booster shots to those 75 years and above as the country starts to transition to normalcy by the end of October.
South Korea, which has been battling a fourth wave of infections since early July, scrambled over the weekend to contain a surge in cases. Infections topped 3,000 for the first time fuelled by last week's public holidays.
The vaccination advisory committee of the Korea Disease Control and Prevention Agency (KDCA) has ruled that the benefits outweigh the risks in vaccinating children. However, parents who have healthy children, such as those who do not have underlying conditions, are advised to weigh the relative benefits in making their decision, KDCA Director Jeong Eun-kyeong told a news conference on Monday.
While approving vaccinations for 12 to 17 year-olds, who will be given Pfizer shots, the panel and the government had not mandated that all children should take the shot.
Jeong said the initial booster doses from Pfizer/BioNTech and Moderna will go to those with weakened immune systems or deemed to be at high risk – the elderly, nursing home patients and staff.
The country aims to boost vaccination and fully immunise 90 per cent of those aged 60 and older, and 80 per cent of 18 to 59 years-old by the end of October. Some 74.2 per cent of its 52 million population have had at least one dose of a vaccine through Sunday, and more than 45 per cent are fully vaccinated.
South Korea has reported 2,383 new coronavirus cases for Sunday, bringing total infections to 303,553, with 2,456 deaths.
Pakistan arrests 40 for faking vaccination certificates
Authorities in Pakistan have arrested more than 40 people for issuing fake vaccination certificates, as Prime Minister Imran Khan's government looks to safely reopen the economy.
The arrests took place over the past month and a half, Sanaullah Abbasi, director general at Pakistan's Federal Investigation Agency, said at a briefing in Islamabad on Monday.
"Such illegal and immoral acts not only endanger the lives of the people but also put the country's prestige at risk globally," Abbasi said.
Khan is seeking to reopen the economy as a fourth wave of the coronavirus pandemic ebbs. The government wants to fully vaccinate 70 million people by December, up from some 25 million currently, and had been pressuring citizens to get at least one shot by September 15.
Pakistan's most populous province, Punjab, had warned that mobile phone services may be banned for unvaccinated people while Sindh province said it will stop salaries to encourage people to get the vaccine. Pakistan has a history of vaccine hesitancy, for instance polio workers regularly get attacked, fuelled by conspiracy theories.
The country of more than 200 million people reported 1,757 new infections and 31 deaths during the last 24 hours, the lowest test-to-positive cases in almost three months.
Reporting by Reuters, Kyodo, Bloomberg, AP