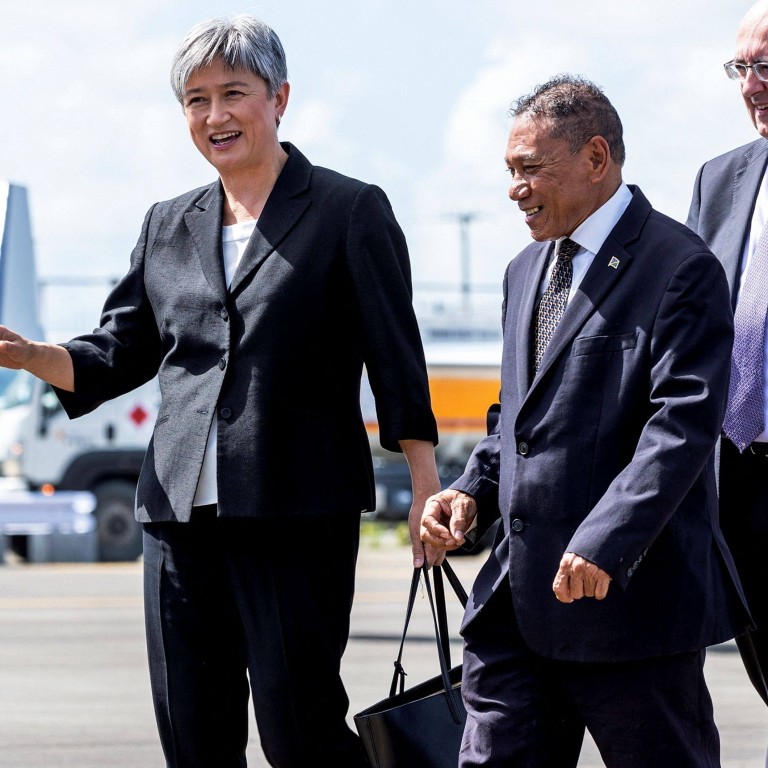 China-Australia relations: Canberra's top diplomat Penny Wong visits Solomon Islands to address Beijing security concerns
Trip marks the first visit to the Solomons by an Australian foreign minister since the island nation sealed a security pact in April with China
China and the Solomon Islands have each dismissed fears among the US and its allies that it could lead to the construction of a Chinese military base
Australia
's foreign minister landed on Friday in the Solomon Islands and met with the country's leader Manasseh Sogavare to address relations frayed by the Pacific nation's cosy ties and recent security pact with
China
.
It is the latest stop in a South Pacific travel blitz by Foreign Minister Penny Wong, who is seeking to shore up regional ties.
Since the centre-left Labor government's May 21 election victory in Australia, Wong has flown to Japan, Fiji, Tonga, Samoa and New Zealand to parry China's growing military and diplomatic influence.
Wong made no immediate comment on the talks, but said earlier that she wanted to discuss pandemic recovery, economic development, climate change and "our shared security interests".
It marks the first visit to the Solomons by an Australian foreign minister since the island nation sealed a security pact in April with China, sparking alarm in the
United States
, Australia,
New Zealand
and
Japan
.
The agreement has not been made public, but a leaked draft showed it would allow Chinese naval deployments to the island, which lies less than 2,000 kilometres from Australia.
China and Solomon Islands have each dismissed fears among the United States and its allies that it could lead to the construction of a Chinese military base.
China's South Pacific ambitions suffered a setback in late May when 10
Pacific island nations
rebuffed its push for a wide-ranging regional security pact.
Behind the scenes, Pacific leaders expressed misgivings about being pulled into Beijing's orbit.
But China has secured strong relations with the Solomons, where Beijing has an embassy and is financing a national stadium complex reportedly worth US$53 million to host the 2023 South Pacific Games.
The Solomon Islands government severed ties with
Taiwan
in September 2019 in favour of diplomatic relations with China, a switch that unlocked investment but stoked inter-island rivalries.
Last November, protests against Sogavare's rule flared in Honiara, during which much of the city's Chinatown was torched. Australia led an international peacekeeping mission to help restore calm.
The Australian government has also said it would expand work opportunities for Pacific islands citizens to come to Australia, a vital source of remittance back to Pacific communities, and has pledged a 10-year US$181.05 million infrastructure programme for the Solomon Islands to create local economic opportunities.