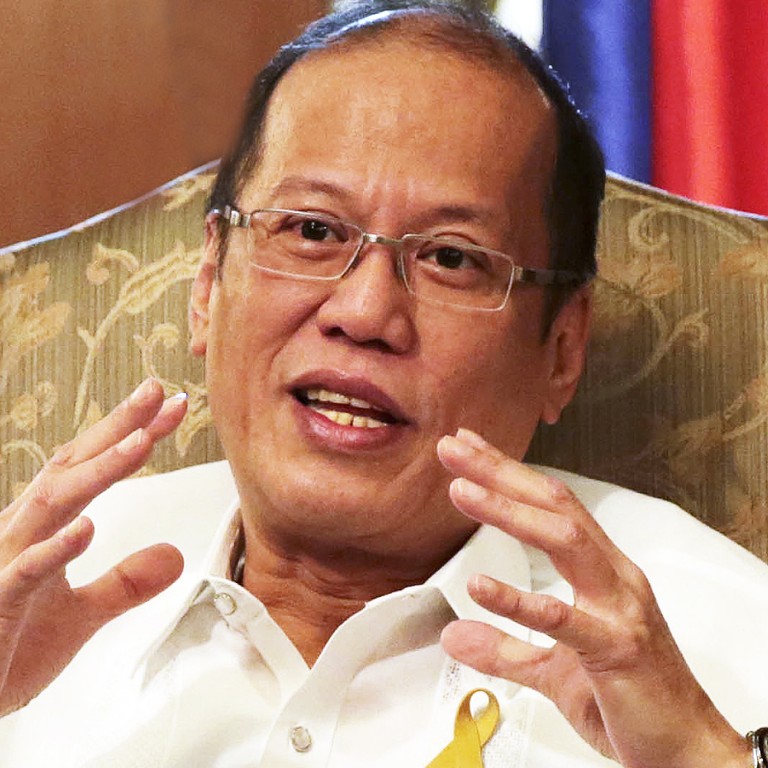 Exclusive

|
Vietnam asked Philippines to form pact to counter China, Aquino reveals
Benigno Aquino reveals in exclusive interview that the purpose of any such agreement is not to antagonise Beijing but to build relationships
A new "strategic partnership" being negotiated between two states fending off China's maritime claims in the South China Sea was suggested by Vietnam, Philippine President Benigno Aquino has revealed.
It had been widely assumed that the proposed pact between Vietnam and the Philippines was initiated by Manila, which has taken a high-profile stand against China.
In an exclusive interview with the South China Morning Post, the Philippine president said China's moves in the South China Sea were even more alarming than a year ago, when he likened global inaction to China's push to appeasing Hitler – comments that angered China.
In the interview last Thursday, Aquino stood by his remarks. Pulling out a map of the South China Sea, he said: "Perhaps it's even worse today."
But he added that it was never his intention to rile China by speaking up about the issue. "I can assure them that that is not a priority with me. I do not start a day [thinking] 'how do I tweak the noses of these people?'… Put yourself in my position. I do have to protect my country's interest and my countrymen's rights. I'd like to view their actions as also doing the same thing."
He also said it made sense for the Philippines to pursue closer ties with countries with which it had common interests and goals, adding: "Vietnam is asking us for a strategic partnership."
According to media reports, when officials from the Philippines and Vietnam met earlier this year, they agreed on a joint statement that focused on the South China Sea, expressing concern about China's "massive reclamation activities" in the area. No date for signing the pact has been set.
"We're actually just defining what it is … We're working out the details," Aquino told the 
Post
.
Vietnam and the Philippines have overlapping claims in the South China Sea, as do China, Malaysia, Brunei and Taiwan.
During the interview that lasted well over two hours at Malacanang Palace, a relaxed Aquino fielded a wide range of questions but the focus returned several times to the South China Sea.
On the proposed pact with Vietnam, Aquino said: "Anyway, when your strategic partner starts with the overlapping claims, there's more room to have a reasonable dialogue rather than reacting with the national interest, separate national interest."
The Philippines has two strategic partners - the United States and Japan, and both have criticised China for its expansionist moves in the South China Sea.
Asked if it was wise for Manila to push strategic partnerships with countries that China viewed warily and adding a third that China had exchanged fire with, Aquino said this was not intentional.
"We had them [the US and Japan] as strategic partners before China looked at them suspiciously," he said.
"We're not forming these partnerships with the end point of forming a coalition against somebody." He said such partnerships were formed "if somebody feels we have a lot of common interest with, who can help us achieve our goals, our national goals."
When asked how useful the country's alliance with the US was, given the strict limits on an armed US response under the Philippine-US Mutual Defence Treaty, Aquino replied: "I cannot answer that question in the sense of telling them how the Americans, for instance, have been helping us.​"
"For instance, [in] maritime domain awareness," he said.
Asked to elaborate, Aquino said: "At the end of the day you know what is happening in your waters."
On whether this meant "real time" awareness, Aquino said "that's the part I'm not confident in answering you", and then chuckled.
"When we advertise this, I think we also announce weakness … I think it's against our national interest to say what we are capable of."
US assistance for maritime domain awareness was first included in the Enhanced Defence Cooperation Agreement (EDCA) which Manila signed with Washington a year ago. The EDCA made no mention of Manila's conflict with China in the South China Sea.
However, Philippine Foreign Secretary Albert del Rosario said then that the EDCA was in response to the "rapidly evolving regional architecture" that necessitated "strengthening maritime security and maritime domain awareness", among others.
Del Rosario, who was present during the Post's interview, also said Manila was expecting to present its case in oral arguments before an ad hoc arbitral tribunal under the UN Convention on the Law of the Sea in July. A decision could be delivered within six months or by early next year.
China has refused to take part in the proceedings. Asked what the point was in obtaining a decision that China would possibly not follow, Aquino said: "We were cognizant of that … in deciding whether or not to go into arbitration. We were told that this body really does not have that enforcement capability."
But Aquino warned that if China ignored a tribunal ruling in Manila's favour, it would have a negative impact on China's dealings with other nations.
"If suddenly, sometimes you will follow and sometimes you will not, that I think will give pause to the trading partners whose doors have to be open for the growth in their economy," he said.
Was there any condition under which the Philippines would consider pulling out of the arbitration as China has urged it to do?
"Given the fact that we're expecting a decision either this year or early next year, and then we go back to a status quo of uncertainty, I think that denigrates the original decision to go into the mode of finally settling this ambiguity," Aquino said.
INFOGRAPHIC: Territorial disputes between China and the Philippines
Pressed on whether there was any hesitation on his part to pursue the arbitration to its final conclusion, Aquino replied that even if his government and China came to a bilateral agreement on the issue, any deal would be next to useless because there are - besides the Philippines and China - four other claimants. "How can we have an agreement binding on the other four?" he said.
"So perhaps there's an agreement amongst the six. And it's signed. Then perhaps there's no need for arbitration."
However, he indicated that was far-fetched: "That is not a – let us table everything and discuss this continuously for the next 10 generations. Who'll agree with something like that?"
Aquino also indicated the high-stakes engagement that the Philippines was in. New light has been shed on China's rapid reclamation efforts to build an air strip on Mischief Reef. And Aquino said he was taking seriously reports of a possible surprise occupation by China of Manila-occupied Pagasa Island, though these have been officially denied by Beijing. Contingency plans were in place, he stressed.
Asked to assess China's possible reclamation of more reefs and shoals in the disputed waters, Aquino said: "I will tend to sound like a rabble rouser. Can I just say, I hope not."
"I don't see the logic of their move. Therefore I hope that logic and rationality prevail. Since there is no gain, why embark on something like that?"
He said the world was watching China.
"There's a certain downside anytime they decide that 'we want this, we want that', they just go ahead and do it. And everybody will say, please do so. You're welcome to it. I don't think that will be the world reaction."
He added that it was in China's interest to promote stability in the region, especially in the South China Sea, a conduit for more than 40 per cent of world trade, because not doing so would not help China improve its own economy.
Asked if Aquino had a message for Xi, he said: "In his downtime, when he's taking a break, perhaps, I really would ask him: 'Put yourself in our position, perhaps, even that of Vietnam, and how would you respond to the challenges that are happening in the South China Sea?' 'Put yourself in our shoes, please'. And, then, hopefully, we will be able to achieve a better relationship especially with these contentious issues."
"Perhaps, we should also focus on the fact that, to a large degree, this is the only contentious issue between our relations. And removing that is really, I think, a worthwhile goal."
This article appeared in the South China Morning Post print edition as: Vietnam 'sought pact to counter China