Focus
Get more with myNEWS
A personalised news feed of stories that matter to you
Learn more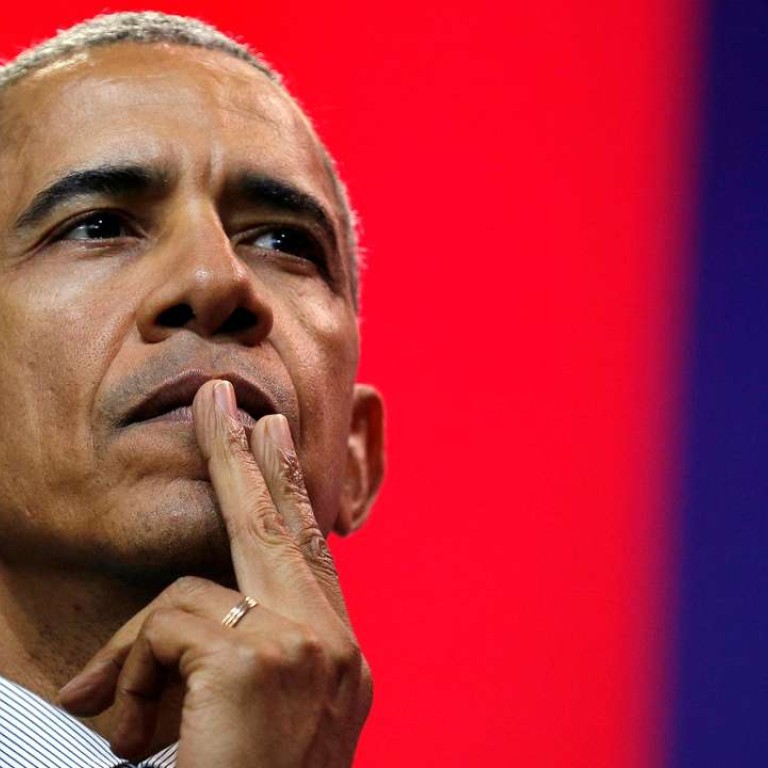 Sandwiched between giants, Vietnam seeks Obama's assurance
The Southeast Asian nation seeks the full lifting of US weapons sales ban, and reassurances the Trans-pacific Trade Deal will make it through congress amid China's growing economic and military clout in the region
Dwarfed by its communist neighbour and still bearing the scars of a war with the United States four decades ago, Vietnam has become a focal point of the race between the two powers for influence in the western Pacific.
The tussle over Vietnam will be on display during a three-day visit this week by President Barack Obama. The third sitting US president to travel to the country since the end of the war, Obama is expected to meet with the regime's top leaders today.
Watch: Vietnam welcomes U.S. President Barack Obama
The trip to Hanoi and Ho Chi Minh City is part of US efforts to preserve clout as China expands its economic and military influence across Asia and argues with countries like Vietnam over territory in the
South China Sea
.
For its part, Vietnam will seek the full lifting of a US weapons sales ban, more aid to clean up a dioxin used as a defoliant during the war and unexploded ordnance, and reassurances a US-led Pacific trade pact will make it through Congress.
"There is a new mood in Vietnam in how it looks at America," said Nguyen Manh Hung, professor emeritus at George Mason University in Fairfax, Virginia. "It is less suspicious. His visit is very important to the Vietnamese for symbolic reasons."
Obama's visit comes 21 years after then-president Bill Clinton normalised ties with Vietnam, and a few months after the US, Vietnam and 10 other nations signed the Trans-Pacific Partnership (TPP), a sweeping trade deal whose fate remains unclear amid criticism of the pact in the Senate and from presidential candidates.
Vietnam, whose economy grew 6.68 per cent last year, the most since 2008, seeks increased trade with the US through the TPP to boost exports and reduce its economic dependence on China.
"When you look at Southeast Asia and what relationships where we've seen the most progress occur, Vietnam is really at the top of that list," said Meredith Miller, vice-president of Albright Stonebridge Group and a former official at the State Department's Bureau of East Asia and Pacific Affairs.
"What they can hope to hear from President Obama is that he's doing absolutely everything in his power to see the agreement approved in a lame duck session before the next administration takes office."
They may be communist neighbours, but Vietnam and China have a long history of tensions. The countries fought a brief border war in 1979 and relations ruptured in the summer of 2014 after a Chinese oil rig was placed off Vietnam's coast in the disputed Paracel islands. China, Vietnam's largest trading partner, has also angered Hanoi by flying planes on a new airstrip on islands it reclaimed in the disputed Spratly area.
The US, which is not a claimant in the South China Sea, has criticised China's actions over territory. An arbitration court in the Hague is set to decide on a Philippine challenge to China's claims to more than 80 per cent of the South China Sea, probably by mid-year, even as China declines to take part in that case.
Vietnam says it welcomes the US presence in the region, though it is careful not to be pulled too far into its orbit. It still wanted ties with its powerful neighbour and to avoid outside interference in its political system, said Hung, who describes US-Vietnam relations as a "hesitant tango".
Vietnamese leaders have long pushed for a full lifting of the weapons ban and Defence Secretary Ash Carter last month said he supported eliminating limits on lethal weapons sales. The US partially lifted its embargo in 2014 and has hosted two defence contractor symposiums in Hanoi, the most recent over May 11-13, which was attended by companies such as Boeing and Lockheed Martin.
"We have not finalised a decision with regards to this issue," Ben Rhodes, deputy national security adviser at the White House, said during a call with reporters. "We fully expect it will be a subject of discussion."
The US is already providing Vietnam with six patrol boats, part of a US$18 million military aid package. But conditions remain that could hinder efforts to sell weapons systems to Vietnam, whose human rights record has been criticised by members of Congress, said Carlyle Thayer, an emeritus professor at the Australian Defence Force Academy in Canberra. More than 100 dissidents were detained in Vietnam, Human Rights Watch said.
Obama's trip to Vietnam, his 10th to Asia, will include a speech on US-Vietnam relations in Hanoi and talks with the government's leaders on human rights and economic and security cooperation.
The president should insist that all political prisoners were released from prison "and allowed to live free from government harassment in their own country", Brad Adams, the Asia director for Human Rights Watch, said in a statement.
The day before Obama left for Hanoi, the government released Thadeus Nguyen Van Ly, a Catholic priest and dissident who's spent much of the past two decades in prison and who was on the rights group's list of political prisoners. His release was announced by the archdiocese of central Vietnam's Hue city.
Obama's visit coincides with a rise in dissent, and rare public protests, in the country.
Vietnamese in recent weeks have taken to the streets in their thousands over the deaths of millions of fish near Formosa Ha Tinh Steel, a unit of Taiwan's Formosa Plastics that is located in central Vietnam.
Prime Minister Nguyen Xuan Phuc ordered an investigation into how the steel plant received approval to pipe waste water directly into the sea. Police used force to break up demonstrations on May 8, and would be under pressure to ensure there was no violence when Obama was there, said Le Hong Hiep, a visiting fellow at the Institute of Southeast Asian Studies in Singapore.
The government also held its once-in-five-years National ­Assembly election for 500 seats yesterday, and was "determined to prevent hostile and reactionary forces from damaging the election", according to a statement on the parliament's website.
"The protesters will take this opportunity to publicise their cause and send a message to the US," Hiep said. "The Vietnamese government has different tactics they can use – block Facebook, occupy public venues to block demonstrations."
Still, the US administration will be seeking ways to build ties without the overhang of tensions over human rights.
"The impression in Washington is that Vietnam takes a very strategic view toward the region," said Aaron Connelly, a research fellow at the Lowy Institute for International Policy in Sydney. "Washington sees Hanoi as a capable partner. "
Vietnam's economy was growing rapidly but more reforms were needed, Wally Adeyemo, White House deputy national security adviser for international economics, said.
"Having the president going to Vietnam at this point gives him the ability to go there and celebrate the progress they've made, but also push them to make additional progress in terms of opening up their economy to foreign direct investment, reforming their SOEs, providing for the education of their populace," he said.