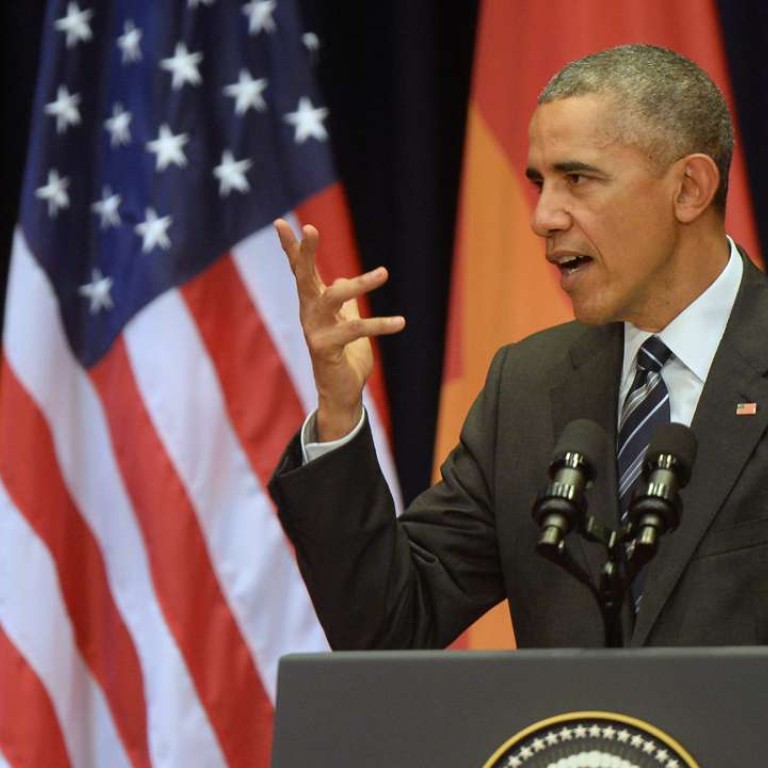 Obama calls for peaceful settlement of South China Sea disputes, demands greater freedoms for Vietnamese citizens
United States President Barack Obama called on Tuesday for territorial disputes in the South China Sea to be "resolved peacefully" as Vietnam balks at Chinese actions in the bitterly contested waters.
"Big nations should not bully smaller ones, disputes should be resolved peacefully," he told an audience in Hanoi, referring to the disputed maritime region.
His remarks won loud applause from more than 2,000 delegates including top Vietnamese leaders.
Washington and Hanoi have been drawn closer together through their mutual concern at Beijing's increasing assertiveness in the sea.
China claims almost all the South China Sea and has rattled neighbours with a series of reclamation and construction projects – including airstrips – on reefs and islets. Vietnam and four other countries also have claims to parts of the sea.
The United States takes no position on the competing territorial claims but asserts freedom of navigation and flights in the sea and has sent warships near Chinese-held islets.
"As we go forward the United States will continue to fly, sail and operate wherever international law allows and we will support the right of all countries to do the same," Obama said.
On Monday Obama announced he was scrapping a Cold War-era ban on weapons sales to Vietnam, seen as a major boost for Hanoi as it tries to bolster its defences against its giant northern neighbour.
"Vietnam will have greater access to the military equipment you need to ensure your security," Obama told delegates, adding the US would continue to train Vietnam's coastguard to "enhance maritime capabilities".
Also during his visit, Obama pressed Vietnam to allow greater freedoms for its citizens, arguing that better human rights would improve the communist country's economy, stability and regional power.
On his second full day in the southeast Asian nation, Obama met with activists as part of a push for closer ties with the fast-growing, strategically crucial country that included the lifting of one of the last vestiges of Vietnam War-era antagonism: a five-decades-old arms sale embargo.
In a speech at the National Convention Centre, Obama sought to balance a desire for a stronger relationship with Vietnam with efforts to hold its leadership to account over what activists call an abysmal treatment of government critics.
Nations are more successful when people can freely express themselves, assemble without harassment and access the internet and social media, Obama said.
"Upholding these rights is not a threat to stability but actually reinforces stability and is the foundation of progress," Obama told the audience of more than 2,000, including government officials and students from five universities across the Hanoi area.
"Vietnam will do it differently than the United States does ... But there are these basic principles that I think we all have to try to work on and improve."
Freedom of expression is where new ideas happen, Obama said. "That's how a Facebook starts. That's how some of our greatest companies began."
Journalists and bloggers can "shine a light on injustice or abuse" when they are allowed to operate free of government interference or intimidation, he added. And, stability is encouraged when voters get to choose their leaders in free and fair elections "because citizens know that their voices count and that peaceful change is possible. And it brings new people into the system," Obama said.
Obama also traced the transformation of the US-Vietnamese relationship, from wartime enemies to cooperation. He said the governments are working more closely together than ever before on a range of issues.
"Now we can say something that was once unimaginable: Today, Vietnam and the Unites States are partners," he said, adding that their experience was teaching the world that "hearts can change."
Earlier on Tuesday, Obama met with six activists, including a pastor and advocates for the disabled and sexual minorities. He said several others were prevented from coming. "Vietnam has made remarkable strides in many ways," Obama said, but "there are still areas of significant concern."
Obama was also scheduled to meet with entrepreneurs, providing him another opportunity to promote what he says will be enhanced trade under a 12-nation trade deal that is stalled in Congress and opposed by the leading US presidential candidates.
Obama said during his address that the agreement would give Vietnamese workers the right to form labour unions and would prohibit forced and child labour. He also predicted that the pact, if ratified, would lead to greater regional cooperation.
"Vietnam will be less dependent on any one trading partner and enjoy broader ties with more partners, including the United States," Obama said.
Additional reporting by Agence France-Presse