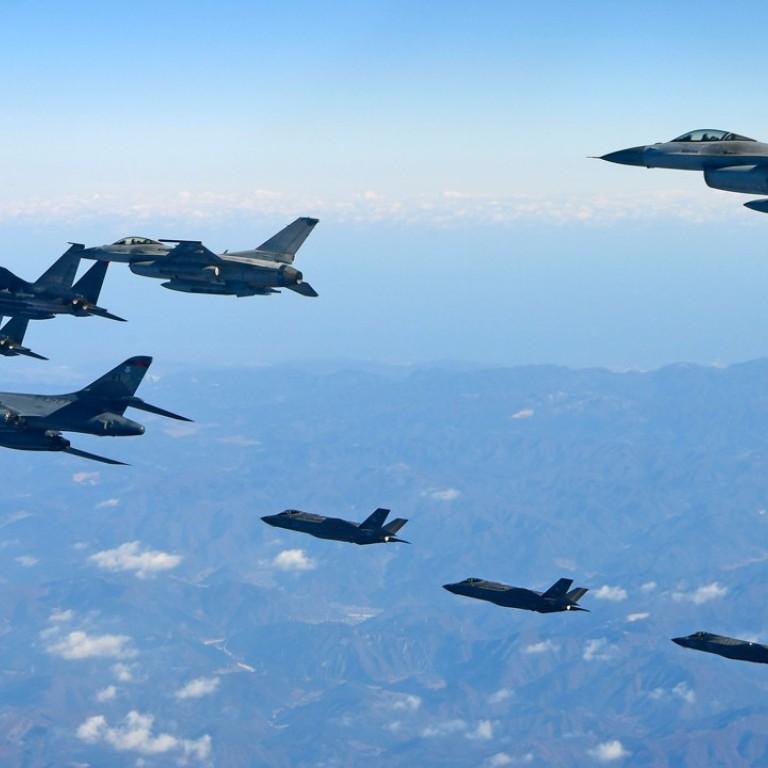 Donald Trump agrees to delay South Korea military drills until after the Winter Olympics
Pentagon said it supported South Korean President Moon Jae-in and 'what is in the best interest of the ROK-US Alliance'
US President Donald Trump and the Pentagon agreed to delay joint military exercises with South Korea during the upcoming Winter Olympic Games in Pyeongchang to reduce tensions throughout the competition period.
Trump and South Korea's President Moon Jae-in "agreed to de-conflict the Olympics and our military exercises so that United States and Republic of Korea forces can focus on ensuring the security of the Games", the White House announced.
"The United States and the Republic of Korea are committed to a safe and successful 2018 Winter Olympic Games in Pyeongchang."
US defence department spokesman Colonel Rob Manning had told the South China Morning Post in an email exchange before the White House announcement that the US military supported Moon and "what is in the best interest of the ROK-US Alliance".
Moon and Trump agreed in a telephone conversation to postpone the military exercises during the Games, which are set to open on February 9.
The "tentative" agreement came at a request from the South Korean leader, according to a report by South Korea's Yonhap news agency.
"I believe it would greatly help ensure the success of the PyeongChang Winter Olympic Games if you could express an intention to delay joint South Korea-US military exercises during the Olympics in case the North does not make any more provocations," Moon was quoted by Yonhap as telling Trump.
The decision to delay US-South Korean military exercises marked a departure from Washington's consistent hard-line approach to tensions around North Korea's nuclear weapons development programme.
Earlier this week, Trump and North Korean leader Kim Jong-un traded threats about their ability to launch nuclear attacks on each other.
"Trump did say talks are a good idea, so considering the broad spectrum of his tweets, he just shifted his rhetoric to the softer side of the spectrum," Thomas Byrne, president of the New York-based Korea Society and former senior vice-president at Moody's Investors Service, told the Post in an interview.
Kim said in a New Year's Day speech on Monday that "The entire United States is within range of our nuclear weapons, and a nuclear button is always on my desk. This is reality, not a threat."
Trump responded via Twitter that: "I too have a Nuclear Button, but it is a much bigger & more powerful one than his, and my Button works!"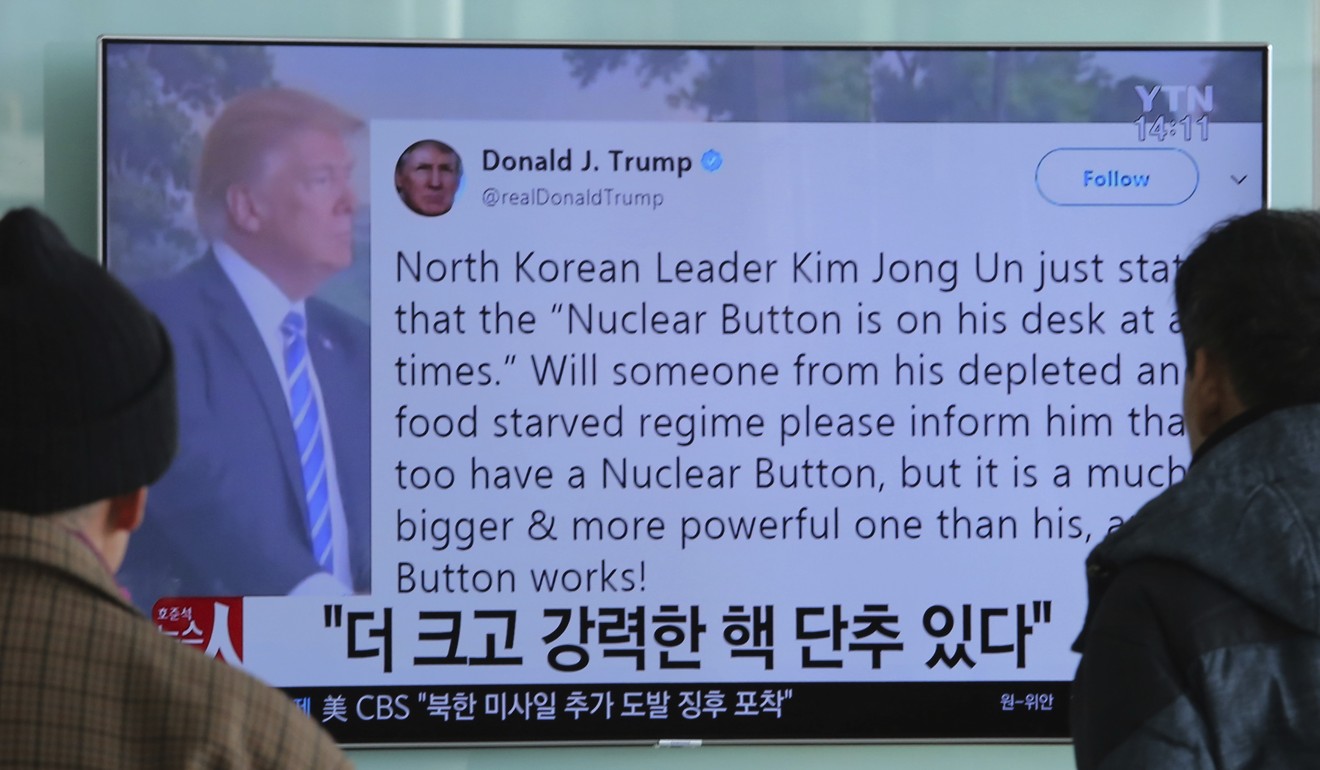 On Tuesday, Washington's ambassador to the United Nations, Nikki Haley, warned that a harder line against North Korea was necessary in light of reports that Pyongyang might be preparing for more ballistic missile tests.
The decision pushed back a set of annual military exercises known as Foal Eagle, which are normally held between February and April to test the readiness of the two countries' militaries.
North Korea, which has extended an olive branch to the South by offering to send athletes to the Winter Olympics, routinely objects to such manoeuvres, calling them a rehearsal for an invasion.
Thursday's decision came as Kim reopened an important cross-border communication channel with South Korea for the first time in nearly two years.
Also on Thursday, Trump claimed in a tweet that his tough stance on nuclear weapons on the Korean Peninsula is helping push North Korea and South Korea to talk.
Trump wrote: "Does anybody really believe that talks and dialogue would be going on between North and South Korea right now if I wasn't firm, strong and willing to commit our total 'might' against the North."
Still, analysts dismissed the idea that delaying military exercises changes the long-term strategy Seoul and Washington are following in their stand-off with Pyongyang.
"Don't confuse the delay in these exercises with a policy shift in which South Korea and the US would accept the suspension-for-suspension proposal," Byrne said.
Under such a shift, the two countries would halt their joint military operations in exchange for a freeze in North Korea's nuclear weapons programme, he said.
That "freeze-for-freeze" proposal was proposed by China and Russia as an alternative to the position of the US and South Korea, which is that their military cooperation does not violate any international laws or agreements.
China and Russia have criticised the US and its Pacific allies, including Japan, for insisting that North Korea agree to a complete dismantlement of its nuclear capabilities.
US Secretary of Defence James Mattis called the delay in military exercises "a practical matter".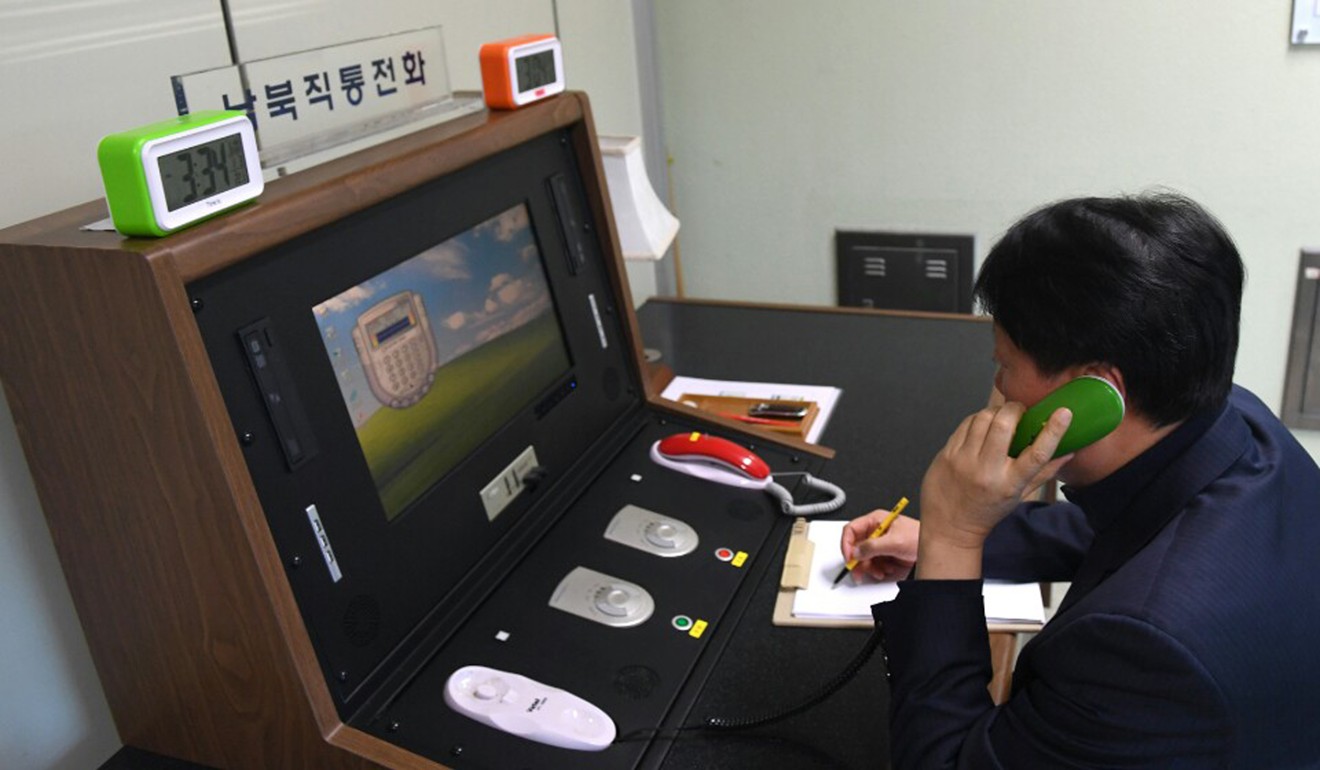 "We have at times changed the timelines on these (drills) for any number of reasons, so for us, this is the normal give and take that we have," Mattis told reporters after the White House announcement.
Mattis said the delay in exercises would extend to the end of the Pyeongchang Paralympic Games on March 18.
Annelise Riles, a professor of Far East legal studies at Cornell Law School and founder of Meridian 180, an online forum on subjects including geostrategic security issues, also cautioned against overstating the significance of Washington's agreement to delay the military exercises.
"The fact is that without Korean participation, US-Korean joint exercises can't be held, and Korea simply will not engage in military exercises during the Olympics," Riles said in an interview.
"So Mr. Trump had no choice in the matter. Korea took the lead."
Additional reporting by Associated Press