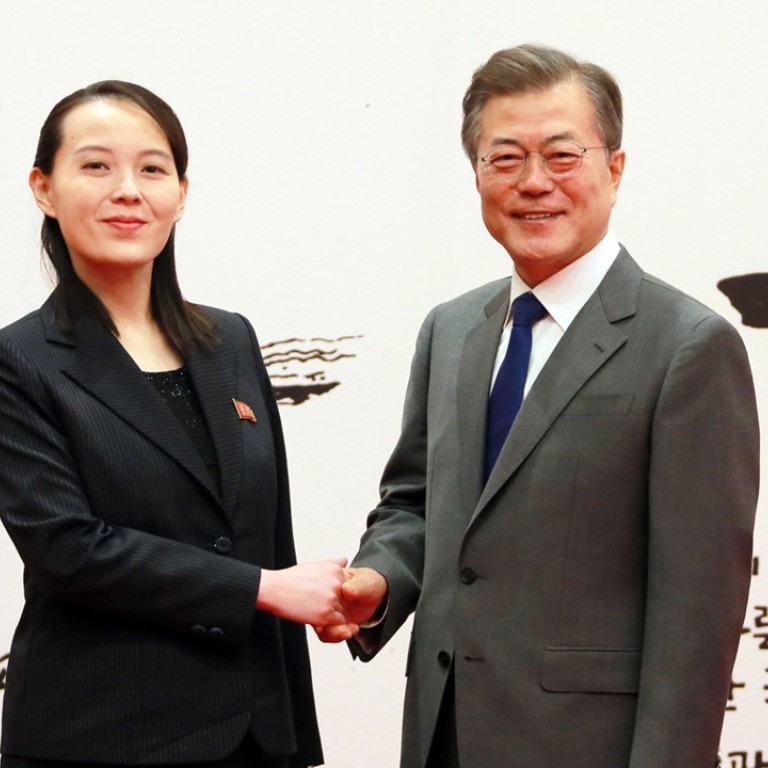 Japanese lawmaker wants North Korea kept 'under siege' despite charm offensive at Winter Olympics
Japan, which sees itself as a potential target of North Korean missiles, has been one of the most vocal proponents of pressuring the regime into changing course
South Korea must stay in line with US and Japanese plans to keep North Korea "under siege", the chairman of Japan's lower house committee on foreign affairs said, referring to the policy of maintaining maximum pressure on Kim Jong-un's regime.
Just days after Kim's smiling sister invited South Korean President Moon Jae-in to a summit with her brother in Pyongyang – an overture he's yet to formally accept, Yasuhide Nakayama attacked Seoul's financial support of the regime.
"At this point, every grain of rice is a military resource," the member of Prime Minister Shinzo Abe's ruling Liberal Democratic Party who previously served as vice foreign minister, said in an interview on Tuesday. He echoed his government's line that Kim Yo-jong's visit south was "smile diplomacy".
Watch: Who is Kim Yo-jong?
South Korea has provided about 2.8 billion won (US$2.6 million) to support North Korea's participation in the Pyeongchang Winter Olympics, but has put on hold a further US$8 million aid package. US Vice-President Mike Pence said earlier this week that, while he was open to talks, sanctions would remain in place until North Korea takes a meaningful step toward denuclearisation.
Japan, which sees itself as a potential target of North Korean missiles, has been one of the most vocal proponents of pressuring the regime into changing course.
The North-South rapprochement has exposed a rift in Tokyo's and Seoul's approach to Pyongyang, and this may worsen the lingering animosity over history that has long hampered the two US allies' ability to work together.
At a summit last week, Moon and Abe had a prickly exchange over planned joint US-South Korea military exercises around the peninsula. The presidential Blue House said that when the Japanese leader urged Moon to resume the drills as scheduled after the Olympics, Moon responded that the issue was domestic and that it was embarrassing for Abe to raise it directly.
After North Korea this week accused the US and Japan of trying to block an improvement in inter-Korean relations, Nakayama said the regime saw South Korea as its last chance amid its isolation from the rest of the world.
"Mr Moon is paying too much attention to domestic opinion polls in his policy," Nakayama said. "He should realise that in international terms, now is the time to put pressure on North Korea, to keep in step."
Japan, South Korea and China should nevertheless push ahead with a trilateral summit that Abe hopes to host this year, Nakayama added.
A poll conducted February 10-13 by Japanese public broadcaster NHK found that 65 per cent of respondents disapproved of the North-South rapprochement at the Olympics. In a separate Fuji News Network survey over the weekend, 89 per cent said they were concerned about North Korea restarting nuclear and missile tests after the Olympics and 75 per cent approved of a hard line on sanctions.
Some members of Abe's LDP had even urged the prime minister to stay away from the Olympic opening ceremony. Many Japanese had been angry over Moon's ambivalence toward a 2015 agreement that was meant to resolve the issue of compensation for women trafficked to Japanese military brothels across Asia before and during second world war.
This article appeared in the South China Morning Post print edition as: seoul must take U.S. line and keep North 'Under Siege', Japanese Lawmaker Says