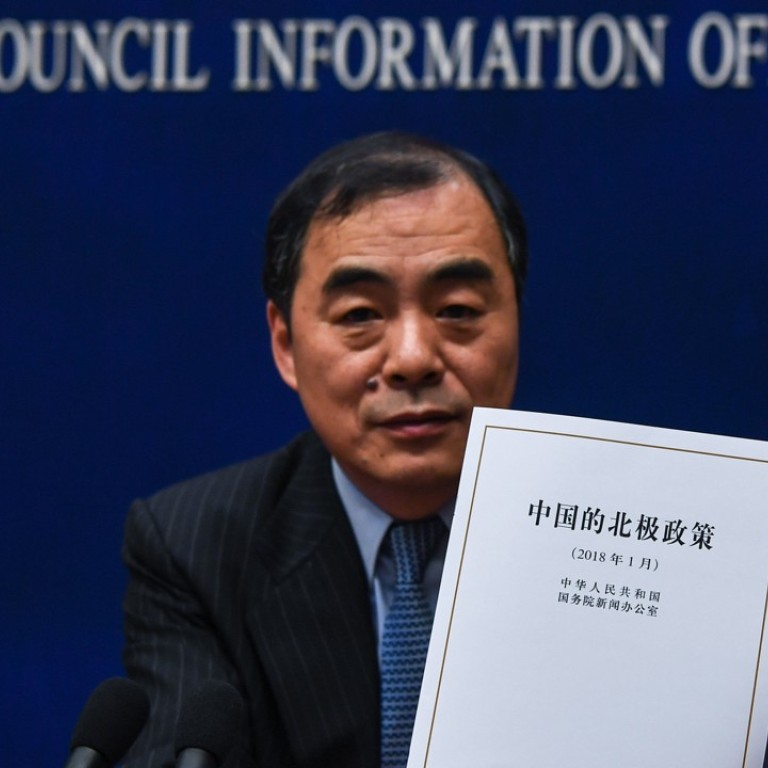 Japan concerned by China's plan to build 'polar Silk Road' in Arctic
Beijing intends to pursue shipping routes, to drill for natural resources and develop a tourism industry in the northernmost region
Beijing is planning to exert "territorial control" over parts of the Arctic Ocean and could send more warships into waters off Japan in a move analysts say is reminiscent of its seizure of disputed islands in the South China Sea.
The Chinese government in January issued its first ever white paper detailing plans for the Arctic and announcing intentions to play a significant role in matters that affect the region as a "near-Arctic state".
The white paper emphasises how conditions in the Arctic have an impact on China's climate, ecology and economic interests, ranging from agriculture to fishing, forestry, agriculture and other sectors. And as Beijing shares interests with other Arctic states, the paper added, Beijing hopes to work with other stakeholders to "jointly build a 'Polar Silk Road' and facilitate connectivity and sustainable economic and social development of the Arctic".
China also made it clear it will use Arctic resources to "pursue its own interests", which include exploiting shipping routes to Europe, drilling for oil, gas and other natural resources, utilising fishing resources and developing the "emerging industry" of Arctic tourism.
Yoichi Shimada, a professor of international relations at Fukui Prefectural University, pointed out that Beijing made a number of promises when it ignored the claims of other nations surrounding the South China Sea and occupied the atolls and islets, including that it would not militarise the islands.
"It is an open secret that the Chinese have long wanted to use the Arctic Ocean for military purposes," he said. "They talk about the economic opportunities, and it is true this will increase trade and commerce, but every decision that Beijing takes is reached with the military in mind.
"It would be naive for anyone to think they are purely motivated by economic considerations because they used a similar rationale to seize the South China Sea islands."
The conservative Yomiuri newspaper echoed those concerns in an editorial printed on Tuesday, which cautioned that Beijing's "Belt and Road Initiative" is also "aimed at securing military footholds". It added that Beijing has "ignored maritime order based on the rule of law" in the South China Sea and that other countries "have every reason to be wary about China's moves in the Arctic region".
The Yomiuri called on Japan's government – which, along with China and South Korea, has observer status on the eight-member Arctic Council – to work to establish governing rules for the region.
"When the use of Arctic routes is increasingly active, there will be a rise in the number of opportunities for Chinese warships and other vessels to pass through the Soya, Tsugaru and Tsushima straits," the paper added. "The impact of this on Japan's security would be immeasurable. The government must strengthen its relevant strategy."
But Shimada fears the Japanese government is presently "preoccupied" with devising ways to protect the Senkaku archipelago, which China claims as the Diaoyu Islands.
"Unfortunately, that is where the focus of our defensive capabilities is at present," he said. "These new developments make it vital that more attention is paid to the Arctic Ocean."
This article appeared in the South China Morning Post print edition as: Scholars warn of Chinese attempts to militarise Arctic