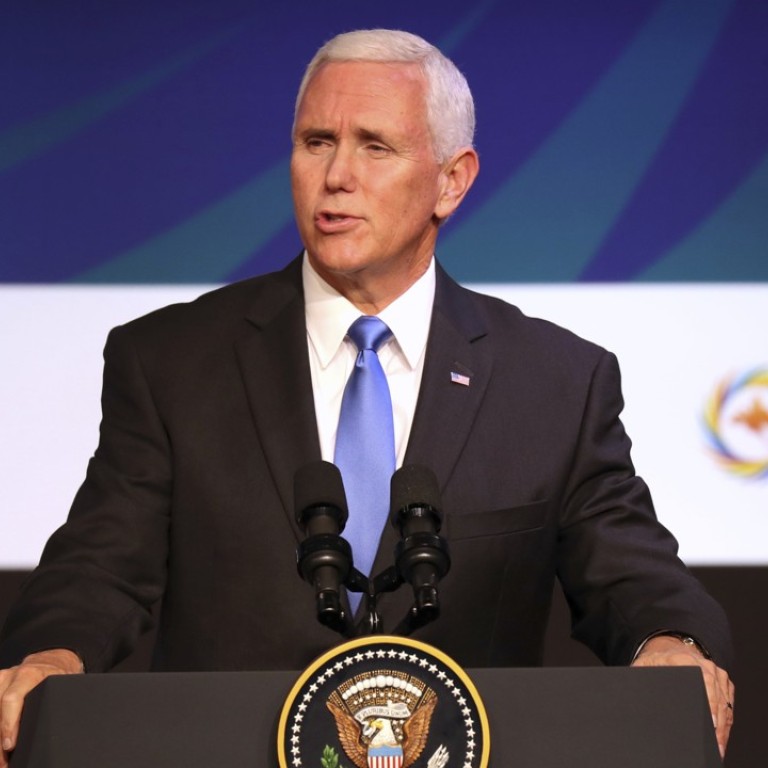 Pence warns Asia-Pacific not to trade sovereignty for investment in veiled swipe at Beijing
US Vice-President touts alternative to 'one-way road' for infrastructure development
United States Vice-President Mike Pence on Saturday issued a thinly veiled attack on China's increasingly controversial overseas infrastructure building spree, urging governments in Asia to refrain from accepting loans that compromise their sovereignty.
Instead, he urged the region to look to Washington and its allies for their development financing needs.
"We don't offer a constricting belt or a one-way road," Pence said in a speech to a high-powered business forum on the sidelines of the Asia-Pacific Economic Cooperation (Apec) summit in Papua New Guinea.
Pence did not mention the
Belt and Road Initiative
once in his 25-minute speech, but dropped enough hints to make clear he was referring to the trillion dollar programme launched by Chinese President Xi Jinping in 2013 to boost connectivity between Asia's biggest economy and the Eurasian land mass.
"As we speak, as we are all aware, some are offering infrastructure loans to governments across the Indo-Pacific and around the world," Pence told the forum in a speech immediately after an address by Xi. Neither leader was present at the venue – a cruise ship berthed in the seaside capital Port Moresby – while the other was speaking.
"Yet the terms of those loans are often opaque at best, projects they support are often unsustainable and poor quality. Too often they come with strings attached and lead to staggering debt," Pence said.
He added: "Let me say with great respect to all the nations in this wider region and the world: do not accept foreign debt that could compromise your sovereignty. Protect your interest. Preserve your independence. And just like America, always put your country first."
As an alternative, Pence – as widely expected – touted a development financing initiative the US is putting forward with the help of its key allies Australia and Japan.
"We are making infrastructure in the Indo-Pacific a top priority," Pence said.
"With this renewed commitment to development financing, we are also making infrastructure in the Indo-Pacific a top priority, from roads to railways, ports to pipelines, airports … the United States has a principled approach that will stand in contrast to some other nations."
"Know that the US offers a better option. We don't drown our partners in a sea of debt, we don't coerce, or compromise your independence," Pence said.
The vice-president also said that without China making the first move, Washington is unlikely to budge on its tough stance on trade with the Asian behemoth.
"We've taken decisive action to address our trade imbalance with China. We put tariffs on US$250 billion of Chinese goods and we could more than double that number," said Pence.
"But we hope for better. The US will not change course until China changes its ways."
Reiterating concerns about China's moves in the disputed South China Sea, Pence announced that the US would partner with Australia to upgrade Lombrum Naval Base on Manus Island, Papua New Guinea.
Also revealed was the new US$400 million Indo-Pacific Transparency Initiative to "empower citizens to combat corruption and strengthen sovereignty."
It was not all tough talk on China, however.
Pence said the administration was well aware that the "US-China competition" was causing anxieties in the region.
"Let me be clear. The United States of America seeks a better relationship with China based on fairness, reciprocity and respect for sovereignty," Pence said.
"As President Trump has said in his words, we want to strengthen the relationship between our two countries, and improve the lives of our citizens."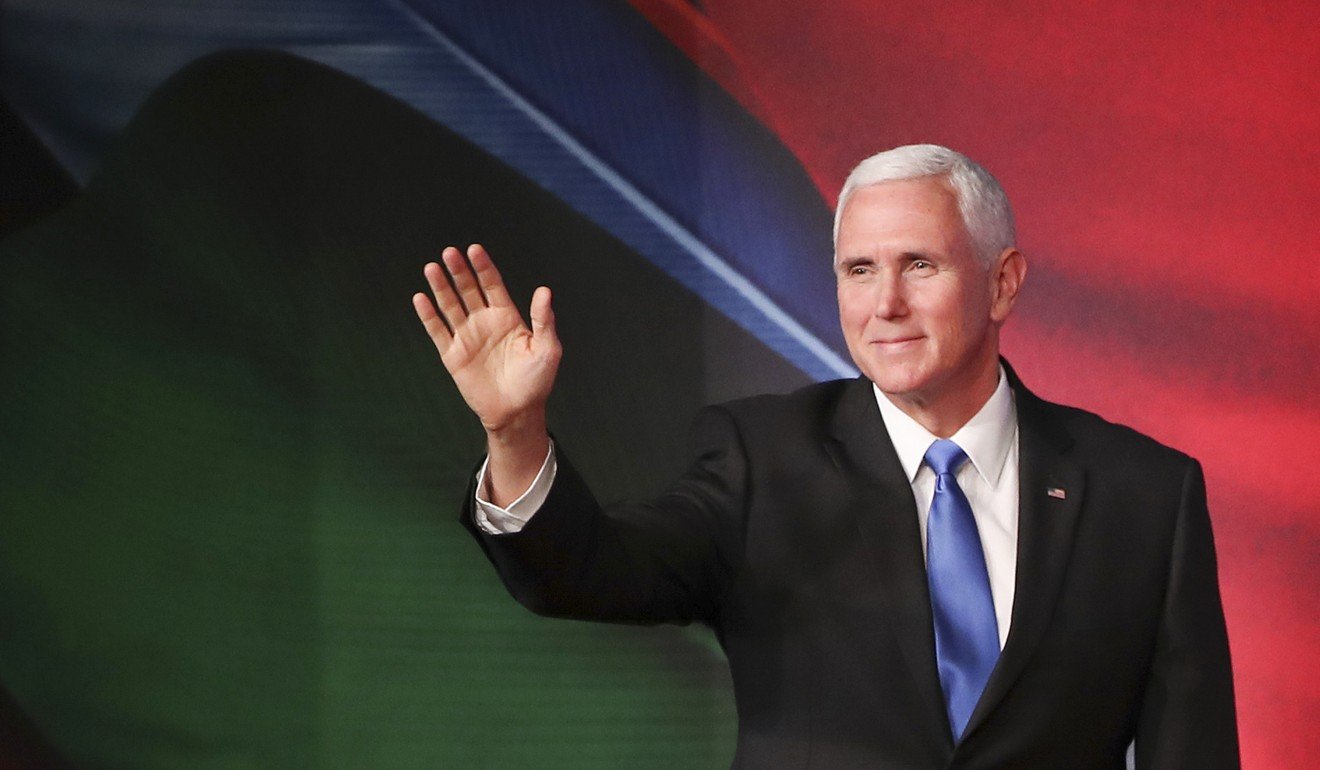 Pence said the administration believed "progress will be made" ahead of Trump and Xi's expected meeting at the G20 summit in Buenos Aires that begins on November 30.
There are expectations that the feuding powers may find some common ground on their ongoing tariff war when the two leaders meet.
Said Pence: "China has an honoured place in our vision of a free and open Indo-Pacific, if it chooses to respect its neighbours' sovereignty, embrace free, fair and reciprocal trade, and uphold human rights and freedom."