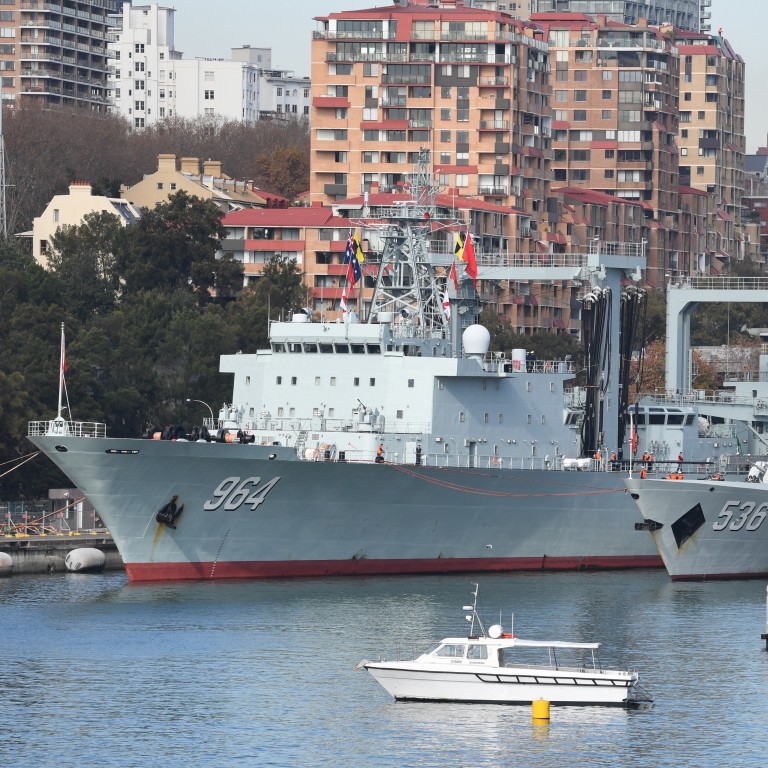 Chinese warships in Sydney: a surprise for the Australian public, and a show of strength from Beijing?
Prime Minister Scott Morrison says the visit was reciprocal, while to experts it showed China's ability to carry out naval operations globally
The flotilla has also been described as a 'public relations disaster', since it followed other controversies involving Australian and Chinese vessels
The docking of
three Chinese warships
in Sydney for a publicly unannounced stopover on Monday set off a flurry of speculation about Beijing's intentions amid rising anxiety about Chinese influence in the southern Pacific.
The visit by a Chinese frigate, auxiliary replenishment ship and amphibious vessel – with some 700 sailors in total – caught social media users and academics by surprise, with some questioning the visit's timing and why the government had not given them advance notice.
The stopover, as the ships returned from the Middle East, came days after reports emerged that an
Australian
navy vessel in the South China Sea was tailed by the Chinese navy and Australian navy pilots had been targeted by lasers from Chinese fishing vessels.
Rory Medcalf, the head of Australian National University's National Security College, said on Twitter that Beijing appeared to be making "a serious show of presence in the South Pacific".
Medcalf said previous visits by Chinese navy ships typically involved a single vessel and that Sydney was not a convenient stopover for vessels returning from the Gulf of Aden, the body of water bordered by Yemen and Somalia.
Peter Jennings, executive director of the Australian Strategic Policy Institute think tank, told local media the government was remiss for not telling the public about the visit in advance.
Speaking to reporters from the Solomon Islands, Australian Prime Minister Scott Morrison said the government had "known about [the Chinese navy visit] for some time".
"This was an arrangement, a reciprocal visit because Australian naval vessels have visited China," said Morrison as he wrapped up a trip aimed at boosting Canberra's standing among Pacific island nations and countering Chinese influence in the region.
Collin Koh, a research fellow at the S. Rajaratnam School of International Studies in Singapore, said it was not unusual for naval visits to not be announced in advance, depending on factors such as operational security requirements and expectations in the given country.
"Some visits are pre-announced and made public in the open domain, but some not," Koh said.
"It's not necessarily the case that foreign naval visits need to be publicised, though that, of course, depends on the sociopolitical circumstances of the host country which mandate a specific system of transparency and accountability."
Morrison, who had earlier announced a A$250 million (US$173.36 million) grants programme for the Solomon Islands, said the Chinese ships were returning after a counter drug-trafficking operation in the Middle East.
[The visit] is a further demonstration of the relationship that we have and this had been in train for some time," he said. "It may have been a surprise to others but it certainly wasn't a surprise to the government."
The Australian Defence Force (ADF) said China had asked for the visit in April, and that the government was committed to fostering a "long-term constructive relationship with China".
"Australia regularly hosts foreign navy vessels in its ports," said an ADF spokesperson. "Notification to the public is not standard practice and is usually considered on a case-by-case basis."
Since coming to power in 2012, China's President Xi Jinping has invested heavily in the PLA Navy in a bid to project Chinese influence across the Pacific and beyond.
Beijing is locked in maritime disputes in the East and South China Seas with a number of countries including the Philippines, Japan, Vietnam and Brunei.
John Blaxland, a professor at the Strategic and Defence Studies Centre at the Australian National University, said it was interesting to consider what the PLA Navy flotilla would be doing after its Sydney port call.
"The Australian Government's Pacific reset follows a period of some disengagement by Australia and has been, in part at least, triggered by China's renewed interest in the Pacific – notably the remaining micro states that continue to support Taiwan," Blaxland said.
Singapore-based research fellow Koh said the most significant takeaway from the visit was that it showed China's emerging capability to carry out naval operations globally.
"The PLA Navy has since December 2008 been making long voyages across the globe – to the Baltic, Mediterranean, Caribbean and Latin America – and it's been able to gain experience and exposure to such sustained long-duration missions," he said.
"Hence, this visit to Australia – sailing from the Indian Ocean across to the far eastern end of Australia – represents no mean feat, and the coming of age of a blue-water-capable PLA Navy."
Asked by reporters whether the stopover was appropriate given that it came on the eve of the 30th anniversary of Beijing's bloody crackdown in Tiananmen Square in 1989, Morrison said: "No, I think any reading into timing could be subject to a bit of overanalysis."
Neil James, executive director of the independent watchdog Australia Defence Association, said the timing of the visit appeared to be an "accidental coincidence" and could be awkward for Beijing as it drew further attention to the Tiananmen anniversary.
"The timing is far more of a problem for the PLA Navy than Australia," James said.
"The Tiananmen anniversary might have been known in China but they either ignored it, or it was a left-hand versus right-hand coordination glitch inside the People's Republic of China government."
Additional reporting by Agence France-Presse
This article appeared in the South China Morning Post print edition as: Chinese warships in Sydney Harbour spark surprise