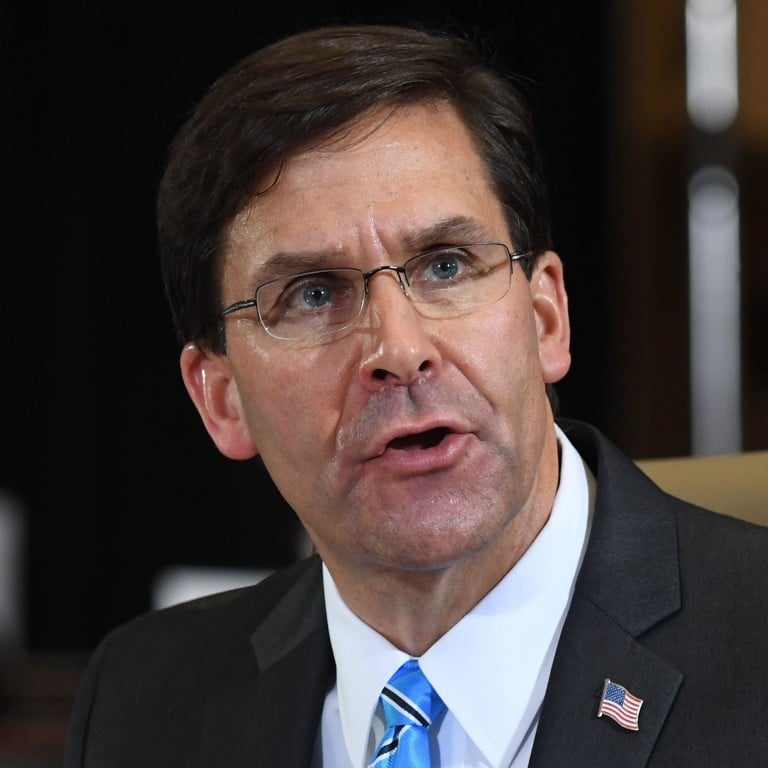 US defence secretary Mark Esper plans to visit China this year, amid increased tensions
Esper said he hopes to enhance cooperation and establish systems for crisis communications, as China intensified its 'bad behaviour' in recent months
An analyst said recent US moves opposing Beijing's claims in the South China Sea were designed to sow discord between China and its Asian neighbours
US
defence secretary
Mark Esper
said on Tuesday he hoped to visit
China
by the end of the year to improve "crisis communications" channels and address other areas of mutual interest, as he condemned China's maritime activity in the
South China Sea
.
Earlier this month, the United States
rejected China's claim
to offshore resources in much of the South China Sea, drawing criticism from China which said the US position raised tension in the region, highlighting an increasingly testy relationship. An analyst described the US move as designed to drive a wedge between China and its neighbours.
"Before the year is out, I hope to visit the PRC for the first time as secretary in order to enhance cooperation on areas of common interest, establish the systems necessary for crisis communications and reinforce our intentions to openly compete in the international system in which we all belong," Esper said, using an acronym for the People's Republic of China.
The United States has long opposed China's expansive territorial claims on the South China Sea and sent warships regularly through the strategic waterway, but recent comments reflect a harsher tone.
"We want to deter against coercive behaviour," Esper told a security seminar.
He said Beijing had intensified its "bad behaviour" in the past six months. China has built bases atop atolls in the region but says its intentions are peaceful.
Esper said China "has no right to turn international waters into a zone of exclusion for its own maritime empire". He added: "We are not in search of conflict. We are committed to a constructive and results-oriented relationship with China and, within our defence relationship, to open lines of communication and risk reduction."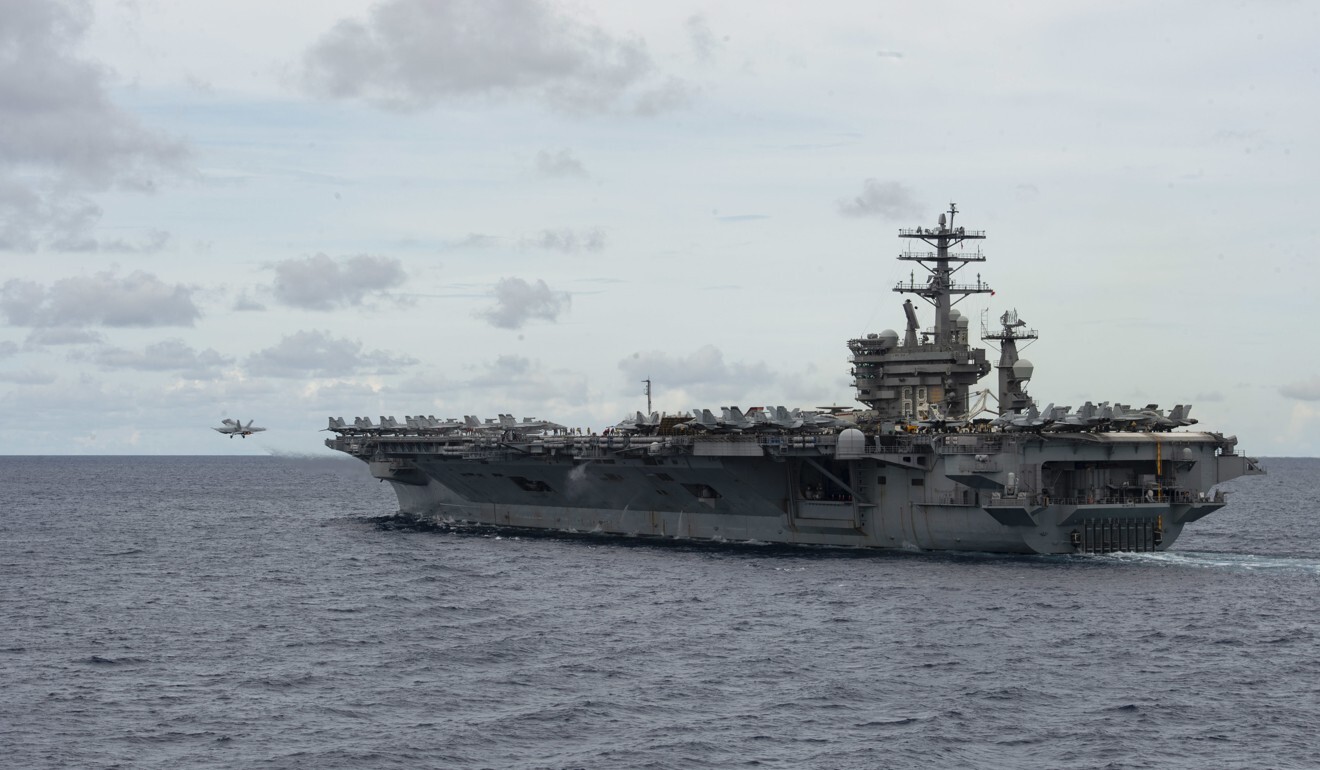 Esper said nobody in
Taiwan
believed China had any intention of living up to its "one country, two systems" principle.
He said China had carried out simulated exercises to take over a Taiwanese-controlled island, calling it a destabilising activity that increased the risk of miscalculation.
Liu Zhiqin, a senior fellow at the Chongyang Institute for Financial Studies at the Renmin University of China, said US moves in recent days were aimed at further provoking regional tensions to sow discord between
China and its Asian neighbours
.
"By creating conflicts, the US hopes to further vilify China's image so that other countries will distance themselves from Beijing," Liu said.
Washington's motive was not merely to create the right international climate and sentiment to maintain its long-term presence and activities in the region, but also to contain and hold back China, Liu said. And among the issues on the table, "the South China Sea issue is seen by Washington as China's weakest spot".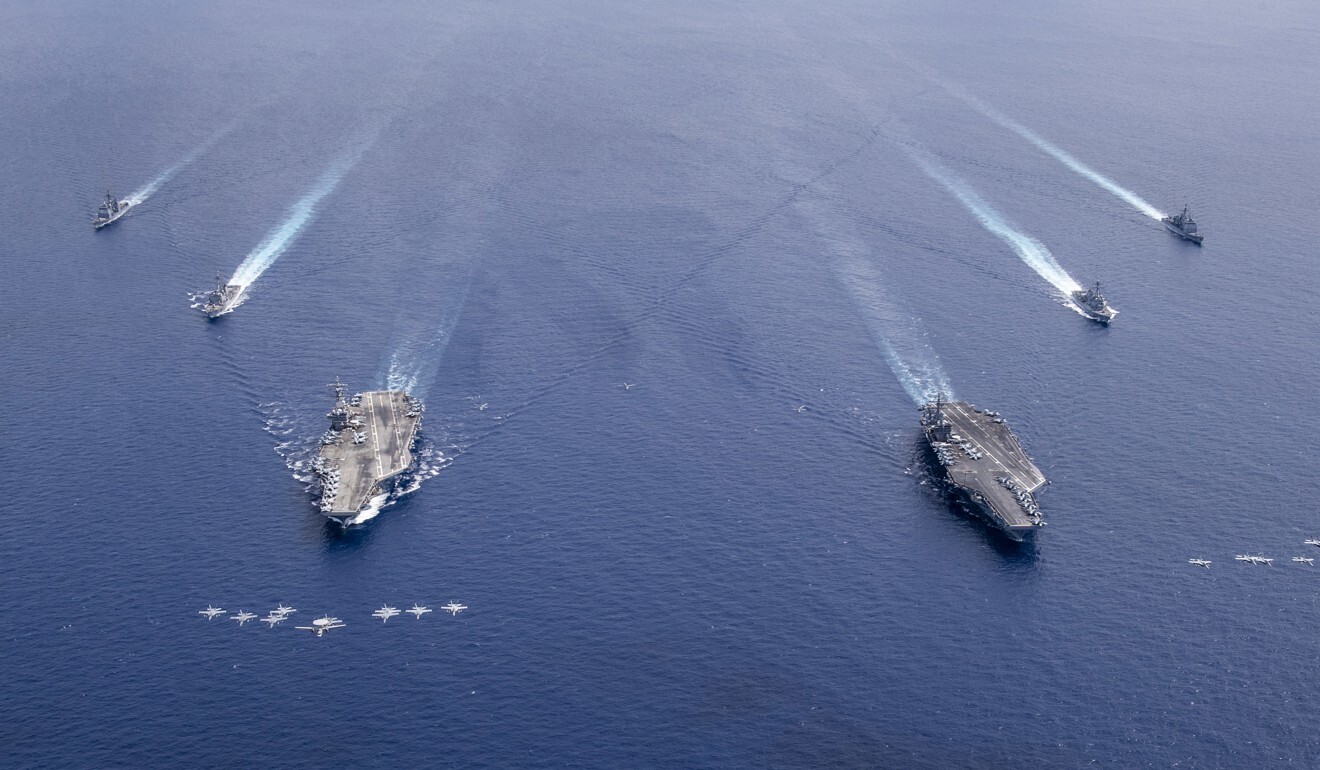 Liu added that the US is dissatisfied with the progress made by China and Asean countries on the
Code of Conduct (COC)
in the South China Sea.
"The further advancement and implementation of the COC will mean that countries outside the region such as the US will be excluded and this is a scenario that Washington will never allow," Liu said.
"Under such a situation, Washington is concentrating its energy and resources on driving a wedge between China and regional countries. That is a strategic error," according to Liu.
Harvard-Yenching Institute visiting scholar Ja-Ian Chong said US efforts to integrate allies and partners around the world will make it more challenging for Indo-Pacific countries to navigate between Washington and Beijing.
However, Chong noted that Esper has continued to emphasise deterrence and holds out the possibility of cooperation with China.
"This posture provides both Washington and Beijing the possibility of backing down," Chong said.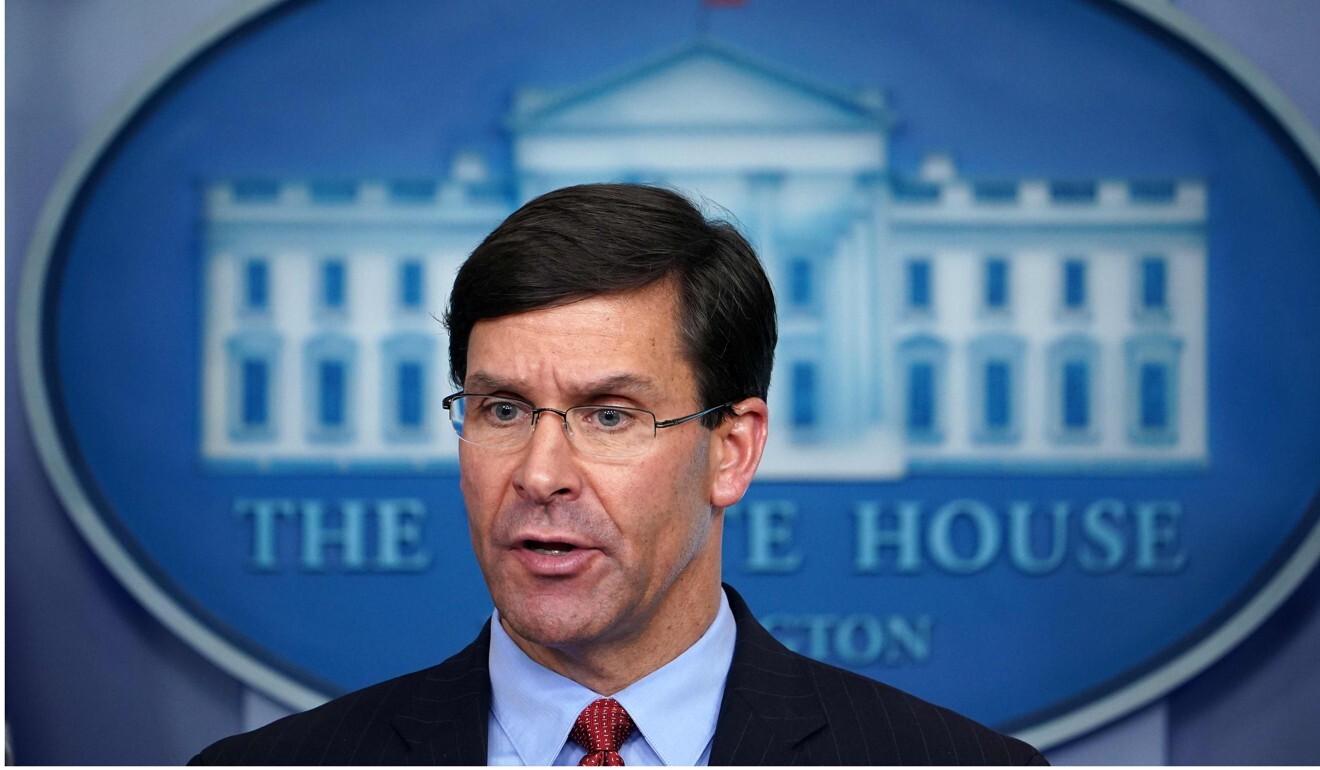 Esper did not directly answer a question on whether the Pentagon was considering a reduction in US forces in South Korea amid stalled talks with Seoul about defence costs. He said he had not given any orders to withdraw US troops from South Korea, but the Pentagon was looking at forces around the world.
It was unclear whether Esper's planned trip to China would be contingent upon securing special travel waivers given the impact of the coronavirus pandemic, which has strained already fraught relations between the world's two largest economies.
International diplomatic and defence travel has been severely curtailed due to the coronavirus pandemic, which has added strain to
US-China relations
.
Additional reporting by Agence France-Presse
This article appeared in the South China Morning Post print edition as: US defence secretary plans to visit China