Myanmar
Get more with myNEWS
A personalised news feed of stories that matter to you
Learn more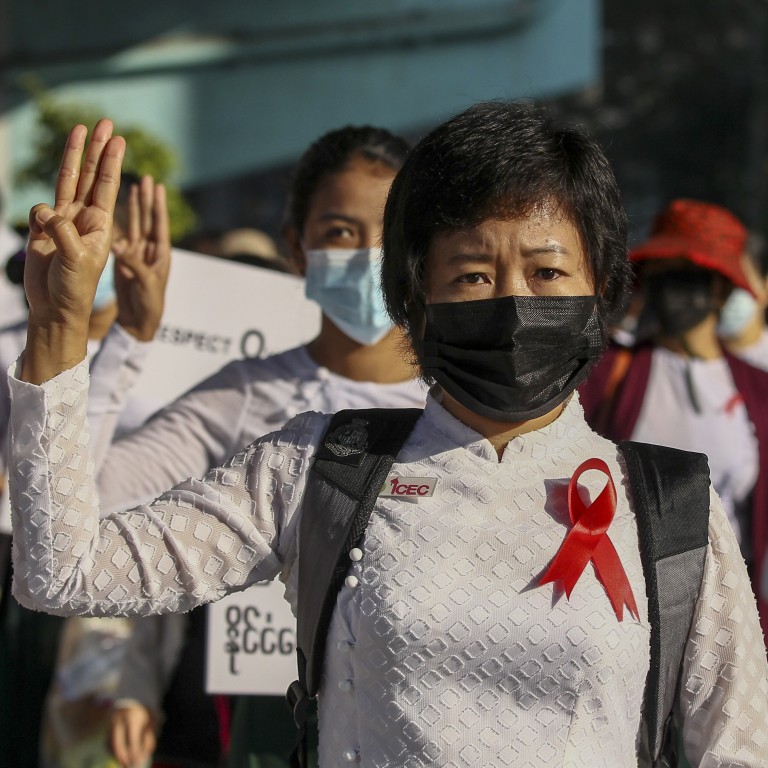 Myanmar coup: police fire rubber bullets at protesters as New Zealand suspends ties with military government
New Zealand made the first major international move to isolate the ruling junta, which seized control last week
Foreign firms with junta links have come under increased scrutiny, as analysts said China, Japan and Asean nations have more leverage to influence generals
Police fire rubber bullets at protesters, injuring at least four, amid bans on gatherings and curfews
At least 27 arrested in second-largest city Mandalay as analysts fear larger crackdown
Junta leader says new election will be held, no time frame given as civil disobedience grows
New Zealand PM says to suspend high-level contacts, ban junta leaders and limit aid
Police fired gunshots into the air and used water cannon, tear gas and rubber bullets on Tuesday as protesters across
Myanmar
defied bans on big gatherings to oppose last week's military coup that halted a tentative transition to democracy.
In Naypyidaw, the remote capital purpose built by the previous military regime, witnesses said police fired rubber bullets at protesters after earlier blasting them with water cannon, hurting at least four people including a woman who was not expected to survive after being shot in the head, a doctor said.
"She hasn't passed away yet, she's in the emergency unit, but it's 100 per cent certain the injury is fatal," the doctor said, adding "according to the X-ray, it's a live bullet."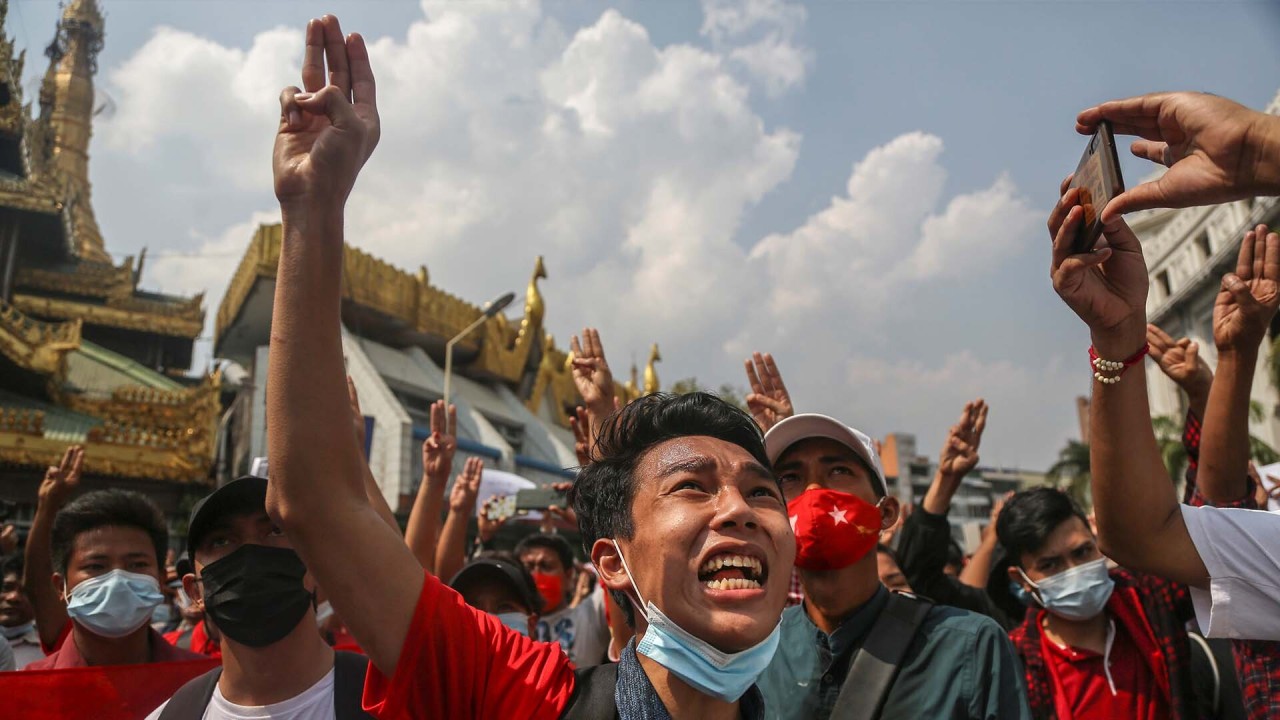 03:34
Weekend rally in Myanmar sees tens of thousands protest against military coup
Weekend rally in Myanmar sees tens of thousands protest against military coup
Photos and videos on social media also showed demonstrators marching through Myanmar's commercial capital of Yangon, with analysts saying the protests were the largest since the 2007 Saffron revolution that eventually led to democratic reforms several years later.
Soldiers blocked all main roads in the neighbourhood of Hledan, near Yangon University, forcing some protesters to retreat, with as many as 10 army vehicles full of soldiers heading into the area along with at least six water cannons, according to demonstrators in the area and posts on social media.
Earlier on Tuesday, New Zealand announced the suspension of high-level military and political contacts with Myanmar, the first major international move to isolate the country's ruling junta.
Prime Minister Jacinda Ardern said New Zealand's aid programme to Myanmar, population 55 million, was worth about NZ$42 million (US$30 million) between 2018 and 2021, and called for the international community to "strongly condemn what we're seeing happen in Myanmar". The United Nations is expected to hold a special session on the subject on Friday.
New Zealand will also impose a travel ban on
Myanmar's military leaders
, and ensure its aid programme to the country will not include projects that are delivered with, or benefit, the military government, Ardern said in a news conference.
"Our strong message is we will do what we can from here in New Zealand and one of things we will do is suspend that high level dialogue … and make sure any funding we put into Myanmar does not in any way support the military regime," Ardern said.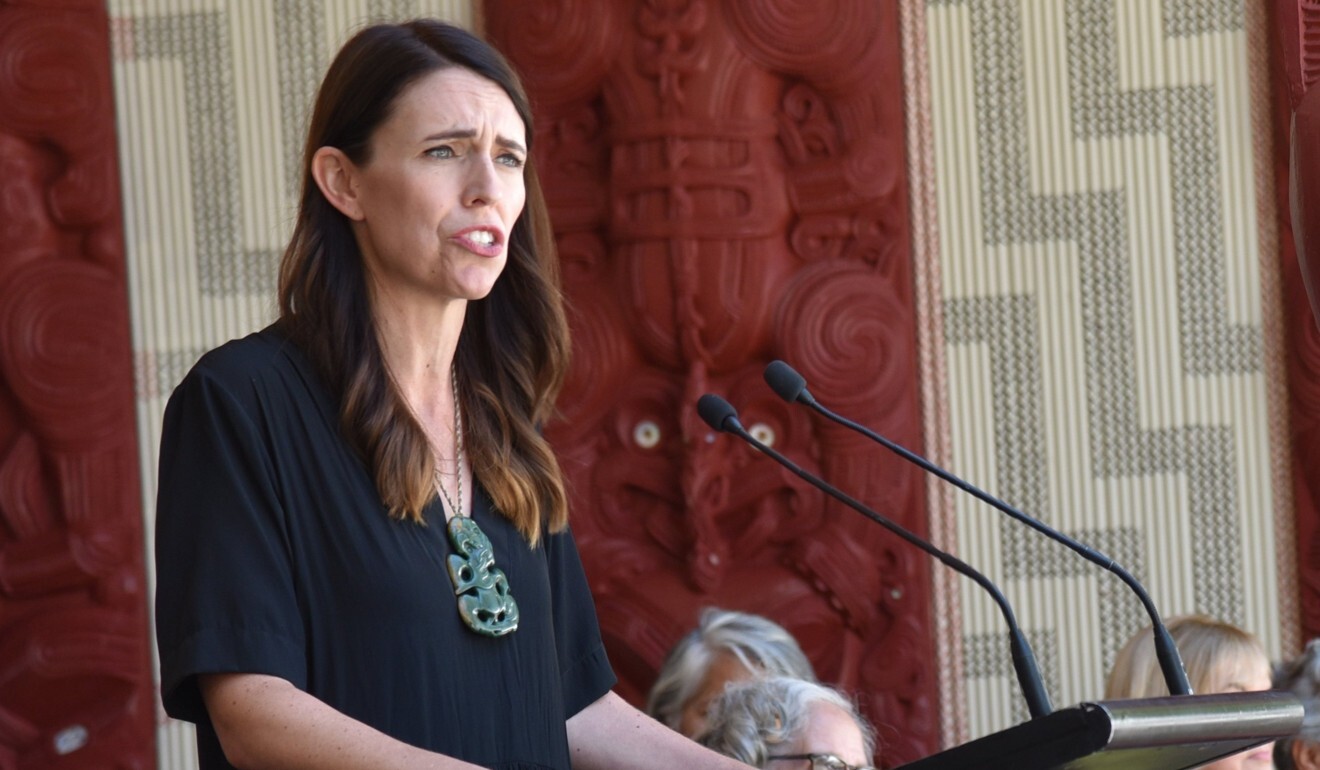 Foreign Minister Nanaia Mahuta said in a separate statement that New Zealand does not recognise the legitimacy of the military-led government and called on the military to immediately release all detained political leaders and restore civilian rule.
In his first television address on Monday, junta leader Senior General Min Aung Hlaing maintained that November's election, won in a landslide by Suu Kyi's National League for Democracy, was fraudulent and said the coup was justified and in line with the constitution.
"After the tasks of the emergency period are completed, free and fair multiparty general elections will be held according to the constitution," he said. "The winning party will be transferred state duty according to democratic standards.
The general said the country welcomed foreign investment and also announced lifting of coronavirus restrictions, including reopening schools and Buddhist pagodas.
Amnesty International's deputy regional director for research Emerlynne Gil urged the international community to strongly respond to the "Myanmar military's assault on human rights".
At least 150 people have been detained since February 1, members of the civilian government remain under house arrest, while many human rights defenders are in hiding, she said.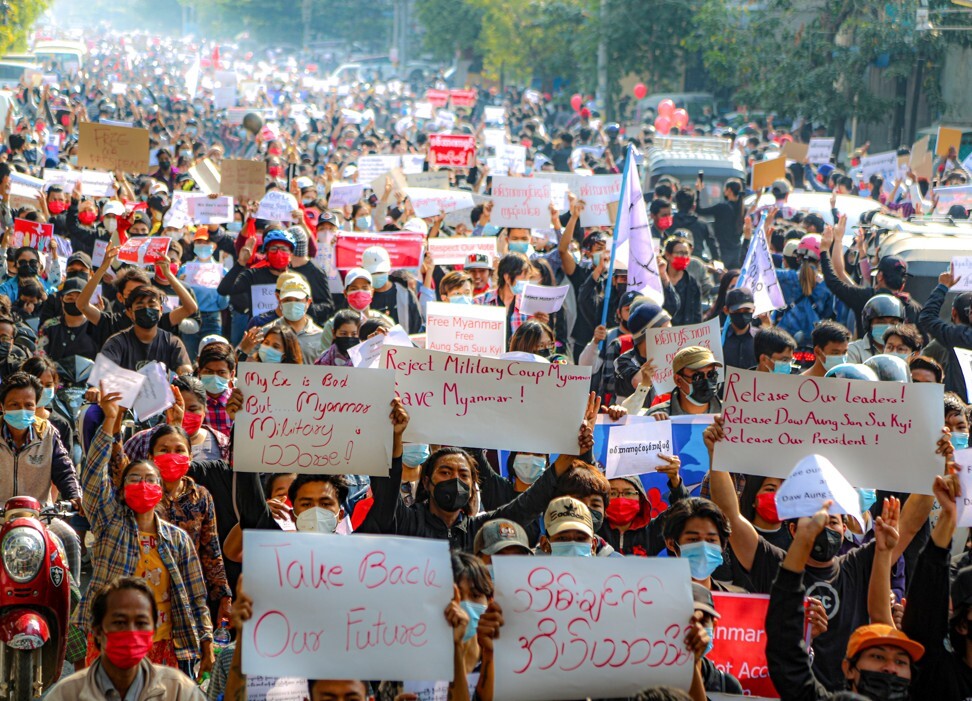 Mounting fears of a crackdown
The peaceful protests in Myanmar have been similar to those in Thailand seeking to reform the monarchy, and many protesters in Yangon have adopted the three-finger salute made popular by their neighbours in Bangkok. Both of those movements have used social media in a similar way to demonstrators in Hong Kong, where protests in 2019 turned more violent.
But the Myanmar military's history of deadly crackdowns against dissent has sparked concern that it will come down hard on protesters.
Enze Han, an associate professor in the Department of Politics and Public Administration at the University of Hong Kong, said this could be extremely costly for them given international scrutiny and the protesters' use of social media despite internet curbs.
"Myanmar today was not the old isolated Burma in the late 1980s, and the society has also changed to be much more engaged with the outside world," Han said.
Lucas Myers, a programme associate at the Wilson Center's Asia Programme, added: "However, the outcome will depend on how sustained and large the protest movement is, and if the military views the protests as a threat."
Joshua Kurlantzick, Southeast Asia senior fellow at the Council on Foreign Relations, said the most likely scenario in the days ahead was that the junta would crack down on the protests by placing further restrictions on public assembly, cuts to telecommunications services, jailings, and other repressive measures.
"The military has no compunction about shooting down unarmed protesters, even monks, as we have seen in the past. They will, if necessary, use deadly force against the protesters," Kurlantzick said.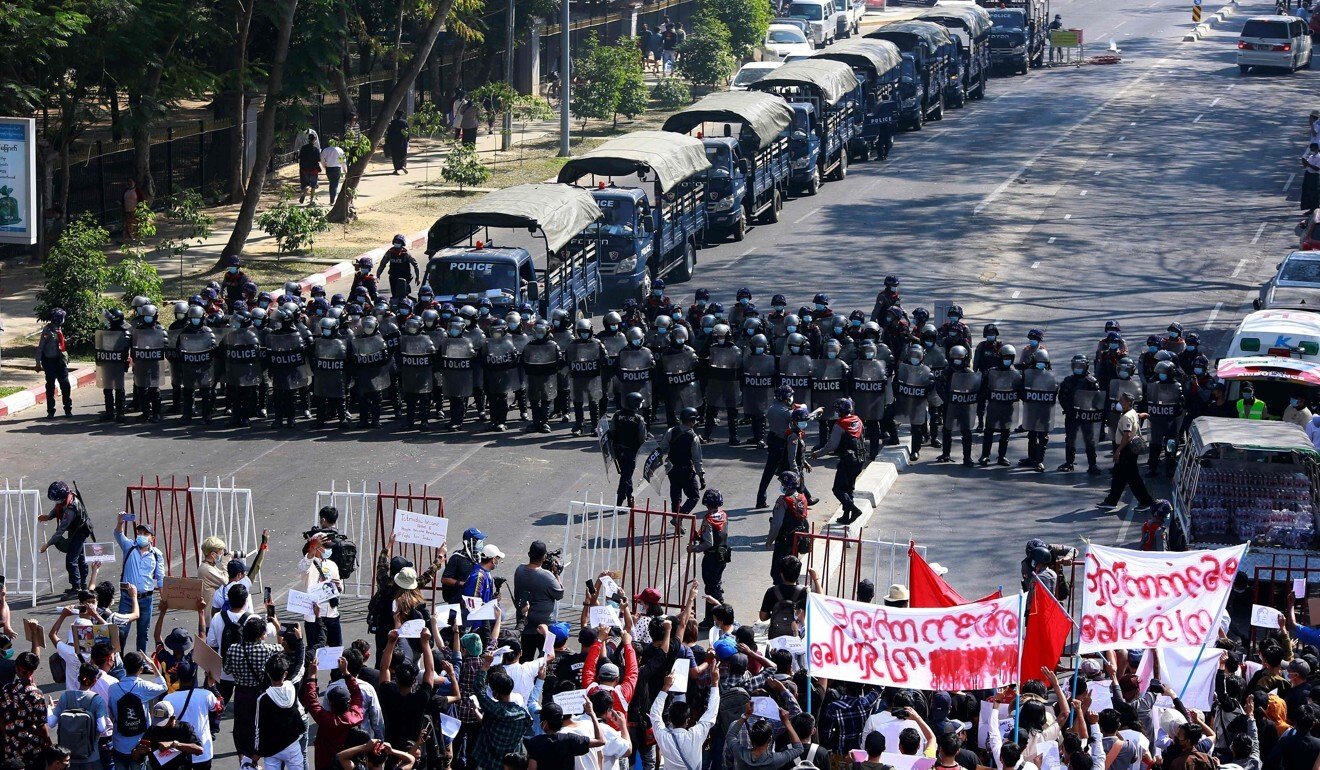 However, Hunter Marston, a Canberra-based political analyst, said it was possible the military would "try to make various concessions to demonstrate its commitment to return to democracy, albeit an unfree and unfair one".
What he would be monitoring, he said, was whether protesters can cajole police on the streets to empathise with them by offering them food and water.
In past protests, the military brought in troops from upland states who had been indoctrinated to believe citizens were dangerous separatists trying to pull the country apart, Marston said. Those officers also held less ties to families in Yangon and could emotionally distance themselves from the violence they wreaked on the population, he added.
"It will be interesting to see if when push comes to shove, we start seeing some police officers side with the people," he said. "In other countries and past protest movements, the police splitting from the state and standing with peaceful protesters has been a decisive factor in the success of popular demonstrations."
The role of political parties representing the country's ethnic minorities was another factor, Marston said. The military has already co-opted influential politicians from major ethnic parties such as the Arakan National Party and the Mon Unity Party but other ethnic politicians have issued statements against cooperating with the junta.
"If the ethnic parties stand with the resistance, it will give protesters strength to continue," Marston said. "If the regime is able to co-opt enough buy-in from ethnic political parties, it will dampen pressure for reform."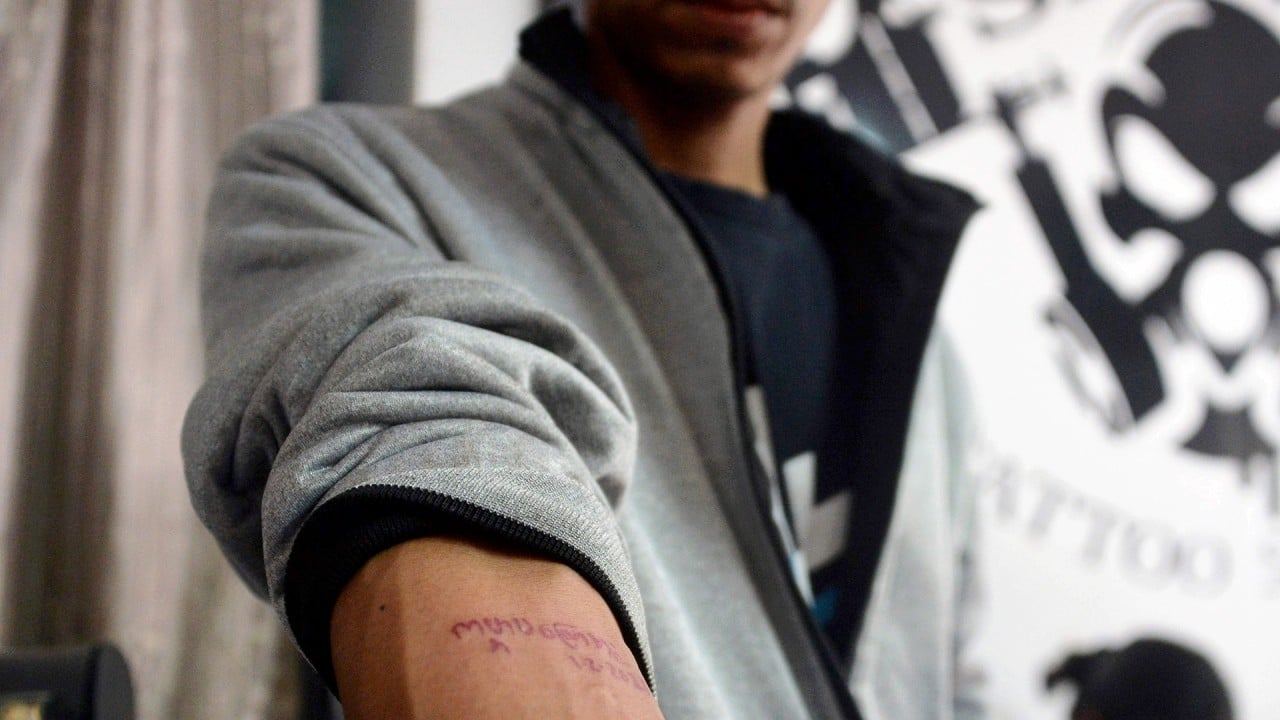 02:23
Myanmar protesters turn to tattoos to show resistance against coup
Myanmar protesters turn to tattoos to show resistance against coup
CHINA, ASEAN COULD INFLUENCE THE GENERALS
Analysts agreed the US and its Western allies have limited leverage to influence what happens next in Myanmar and that broader-based sanctions would hurt ordinary people, given the economic crisis caused by the Covid-19 pandemic.
Marston said sanctions that targeted the military would need to be coordinated for maximum effect, and it remained to be seen whether Washington and Brussels will agree on these.
Myers from the Wilson Center said the US and its allies can impose targeted sanctions against the coup leaders, and even reimpose some economic sanctions that were lifted in 2016 against Myanmar's banking sector and other businesses, especially those with substantial ties to the military.
"These types of targeted sanctions are designed to minimise harm to civilians in comparison to comprehensive sanctions," Myers said.
Marston said expanded targeted sanctions against the family members of Min Aung Hlaing and other senior military leaders would preclude them from parking their money in overseas banks, such as those in the US, travelling to the US, and studying in American universities.
"If done in conjunction with the likes of Singapore, where many officers reportedly stash their savings, it could be even more effective," Marston said.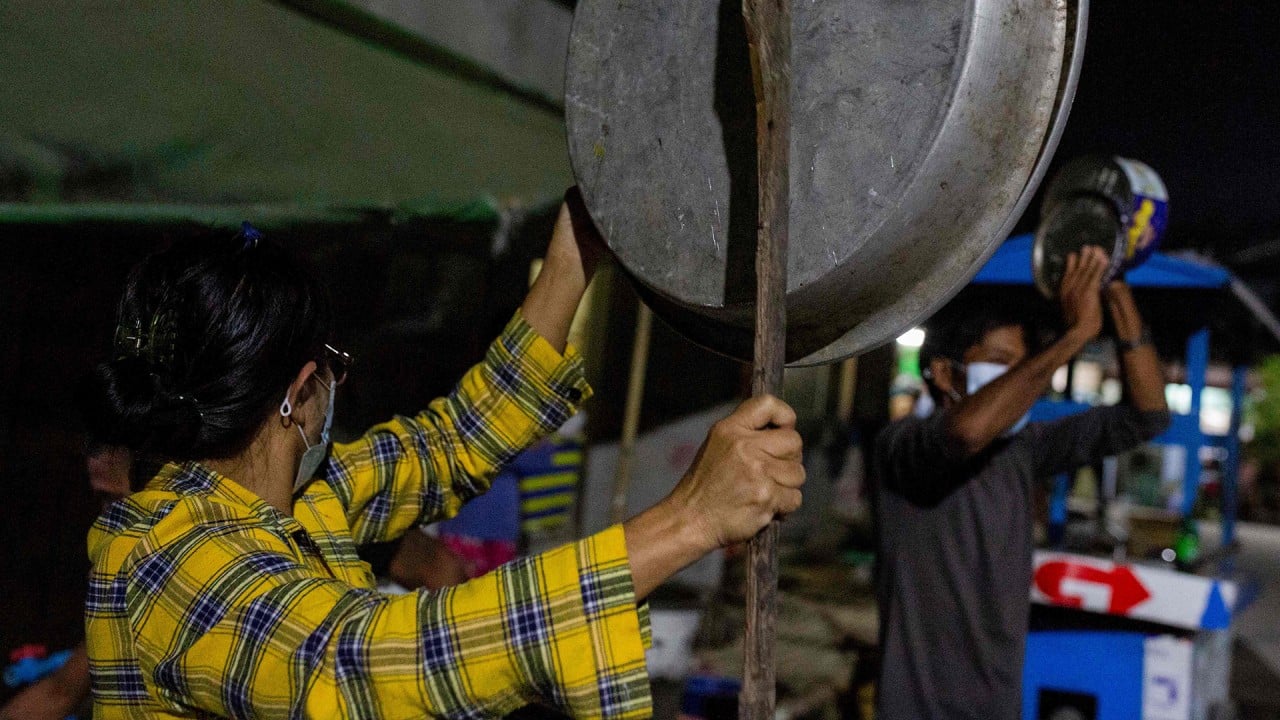 01:24
Myanmar military coup: Yangon residents make noise to protest against army takeover
Myanmar military coup: Yangon residents make noise to protest against army takeover
John Bray, director at consultancy Control Risks, said several Western governments had already impose selected sanctions on key individuals, including junta leader Min Aung Hlaing, over the military's alleged treatment of
Rohingya Muslims
.
He said in a note to clients that these governments are expected to extend the lists of sanctioned military officers and close associates, and "are also likely to call for a broadening of existing arms embargoes."
However, for now they are unlikely to revoke Myanmar's Generalised System of Preferences programme and Everything But Arms statutes, both of which eliminate tariffs on a broad range of imports, as this would harm ordinary citizens more than the military.
Bray said that most international companies in Myanmar are currently focusing on their duty of care responsibilities to their national and international employees, adding that when deciding whether to continue operating in the country in the longer term – "from a human rights and reputational perspective" – one critical factor will be the impact on individuals' lives and livelihoods.
"Companies that can demonstrate they have considered this are likely to mitigate associated reputational damage, even if they continue to operate in Myanmar." Bray added.
According to data from the US Census Bureau, the total trade in goods between Myanmar and the US amounted to nearly US$1.3 billion in the first 11 months of 2020. In contrast, Myanmar's trade with China topped US$12 billion during the same period, according to trade data from China's Ministry of Commerce.
HKU's Han said countries that had the most capacity to influence Myanmar were its neighbours, most prominently China, followed by Japan, Thailand, South Korea and Singapore.
Singapore was the largest source of foreign direct investments for Myanmar, while Thailand traded extensively with Myanmar, Han said, although he was doubtful Asean would issue a strong statement, especially since Thailand is also run by the military.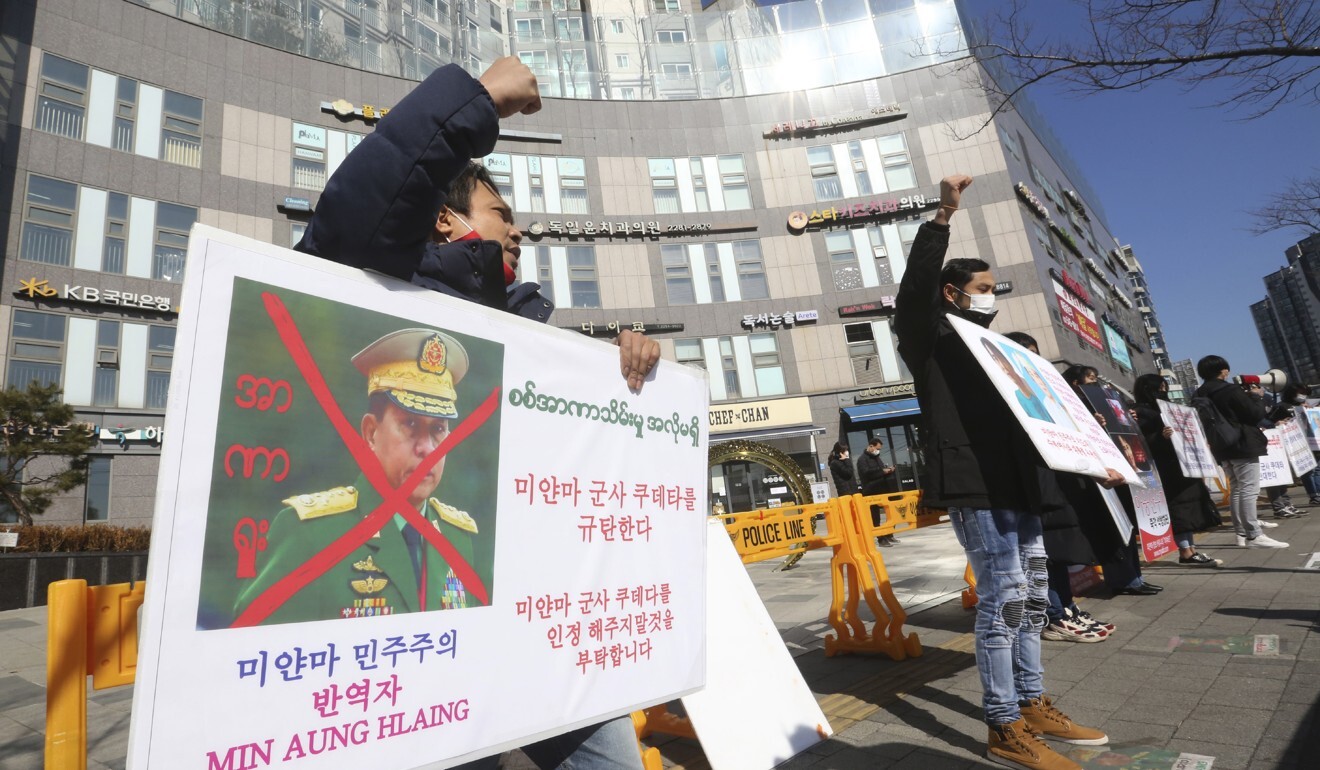 On Tuesday, prominent Singapore businessman Lim Kaling – the co-founder and director of Hong Kong-listed gaming group Razer – said he would exit his investment in a tobacco firm linked to the Myanmar military. Lim in a statement said he was a minority shareholder in Virginia Tobacco Company through RMH Singapore, which owns 49 per cent of the Myanmar firm.
The rest of Virginia Tobacco is owned by Myanmar Economic Holdings Limited (MEHL), one of two conglomerates run by the country's military, according to a 2019 United Nations report.
MEHL's scores of subsidiaries span a range of industries from ruby and jade mining to tourism and banking, and the conglomerate is owned and influenced by senior military leaders including commander-in-chief Min Aung Hlaing, according to the UN report.
Lim's move followed an online petition asking him to cut his business ties with the military.
In a statement, Lim said he was "exploring options for the responsible disposal" of his one-third stake in RMH, his only remaining Myanmar investment, but gave no time frame.
Japanese drinks giant Kirin Holdings also scrapped its beer alliance that tied it to MEHL last week, as foreign firms with investments in Myanmar come under increased scrutiny.
As for China, Myers echoed analysts who said China would pragmatically engage the new government and would not support sanctions, as it values a stable Myanmar.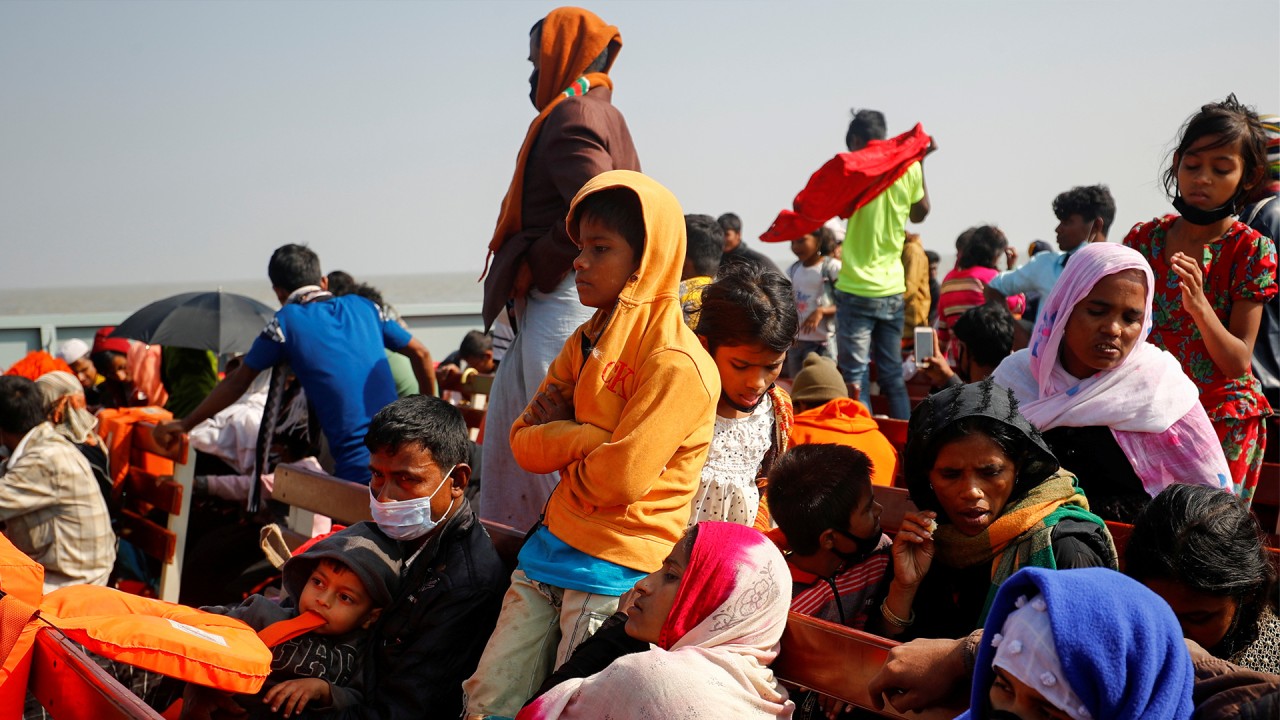 02:28
Myanmar's military coup raises uncertainty over repatriation of Rohingya refugees in Bangladesh
Myanmar's military coup raises uncertainty over repatriation of Rohingya refugees in Bangladesh
China's two primary interests in Myanmar were to ensure internal stability and advance the China-Myanmar Economic Corridor (CMEC), which is a number of infrastructure projects supporting connectivity between Myanmar and China and part of Beijing's global infrastructure development strategy known as the Belt and Road Initiative.
Myanmar borders China's Yunnan province and given the history of cross-border drug trafficking and occasional violence, any protracted instability in the Southeast Asian country is likely to spill across the border.
As for the CMEC, China has invested billions into Myanmar's infrastructure over the past few years to establish a reliable overland route connecting the Indian Ocean to Yunnan, as some 80 per cent of China's oil currently travels by sea from the Middle East and the Malacca Strait, which some strategists describe as a vulnerability for Beijing.
"The days that China only wants Myanmar's natural resources are gone. These days China is looking for market access, so an economically stable Myanmar is in China's interest," said Han, the HKU analyst.
Myers said that apart from working hard to publicly reassure the military that it remains a "friendly neighbour", Beijing is likely to continue to invest in Myanmar and work to complete CMEC.
While Myers said he believed greater Chinese influence in Myanmar was likely, Marston said the generals' wariness of Beijing would lead them to preserve working relations with Tokyo, New Delhi and Singapore.
"The military will work slowly to rebuild its relationship with Beijing but remain hesitant to rely too heavily on Beijing alone," Marston said. "China is a pragmatic player and well versed in realpolitik. As long as the pipelines keep pumping oil and gas, and the roads are open for trade, Beijing will play ball."
Reporting by Bloomberg, Reuters and Agence France-Presse
This article appeared in the South China Morning Post print edition as: rubber bullets fired at protesters