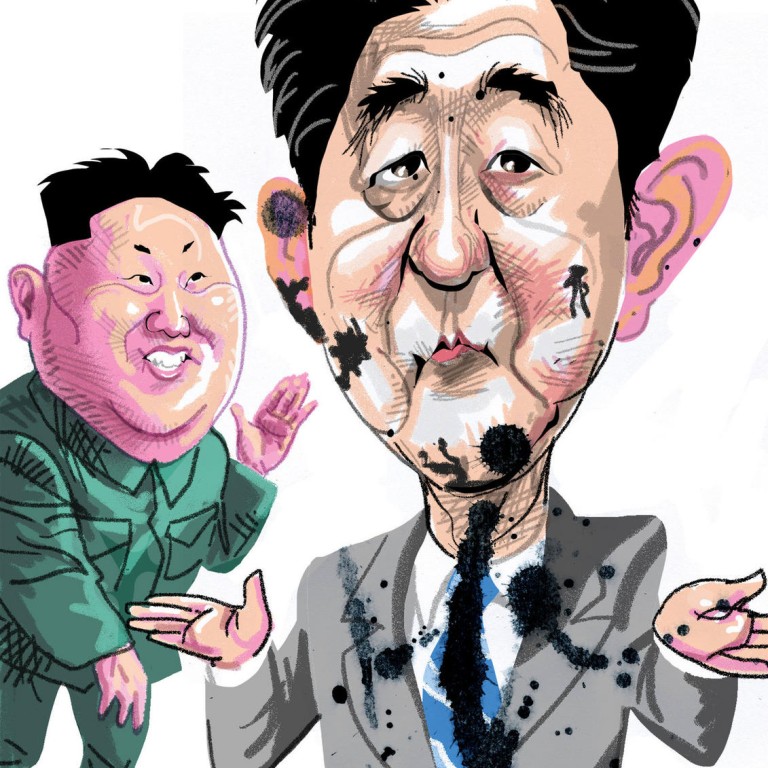 Why South Korea likes Shinzo Abe less than Kim Jong-un
Seoul may be technically still at war with Pyongyang, but long memories mean the Japanese leader is still less popular than the North's dictator
Given that South Korea is a democracy locked in an ongoing cold war conflict with dictatorial North Korea, it would be reasonable to assume the most despised national leader among South Koreans would be Pyongyang's Kim Jong-un.
In fact, it is Japanese Prime Minister Shinzo Abe.
A survey of 1,000 South Koreans last year, conducted by the Seoul-based Asan Institute for Policy Studies on the popularity of global leaders, found that on a 1-10 scale - 1.0 being the lowest - Kim Jong-un won 1.3 points, while Abe scored just 1.1.
Why would a democratic prime minister be more reviled than the leader of a serial human rights abuser and military powerhouse that routinely threatens South Korea's existence?
South Koreans are taught that the darkest time in their history was the period between 1910 and 1945, when the peninsula was colonised by Japan. Abe represents Japan's right wing: his grandfather Nobosuke Kishi was a member of the wartime Japanese cabinet, often dubbed a "Class A" war criminal in Korea.
In fact, Kishi was never tried and enjoyed a thriving post-war career.
Still, South Koreans are perpetually infuriated by Abe's revisionist historical stance. On the issue of "comfort women" - girls and women from Japan, China, Korea and Southeast Asia who operated as prostitutes in frontline brothels during the second world war - Abe, speaking in April this year, said his "heart ached" at the "human trafficking" of which they were victims. The question of how many "comfort women" were volunteers and how many were tricked, coerced or forced to serve is debated, and the question of who recruited them, operated the brothels and oversaw pay and contracts, remains murky. But by neglecting to mention that Japan's armed forces were the brothels' exclusive clients, Abe sparked fury.
Moreover, he has publicly questioned a landmark, conciliatory 1993 statement by then-Japanese cabinet secretary Yohei Kono on the "comfort women". Even so Abe has never overturned it. He has, in fact, publicly pledged to uphold it.
In May 2013, Abe dived into a PR disaster when he posed in a Japanese air force jet numbered 731. "Unit 731" was the number of wartime Japan's most notorious outfit. Based in Manchuria, it conducted biological experiments on live subjects.
"Former prime ministers said they were sorry, but Prime Minister Abe is a denier of the facts," said Kim Yong-hwan, external relations head of the Centre for Historical Truth and Justice, a civic group comprised of professional historians. "It is a very serious problem they don't admit their guilt for World War II, and I think that anything Abe says, we do not trust him."
Some Koreans are also suspicious that Abe's move to alter Japan's post-war constitution and create more deployable defence forces could lead to a resurgent Japanese militarism.
"I think ordinary Koreans have no problems with ordinary Japanese, but when Abe talks about Japan being a 'normal state' once again, I think he means what happened when Japanese went on to attack the rest of Asia," said Oh Young-jin, editorial page editor of the daily newspaper. "I think you can compare Abe to [wartime defence minister Hideki] Tojo."
The countries are also perpetually riven by an ownership dispute of the Liancourt Rocks, two Korean-occupied islets, known as Dokdo in Korean and Takeshima in Japanese. Meanwhile, the Korean government and civic groups campaign for global maps to include the Korean term, the East Sea, alongside the international norm, the Sea of Japan, to denote the body of water separating the two nations.
South Korean President Park Geun-hye is constitutionally obliged to demand resolution - apologies and compensation - for surviving "comfort women". But she also seems to personally dislike Abe. Before Monday's bilateral summit, she had steadfastly refused to meet him, one-on-one. At last week's China-Japan-South Korea summit in Seoul, Abe was reduced to dining with his ambassador at a Seoul restaurant, while Premier Li Keqiang was treated to a state banquet.
Yet while Koreans - and Chinese - lambast Abe, this fury is not replicated in other parts of Asia that suffered under the Japanese jackboot. And Western capitals which fought Japan in the 1940s - notably Sydney and Washington - embrace Abe as a regional ally.
While South Korea and China routinely express anger at Abe's speeches on the second world war, during his April address to the US Congress, he was interrupted by standing ovations from American politicians.
Abe has been an unflinching supporter of US policy and his moves to make Japan a more robust military player in a region threatened by North Korea and over which China is casting an ever-longer shadow has been welcomed in Washington.
And as South Korea drifts further toward China - Park was the only significant democratic leader attending Beijing's second world war victory celebrations in September - some Koreans fear that traditional ally Washington, which wants a firm trilateral front between the US, Japan and Korea, is leaning more towards Tokyo than Seoul.
"Abe knows that the US government needs Japan as an ally to keep China in check and believes he can push Korea around with Big Brother by his side," Korea's top-selling newspaper, the , opined. "The US is more interested in shoring up its regional influence than questions of history."
A Washington insider said there is "Korea fatigue" in the capital over Seoul's prioritisation of historical issues. In February, US Undersecretary of State for Political Affairs Wendy Sherman said: "It is not hard for a political leader anywhere to earn cheap applause by vilifying a former enemy."
While Sherman mentioned no names, it was assumed she was referencing Park. The statement caused a furore and Koreans lambasted Sherman for her "lack of understanding of history".
Some pundits take a more nuanced view of Abe.
"The first thing I think of in history is that Korea has had a fairly difficult history and the conclusion of the Japanese occupation was that the war was not won by Koreans, it was a byproduct of end of World War II and Japan's unconditional surrender," said James Kim, a research fellow at Seoul's Asan Institute.
Most historians agree that Japan's main victim was China, which suffered invasion, devastation and 15 million dead. Colonial Korea was modernised and industrialised, saw its population increase and lifespans extend, and suffered virtually no destruction during the war.
But continued harping on victimhood by the president, media and civic groups may be driven by innate Korean perceptions.
"Victimhood is not exaggerated if it is a history lesson, but what is exaggerated is how it applies today," said Mike Breen, author of . "Koreans see things in terms of national history and national blood, so when the Japanese stop apologising, they start getting emotional - and that is unreasonable."
And there are no signs of a rapprochement.
"The reaction I get from Koreans is that they are not hoping for something better, they have given up all hope," said Kim. "It is a very sad affair, very dismal."
This article appeared in the South China Morning Post print edition as: Why South Korealikes Abe lessthan Kim Jong-un