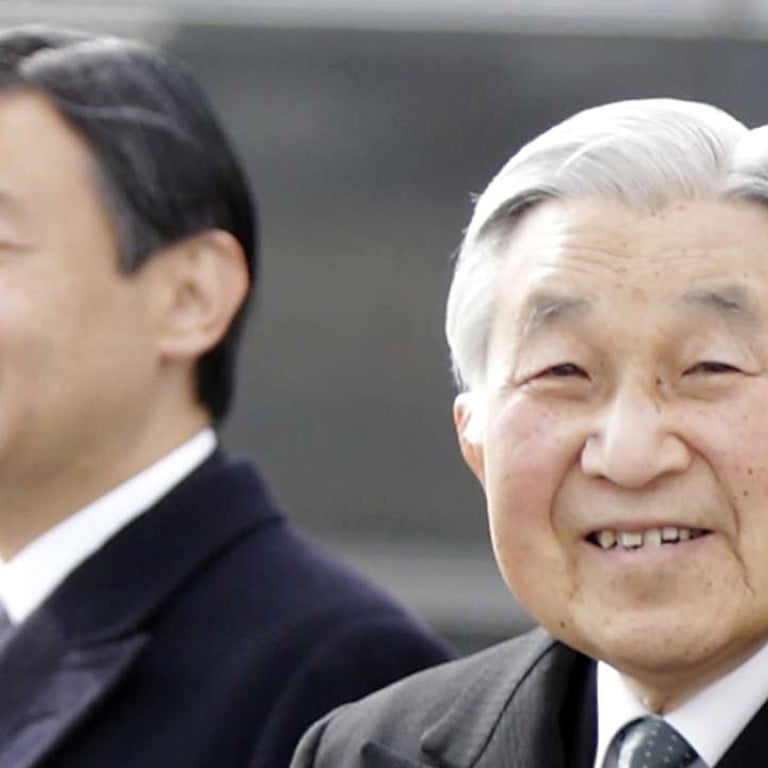 All you need to know about Japan's Crown Prince Naruhito
Crown Prince Naruhito, who is expected to ascend the Chrysanthemum throne if Emperor Akihito abdicates, has taken part in a variety of events and rituals inside and outside the Imperial Palace, sometimes on behalf of Emperor Akihito.
The 56-year-old crown prince has served as honorary president of the UN Secretary General's Advisory Board on Water and Sanitation since 2007.
Emperor Akihito intends to step down in the coming years, says Japanese media
As crown prince, he made his first overseas trip to Australia in 1974 and stayed with a local family while he was attending junior high school, before making his first official visit abroad to Brazil in 1982.
He is known to have a number of hobbies including mountain climbing, jogging, tennis and skiing. He plays viola and performed in an orchestra during his time at university.
The prince was born on February 23, 1960, as the eldest son of the emperor and Empress Michiko.
His birth came a year after his father married Michiko Shoda, who became the first crown princess of commoner origin. He became heir to the throne following the death of his grandfather Emperor Hirohito, posthumously called Emperor Showa, in 1989.
The name Naruhito consists of two Chinese ideograms taken from an ancient Chinese Confucian philosophy book meaning "a man who will acquire heavenly virtues".
Unlike his father, who grew up away from his parents in line with imperial family custom, the crown prince, his younger brother Prince Akishino and younger sister Sayako Kuroda, formerly Princess Sayako who left the imperial household after her marriage to a Tokyo government official in 2005, were brought up by their parents.
He entered the kindergarten of Gakushuin University in 1964 and attended the elementary, junior high and high schools of the university, which was established in the 19th century as a school for aristocrats.
In 1978, he enrolled in the university's Faculty of Letters, where he majored in history. Before his graduation in 1982, he wrote a diploma thesis on medieval water transport in the Inland Sea area of western Japan.
After advancing to the graduate school of the private Japanese university in April 1982, he studied for two years from 1983 at Oxford University's Merton College, where he lived in a dormitory for the first time.
His research theme in Oxford was the history of transportation on the River Thames. He published a paper titled "The Thames as Highway" in 1989 and was awarded an honorary degree of Doctor of Laws by Oxford University in 1991.
He has been a visiting research fellow at the Gakushuin University Museum of History since 1992, occasionally giving lectures at Gakushuin Women's College.
In January 1989, he became crown prince at the age of 28 after his father Emperor Akihito ascended to the Chrysanthemum Throne following Emperor Hirohito's death.
Having set himself the goal of finding a partner before turning 30, he got married to Masako Owada, a career diplomat, at the age of 33 in June 1993.
The crown prince and crown princess Masako, who spent her childhood in Moscow and New York, first met in October 1986 at a party to welcome visiting Spanish Princess Elena. Following her return from Oxford University, where she studied between 1988 and 1990, the two met again in 1992 and he proposed marriage later that year.
The couple's engagement was formally approved by the Imperial Household Council on Jan. 19, 1993, and their wedding took place later that year.
The couple's only child, Princess Aiko, was born on December 1, 2001. Given the princess cannot ascend to the throne as Japan's Imperial House Law restricts succession to males, whether to revise the law has been debated. But there has been no substantial progress on the issue.