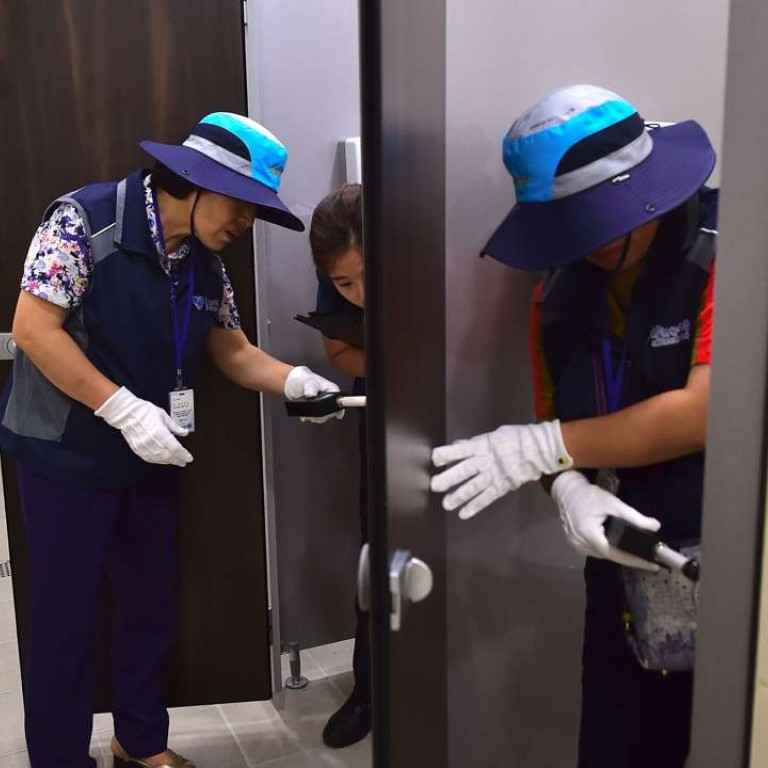 These women hunt hi-tech peeping Toms in South Korea where secret camera porn is rampant
Seoul has an all-female hidden camera-hunting squad - and they are at the forefront of a battle against 'molka' or secret camera porn
Walking into an empty women's bathroom stall, Park Kwang-mi waves a hand-held detector around the toilet seat, paper roll holder, doorknob and even the ventilation grill on the ceiling.
"It's my job to make sure there's no camera to film women while they relieve themselves," the 49-year-old said after similarly inspecting dozens of public toilet stalls at a museum in Seoul.
"It's weird that there are people who want to see something like that ... but this is necessary to help women feel safe."
A member of Seoul city's all-female "hidden camera-hunting" squad, Park is at the forefront of a battle against "molka", or "secret camera" porn.
South Korea takes pride in its tech prowess, from ultra-fast broadband to cutting-edge smartphones. Around 90 per cent of its 50 million people possess smartphones -the highest rate in the world.
But it's a culture that has also given rise to an army of tech-savvy peeping Toms in a still male-dominated country with a poor record on women's rights.
Many use special smartphone apps to film up women's skirts as they ride subway escalators or sit at desks, and spy cameras to gather footage from changing rooms and toilet stalls.
The images are then often shared to numerous molka speciality sites on the Internet.
Such practises have become so rampant that all manufacturers of smartphones sold in South Korea are required to ensure the cameras on their devices make a loud shutter sound when taking photos.
Molka crimes are daily news, and perpetrators cover a broad social range.
A pastor at a Seoul mega-church with 100,000 members was caught filming up a woman's skirt on an escalator. His smartphone was packed with similar images of other women.
A 31-year-old obstetrician was jailed for secretly filming female patients and nurses in a changing room and sharing some of the images on the Internet.
And the head coach of South Korea's national swimming team resigned last month after two male swimmers were found to have installed a hidden camera in the locker room of their women teammates.
According to police data, the number of molka crimes jumped more than six-fold from about 1,110 in 2010 to more than 6,600 in 2014.
While some offenders use smartphones, others employ spy-style gadgets, including ballpoint pens, glasses or wrist watches equipped with micro lenses, said Hyun Heung-ho, a detective attached to Seoul police's metro squad.
The squad was established in 1987 to fight subway crime like pickpockets, but now its main focus is on tackling various kinds of sexual harassment, including molka crimes.
"It's tough because the technology they use advances so fast, like special apps to mute camera sound or to show something else on the display while the camera is rolling," Hyun said.
The majority of men nabbed by the squad are in their 20s or 30s - and include many college-educated, white-collar workers.
"They generally cry and beg to be let off, saying they were 'simply curious'," Hyun said.
Convicted offenders face a fine of up to 10 million won ($9,100) or a maximum jail term of five years.
To help with their crackdown, police have offered cash rewards to those reporting molka crimes and the Seoul city council has hired dozens of women like Park to scour bathrooms and other spaces for hidden cameras.
Office worker Lee Hae-kyung said she, like many of her friends, tried to avoid toilets in public spaces like subway stations.
"If I urgently need to use a public toilet, I always inspect the doorknob or the flush handle," the 38-year-old said.
"It's scary because many molka are apparently filmed by normal people like office workers ... so who knows? An ordinary-looking guy standing next to you in the subway may be filming up your skirt," she said.
Whenever a man stands behind Lee on an escalator, she slightly turns her body to face him or look him in the eye - a move detective Hyun says can act as a strong deterrent.
According to Lee Na-young, a sociology professor at Hanyang University in Seoul, the only real solution is a societal one.
Lee said "upskirt videos" had been avidly consumed in South Korea and Japan for decades.
"Both are deeply conservative nations where open discussion of sex is quite taboo, people feel sexually oppressed and women are relentlessly objectified and discriminated against," she said.
South Korea - Asia's fourth-largest economy - has long been ranked bottom for women's rights among OECD member nations.
Average pay for South Korean women is 63.3 per cent that of men - the lowest in the OECD - and women account for 11 per cent of managerial positions and 2.1 per cent of corporate boards - far lower than the OECD average of 31 per cent and 19 per cent.
In this environment, some men view women as nothing more than sexual objects, Lee said, describing the molka trend as a "wrong marriage between fast-evolving technology and slow-evolving patriarchal culture."
"The molka problem won't be solved unless we deal with this bigger social problem through education at home and at school," she said.
This article appeared in the South China Morning Post print edition as: On the trail of hi-tech peeping Toms