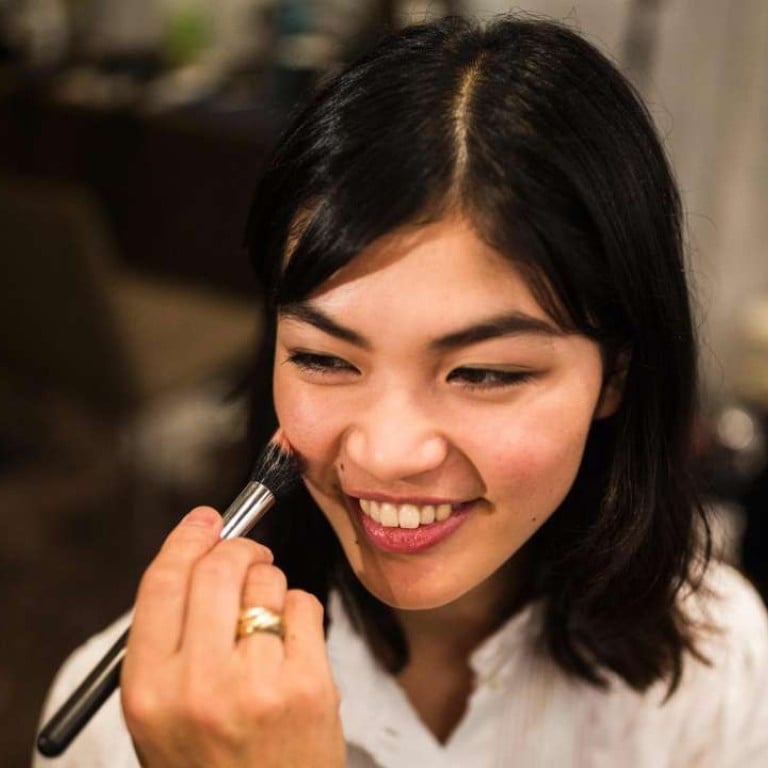 Rina Fukushi, the young Japanese model taking world by storm
Aged just 17 and still living with her family, Rina Fukushi has seen more of the world than most Japanese schoolgirls.
She is the newest model sensation making waves in Europe and New York, wowing on the runway for the likes of Miu Miu and Marc Jacobs when not chowing down on hamburgers or playing with her little brother.
Discovered at 14, hailed by
Vogue
as "ultra-cool" and "eye-catching" with her enormous eyes, thick eyebrows and bee-sting lips, she is already the veteran of seasons in Paris, Milan and New York – giving American models
Gigi Hadid
and
Kendall Jenner
a run for their money.
"I always believed I could be a star from the moment I was scouted. But at the same time, I still can't believe it's real," says Fukushi, delightfully friendly and giggly, yet equally self-assured for her age.
She arrives early for an interview, taking time out from her packed schedule at Tokyo Fashion Week to meet at a chic cafe.
Quick to laugh, she is a dab hand at sign language to ease gaps in lost in Japanese-English translation, yet both shy and vivacious, faultlessly polite and totally absorbed in the world of fashion.
A girl who loves to rummage around vintage stores whenever she is travelling, she dresses for the interview in black – mini skirt from Paris, turtleneck from Japan – and brown handbag from Milan.
A silver pendant inscribed "Rina" in Japanese script, hangs from her neck and she carries a leather jacket from Beautiful People, a Japanese label for whom she walked the previous night.
Her schedule is punishing: she's up at 7am, rushes from show to show, working until 10pm and finally falls into bed around 1am.
In between it all, she is studying, which she does online to fit around her schedule. When high school ends in March she hopes to spend more time in New York, which she loved visiting in September.
"I really like the people," she explains, laughing when asked if she thinks New York is loud and dirty compared to Tokyo. She loves the energy, the diversity and the get-up-and-go attitude.
Marc Jacobs
left a deep impression. She thought his spring/summer show of rainbow Rastafarian locks "so cute", although she dissolves into more laughter when asked what his towering, seven-inch platform boots were like to walk in. "I was really careful not to slip."
Wearing no make-up, her face is radiant with natural beauty, and her dark brown hair falls just below the shoulder. It used to be longer, but was cut – without warning – backstage at Alexander Wang.
As a model it pays to be professional and amenable. Fukushi is both, and besides, the soft-spoken Taiwanese-American fashion genius of New York urban cool was "so kind" to her.
"He didn't know where I was from," she giggled.
Described in the Japanese fashion press as "exotic" Fukushi is the daughter of a Spanish-Filipino mother and a Japanese-American father.
Born in Manilla, the family returned to Japan when she was a baby, and she grew up in Tokyo, although she speaks Tagalog as well as Japanese.
"I thought she had the perfect proportions," says her agent Mayumi Kozakura, incredibly one of three scouts who spotted her the first day she went out shopping with a friend in Tokyo's Harajuku district.
But at 176 cm Fukushi is short for a runway model, by Western standards.
It's one of the reasons she admires
Kate Moss
so much: the British model who defied beauty norms by pioneering so-called heroin chic is even shorter.
"When she wears clothes, they look fabulous," Fukushi says of Moss. "She has inner beauty and I think that is so important."
Tokyo Fashion Week
sees Japanese designers mostly shun Asian models in favour of white Western girls, albeit with catwalks in Europe and New York under increasing pressure to show diversity.
"I like myself and I have confidence. What is wrong about being Asian or Japanese?" she says. "I don't feel 'I am sorry for being Japanese'. If I am confident that clothes look good on me, people don't see anything wrong. So it doesn't annoy me."
She is dreaming big. She would love to front a campaign and walk for Chanel, and perhaps become an actress or singer later in life.
She's a fan of J-pop and likes to retreat into nature when she gets occasional time off.
But mostly she's working. Otherwise, she sleeps or eats, she jokes. Hamburgers in New York and steak are her favourites.