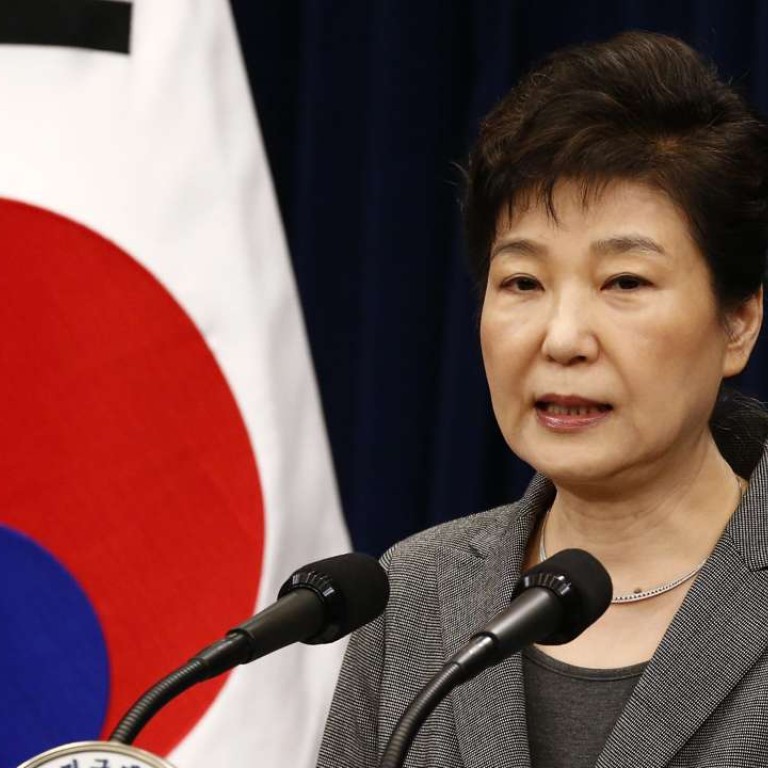 South Korean President Park Geun-hye offers to quit provided parliament can ensure transfer of power
Opposition parties have been closing in on an impeachment motion and even her allies have called for her to "honourably" step down
South Korean President Park Geun-hye said on Tuesday that she will resign her office once parliament develops a plan for a safe transfer of power, amid prosecution claims that she colluded with a friend who wielded government power from the shadows.
Hundreds of thousands of people have gathered in Seoul each Saturday for the last five weeks to demand that Park step down amid prosecutors' claims that she colluded with a confidante who allegedly manipulated power from the shadows and extorted companies to amass an illicit fortune.
Watch: Park says she'll resign after lawmakers act
Park would be the first South Korean leader to resign since the country's first president, Syngman Rhee, quit and then fled to Hawaii amid a popular uprising in 1960. The succeeding government was overthrown by a coup by Park's late father, the military dictator Park Chung-hee, whose rule also abruptly ended after he was assassinated by his spy chief in 1979.
"I will leave the matters about my fate, including the shortening of my presidential term, to be decided by the National Assembly," Park said on Tuesday in a live address to the nation, referring to parliament. "If the ruling and opposition parties discuss and come up with a plan to reduce the confusion in state affairs and ensure a safe transfer of governments, I will resign from the presidential position under that schedule and by processes stated in law."
Opposition parties had been closing in on an impeachment motion against Park, and even her allies in the conservative ruling party have called for her to "honourably" step down rather than face impeachment.
An impeachment motion vote had been planned for Friday. The country's two largest opposition parties were also planning on Tuesday to nominate a special prosecutor to independently investigate the scandal.
Watch: Hundreds of thousands rally against Park Geun-hye
At the heart of the scandal is Choi Soon-sil, Park's long-time friend and the daughter of a late cult leader who allegedly meddled in state affairs and pressured companies to donate millions of dollars to foundations controlled by her at the request of Park.
Prosecutors have so far indicted Choi, two ex-presidential officials and a music video director known as a Choi associate for extortion, leakage of confidential documents and other charges.
Park, who has immunity from prosecution while in office, has refused to meet with prosecutors. Her lawyer, Yoo Yeong-ha, has described prosecutors' accusations against Park as groundless.
Park Kwang-on, a Democratic Party lawmaker, said it looked like she was trying to delay proceedings.
"She is handing the ball to parliament, when she could simply step down," he said. "She is asking the parliament to pick a date for her to resign, which she knows would lead to a discussion on when to hold the presidential election and delay everything."
Shin Yul, a professor of political science at Myongji University, agreed.
"She doesn't want the parliament to impeach her and she doesn't think that the parliament can soon reach an agreement, so she is making things complicated and trying to shift some of her blame to the parliament," he said.
Additional reporting by Reuters
This article appeared in the South China Morning Post print edition as: Park offers to quit but asks parliament for exit plan