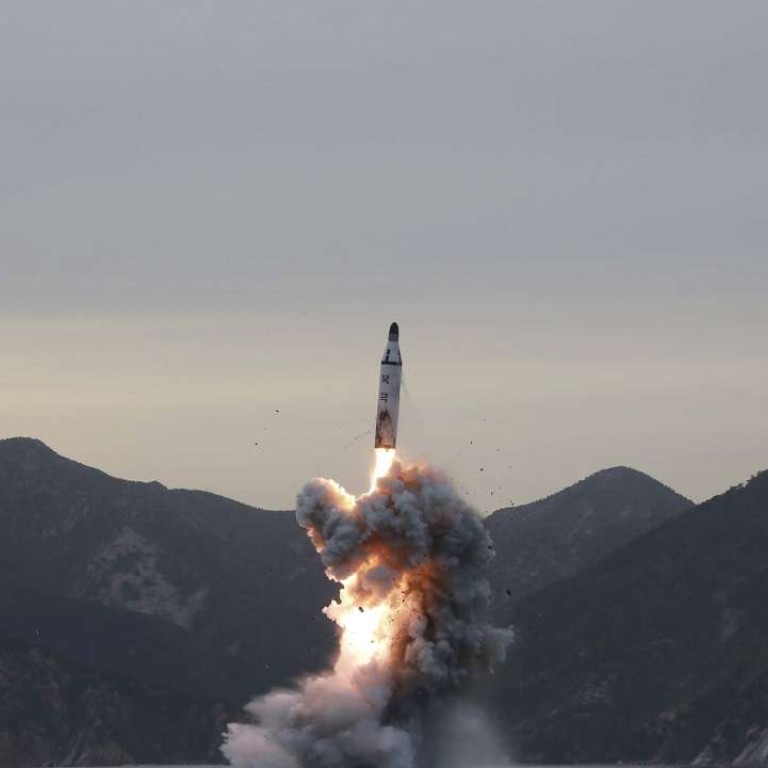 Is North Korea's atomic training college in Tokyo? Activist says 'nuclear spies' are on the loose in Japan
Rights campaigner says scientists for Pyongyang's atomic weapon programme are openly being trained at a university in Japan
A Japanese human rights activist has launched a campaign to stop classes on nuclear physics, advanced chemistry, robotics and electronics being taught at a North Korean-sponsored university in Tokyo, claiming the institution violates UN sanctions and benefits Pyongyang's nuclear and missile programmes.
Ken Kato, director of a group called Human Rights in Asia and a member of the International ­Coalition to Stop Crimes Against Humanity in North Korea, has submitted a petition to the UN panel that monitors sanctions ­imposed on North Korea in the aftermath of its nuclear tests and missile launches.
In his petition, Kato called on the panel to "conduct a thorough investigation into violations of United Nations sanctions by the Korea University". He said the college in Kodaira, western Tokyo, requires students to be members of the ­Korean Youth League in Japan, which promises to "raise youths to ­become true Kim Il-sung-Kim Jong-il followers".
The university, along with some kindergartens, junior and senior high schools, are ­operated by Chongryun, an ­organisation that represents ­Korean residents of Japan who still swear allegiance to North Korea and who are said to number tens of thousands.
The president of the university is a member of the North Korean Supreme People's Embassy who is subject to a travel ban imposed by the Japanese government, meaning he cannot re-enter Japan if he visits North Korea.
The university's course include nuclear physics, electrical engineering, electronic machinery, control engineering and ­advanced chemistry.
"It is very clear that these ­subjects fall under specialised teaching and training, which have been prohibited by paragraph 17 of [UN] resolution 2270 and paragraph 10 of resolution 2321, especially 'advanced electrical engineering', that has been specified in resolution 2321," Kato wrote in his UN petition.
The first resolution forbids "specialised teaching and training which could contribute to [North Korea's] proliferation-sensitive nuclear activities or the development of nuclear weapons delivery systems includes, but is not limited to, advanced materials science, advanced chemical engineering, advanced mechanical engineering, advanced electrical engineering and advanced industrial engineering".
The second section forbids "teaching or training in advanced physics, advanced computer simulation and related computer sciences, geospatial navigation, nuclear engineering, aerospace engineering, aeronautical engineering and related disciplines" for North Koreans.
Kato also accuses the college of being "a centre for North Korea's espionage activities in Japan," claiming professor Choe Hung-gi made "a great contribution to the North Korean munitions industry by creating a numerical control lathe in 1982".
Similarly, Dr Hwang Chol-hong, a former vice dean of the Faculty of Science and Technology, is now chairman of the Korean Association of Science and Technology, which the Japan National Police Agency has identified as being involved in the proliferation of weapons of mass destruction.
Lee Song-gi graduated from the Department of Aerospace Engineering at Tohoku University's Graduate School of Engineering and is now a research associate at Korea University.
In 2011, he received a grant from the Kim Many Yu Science Foundation – which is linked to the North Korean government – for research into "handling of heavy payloads by an industrial partner robot".
"We have to stop this sort of nuclear and industrial espionage in Japan as quickly as possible," Kato said. "Nuclear weapons are in the hands of the world's most unpredictable dictator, who could use them on a whim."
"And this is not just a threat to north-east Asia. North Korea has shared its nuclear technology with Iran and could provide it to terrorist groups anywhere in the world. It is ridiculous that we have nuclear and industrial spies on the loose in Japan." Kato is calling on the UN panel to enforce the ban on ­research by professors with links to North Korea as well as the ­education of the government's ­future scientists.
The South China Morning Post contacted Korea University for comments from Professor Choe and Professor Lee. In their written reply, the two professors said "it is unworthy of making any comment" and that they have "nothing to do with such activities".
Separately, North Korea's ­foreign ministry has accused the South of stepping up efforts to ­encourage North Koreans living overseas, especially diplomats, to defect.
Ministry official Ju Wang Hwan said North Korean diplomats around the world have received emails with attachments containing articles that look like they are from the North's state media, but which have been changed to influence readers.
In a statement released by North Korea's state news agency, the foreign ministry accused the South's agents of calling and following its diplomats to try to encourage them to defect.
North Korea has been hit by several high-profile cases of its citizens defecting to South Korea this year.
Additional reporting by Associated Press