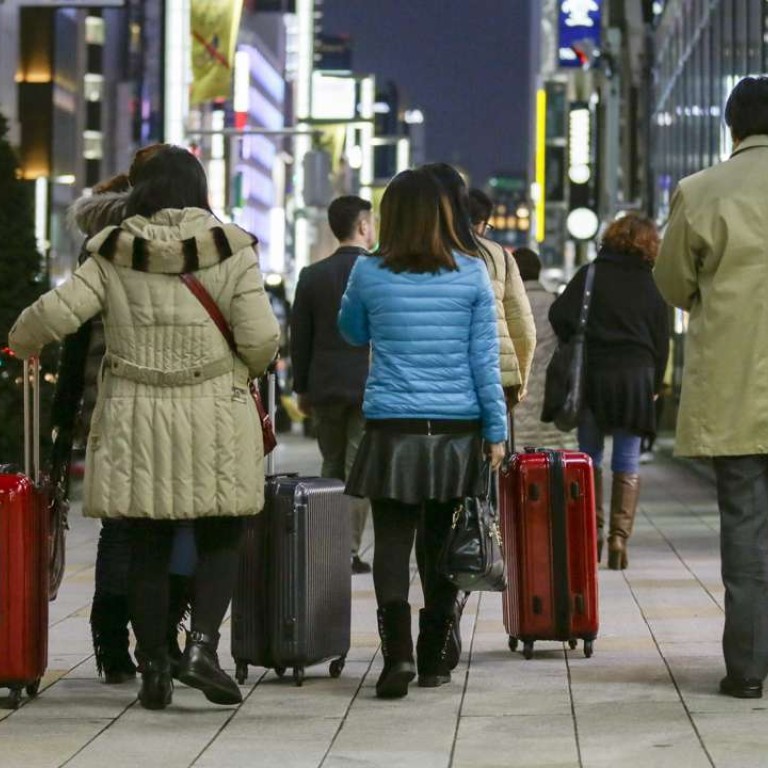 End of the boom? 'Explosive shopping' by Chinese tourists in Japan may be on the wane
Per capita spending by mainland tourists in Japan is down almost 19 per cent, as luxury items become more available in China
The heady days of Chinese travellers arriving in a shopping district in one of Japan's major cities and stripping the shelves of the nearest stores appear to be over.
And analysts say Japanese retailers are unlikely to again witness the shopping frenzy that gripped Chinese visitors a couple of years ago.
The extravagant spending habits of cash-rich mainland Chinese in Japan was even given its own expression, "bakugai", meaning "explosive shopping".
But while visitor numbers continue to climb, hitting 24.04 million in 2016, up 22 per cent from the previous year and surpassing the 20 million mark for the first time, Chinese tourists are being a good deal more circumspect with their cash.
Scenting the change, the operator of Kansai International Airport, which serves Osaka and central Japan, announced on January 12 that it was cancelling a plan with BicCamera Inc to open a duty free section in the electronics retailer's store in the Namba district of Osaka.
The outlet was to be operated by the Lotte Group of South Korea and the three companies had set a target of 13 billion yen (HK$883.90 million) in sales in the first year of operations.
Despite impressive arrivals figures, foreign visitors spent 971.7 billion yen (HK$66.07 billion) in the July-September quarter, down 2.9 percent from the same period in the previous year and the first decline in 19 quarters. Per capita outlays during the same period came to 155,133 yen (HK$10,548), down more than 17 per cent.
And while mainland Chinese remain the biggest spenders, splashing out an average of 227,821 yen (HK$15,500) per person during their stay, that figure was also down 18.9 per cent from a year earlier.
Among visitors from Hong Kong, the decline was even sharper, down 23.6 per cent on the previous year.
"I would not say that the decline in spending by Chinese tourists has been 'dramatic' - but it has come down quite a lot," agreed Martin Schulz, senior economist with the Fujitsu Research Institute.
"There are two primary reasons for this, the first of which is that the yen has become stronger and that has an immediate cost impact on tourists," he pointed out. "That appears to be changing again and there is a possibility that the yen will weaken, but it is not clear how much effect that will have because of the second reason.
"That is that the products Chinese tourists were buying in the Ginza - the big suitcases, the heated toilet seats, the brand-name cosmetics - are all available in China now."
Another contributing factor, he suggested, is that Chinese travellers who have been to Japan previously - and therefore already have a big suitcase and heated toilet seat - are venturing further afield in Japan, where there are fewer shopping opportunities and they don't want to be burdened with huge amounts of luggage.
They are also becoming more "sophisticated" in their purchases, he added, while they also have to take into consideration the higher tariffs imposed by the Chinese government on items bought overseas.
"What we are seeing is Chinese travellers instead spending more in services," Schulz said, which is good news for high-end restaurants and hotels but less welcome for duty free shop operators.
The only way that Schulz believes that a second wave of "bakugai" buying might strike in Japan is for the yen to weaken sufficiently that Japan becomes an attractive destination for large numbers of budget travellers from China.
"It could be a cyclical event, but because these items are now available in China and because Chinese are increasingly going to places like Thailand, then I'm not especially optimistic that it will come back again," he said.
This article appeared in the South China Morning Post print edition as: Changing habits defuse 'explosive shopping' sprees