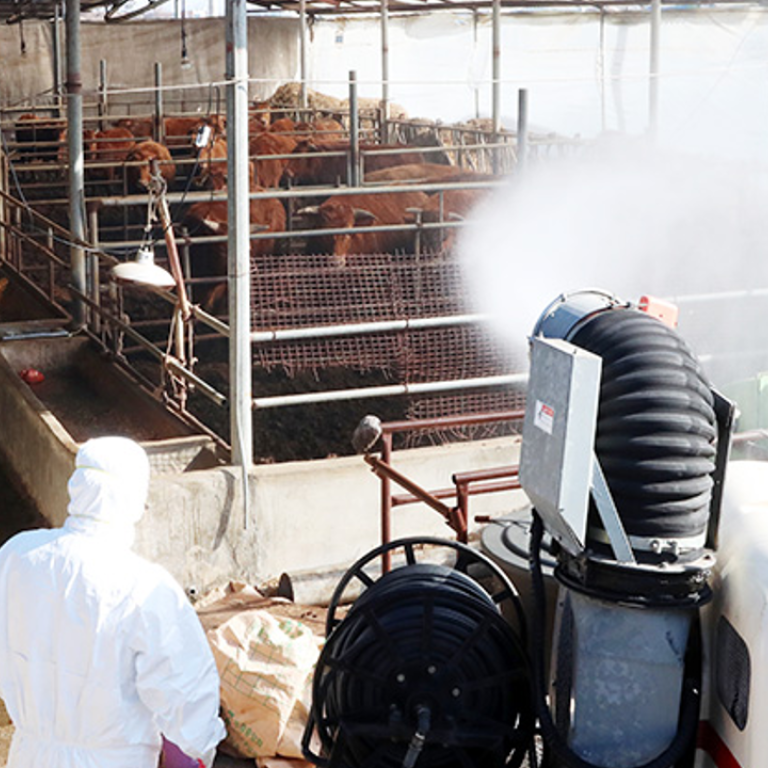 Foot-and-mouth disease confirmed in South Korea
Outbreak catches country's authorities by surprise as vaccinations have been mandatory since 2010
By Kim Se-jeong
The first case of foot-and-mouth disease in South Korea since March 2016 was confirmed, according to the country's Ministry of Agriculture, Food and Rural Affairs (MAFRA).
The ministry placed an immediate transport ban Monday on all live cattle and pigs across the country for 30 hours. For North Chungcheong and North Jeolla provinces hit directly by the animal disease, the ban will stay until next Monday.
The ministry said five cows at a dairy farm in Boeun County, North Chungcheong Province, tested positive for the disease. Another suspected case was reported at a farm in Jeongeup, North Jeolla Province, Monday with the test result expected by today.
The authorities in Boeun culled all 195 cattle at the first farm as a preventive measure Sunday.
Milk from the virus-infected cows could have already been sold to consumers but the ministry said it would not harm any people drinking it because the virus is killed by heat and stomach acid.
Foot-and-mouth disease is an infectious disease that affects animals with cloven hooves, such as cattle, pigs and goats.  
The virus causes a high fever for up to six days, then blisters inside the mouth and on the feet.
Human infection of foot-and-mouth disease is known to be very rare, except in laboratory accidents. Because the virus is vulnerable to stomach acid, it cannot spread to humans consuming infected meat or dairy products.
The outbreak caught authorities by surprise because vaccinations against foot-and-mouth disease are mandatory. The government made so in 2010 in response to a deadly outbreak that saw 3.48 million cattle culled here.
Authorities said they were sure Korea was safe from the disease because of its high vaccination rate, at least on record.
But the ministry raised speculation about the poor quality of the vaccination products.
"According to records, the farmer conducted vaccinations last October 15. But the lab examination found that antibody formation in the five cattle was below 20 per cent, which is surprisingly low," a ministry official said Monday. It usually takes one week for antibodies to form in full.
It is also possible the farmer might have lied about vaccinations. If so, the government will slash the amount of compensation that is usually given to farmers affected by the virus. The authorities said they are continuing their investigation.
The latest outbreak has put the government into deeper trouble, as it was criticised recently for its response to a bird flu outbreak. The government culled more than 30 million chickens and ducks across the country as a preventive measure, creating a shortage of eggs in the domestic market.
New cases of bird flu continue to be reported here. The most recent case was confirmed Saturday in a water bird found on the Han River in Seoul.