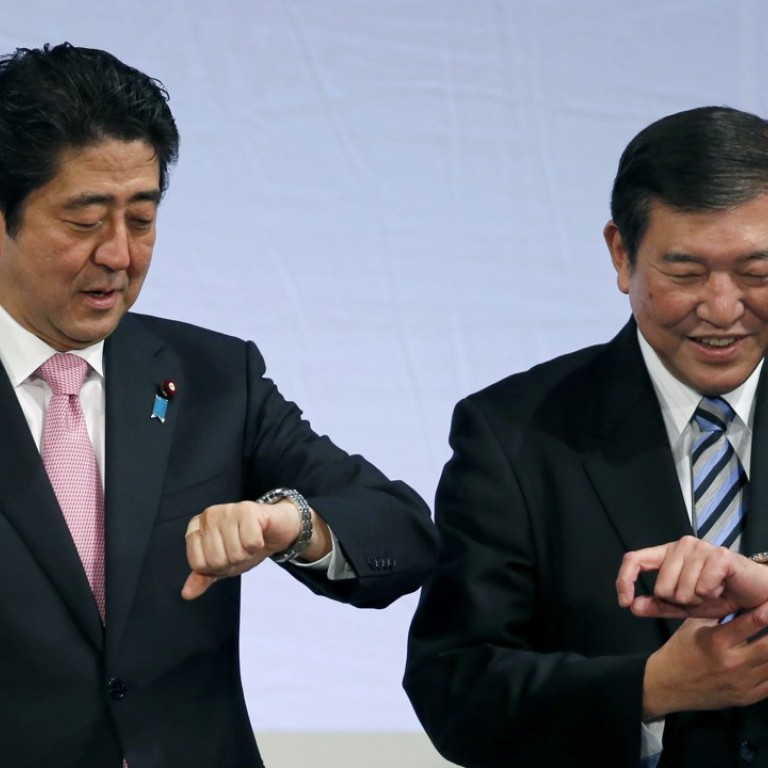 Analysis
Ambitious Shigeru Ishiba the man to watch as campaign to topple Shinzo Abe begins
Shigeru Ishiba has only has 19 members in his faction - one short of the 20 threshold required to nominate a challenger for the leadership of the Liberal Democratic Party
Unemployment is at record lows and Japan's economy grew by a respectable 2.2 per cent in the first quarter of the year, the fifth consecutive quarter of growth, making it the longest positive streak in 11 years.
Private consumption and corporate spending are both up, the public has a royal wedding to look forward to and Prime Minister Shinzo Abe has scored points with the public by paving the way for Emperor Akihito to abdicate next year.
Abe's public support rate remains at a comfortable 55 per cent, despite the inevitable odd wobble to hit the administration, and he is on course to rival Junichiro Koizumi as the longest serving prime minister of Japan since the 1960s.
Yet Shigeru Ishiba senses that Abe is vulnerable. And this heavyweight of the ruling Liberal Democratic Party has started a gradual campaign to usurp Abe as party leader and prime minister.
Ishiba, a 60-year-old former minister who was born and grew up in rural Tottori Prefecture in south-west Japan, held a fundraising party in Tokyo on May 9 for a faction - named Suigetsukai - that he set up within the LDP in September 2015.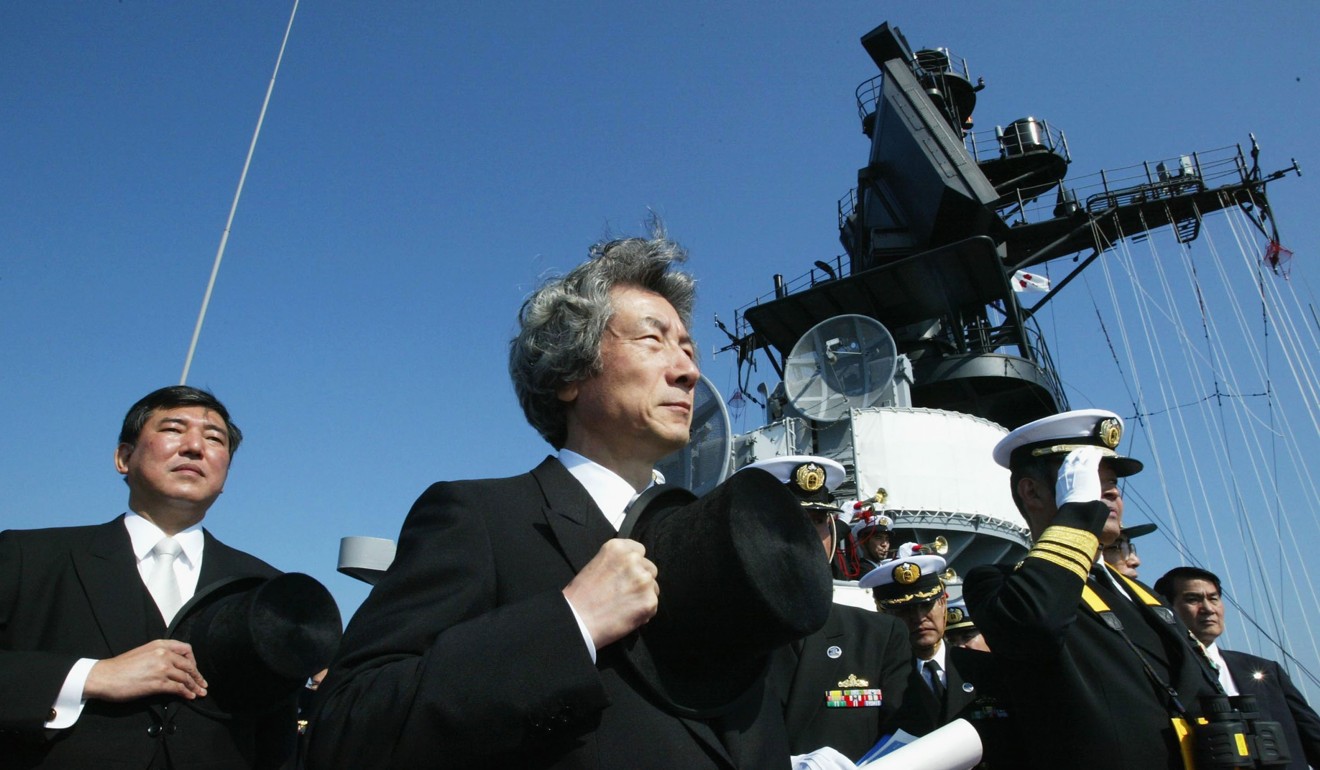 He used the event to set out his plans to seize the leadership of the party in the 2018 election, declaring "I am prepared to say what I must say, whenever necessary, even if I have to sacrifice my own interests.
"I would like to tell the truth with courage and sincerity," he added.
He also used the speech to criticise Abe's decision to water down changes to the Constitution - a political compromise forced on the prime minister by its ally in government, Komeito - and described him as "defeatist."
Abe now wants to add a paragraph to Article 9 of the Constitution that defines the existence of the Self-Defence Forces while simultaneously retaining the section that stats Japan renounces war.
Ishiba rhetorically asked his supporters what the party has been doing if this is the prime minister's decision, and pointing out that it is at odds with many members' positions on revising the Constitution.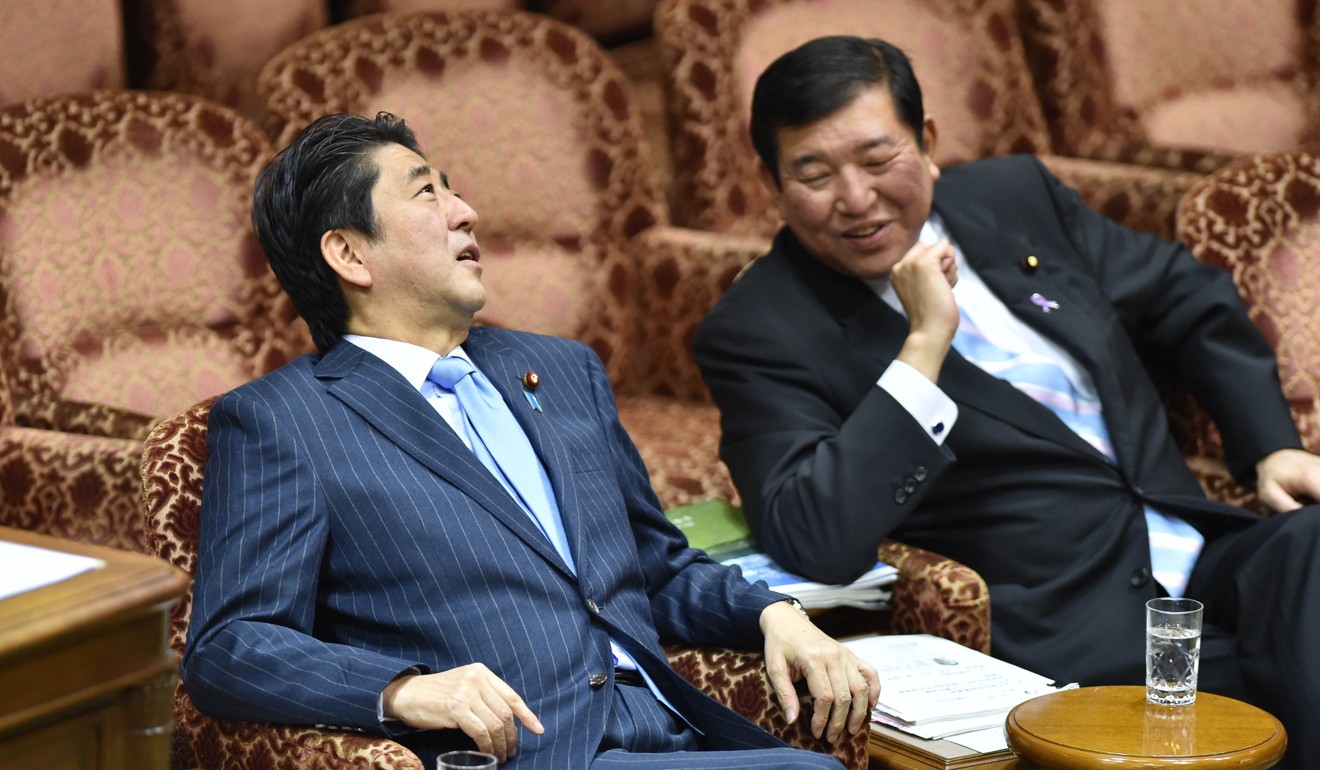 Asked subsequently by reporters to confirm that he was planning to run against Abe, Ishiba replied: "If a person like me, who has held numerous cabinet posts, said 'I am not qualified' [to be prime minister], it would be neglecting their responsibility."
Yet political analysts point out that Ishiba only has 19 members in his faction - one short of the 20 threshold required to nominate a challenger for the leadership of the party. Although that does not appear to have dissuaded him.
"He is obviously positioning himself as someone who is quite different to Abe and if the prime minister falters - and that is a big if - then he would be able to present himself as an alternative who is setting out to win back the trust of the public," said Jun Okumura, a visiting scholar at the Meiji Institute for Global Affairs.
"Ishiba does have a significant amount of support in the provinces, as we saw in the first round of the 2012 LDP presidential election," said Okumura. In the initial vote, Ishiba won a majority of the party's local chapters, although that result was eclipsed in the second round, when LDP politicians selected Abe as their leader.
"I get the sense that Ishiba really is more a politician of the hinterland, a straight-talker who can appeal to all people from across all walks of life and levels of education," Okumura said.
"Abe, on the other hand, is the political blue blood descended from a former prime minister."
And if Abe has come in for criticism for his nationalist leanings, Ishiba arguably outperforms him in that department.
A former defence minister, he retains a deep interest in military affairs and repeatedly stated that Japan needs to create a military unit modelled on the US Marine Corps and trained to protect Japan's many outlying islands from invaders. He has also expressed support for Japan maintaining the ability to build nuclear weapons at short notice as a "tacit nuclear deterrent".
Ishiba has also said that Japan has the right to deliver a pre-emptive strike against North Korea.
"I actually believe that Ishiba is deeply ticked off that Abe has gone back on the more extensive revisions to the Constitution that were promised," he added.
"And while that may have been what Abe and the majority of the party originally wanted, the prime minister is a realist and, inevitably, had to make concessions to Komeito," Okumura said.
"His position will be that these revisions are better than nothing; Ishiba clearly disagrees and is refusing to keep quiet."
Yet with the country doing well and Abe enjoying the support of the majority of the party and the Japanese public, Okumura agrees that "Ishiba is true to himself but, realistically, he has very little chance."
This article appeared in the South China Morning Post print edition as: Rival sets sights on Abe's job as PM's popularity peaks