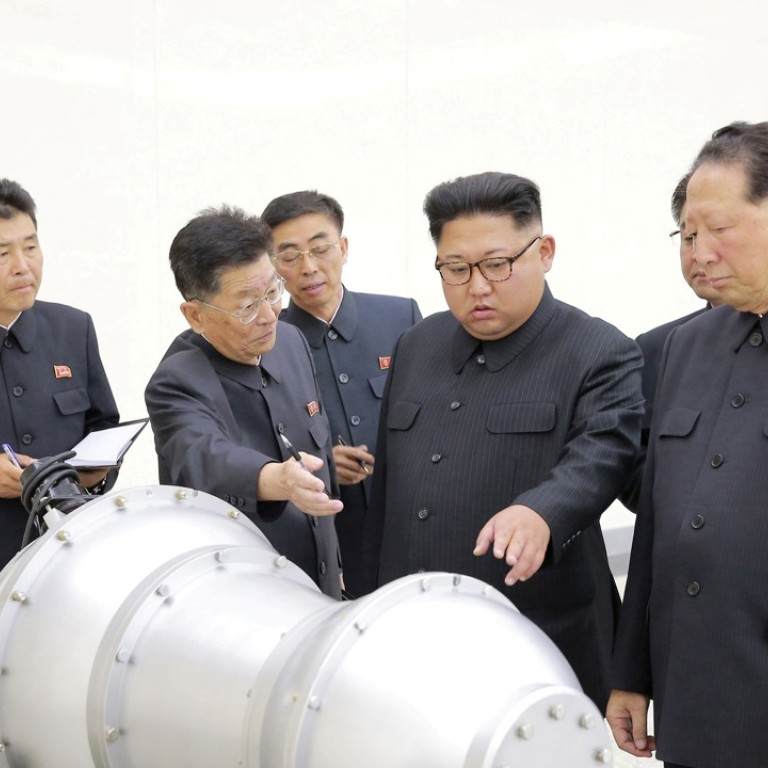 North Korea nuke test 10 times bigger than Hiroshima, caused landslides above blast zone
38 North website publishes satellite images taken Monday showing changes in the surface at the Punggye-ri test site where the ground had been lifted into the air by the tremors
Japan Wednesday again upgraded its estimated size of North Korea's latest nuclear test to a yield of around 160 kilotons – so powerful it triggered landslides in the detonation area and beyond.
This marked Tokyo's second revision higher after previously giving estimates of 70 and 120 kilotons, making it more than 10 times the size of the Hiroshima bomb.
The underground blast on Sunday caused a 6.3-magnitude earthquake, according to the US Geological Survey, and was followed a few minutes later by another with a magnitude of 4.1.
It lead to suggestions that the mountain over the site
could be at risk of collapsing
, potentially releasing radioactive material into the atmosphere.
Pyongyang said the test was of an H-bomb that could be fitted onto a missile, heightening tensions over its weapons ambitions and prompting global condemnation.
Satellite images of the Punggye-ri nuclear test site before and after the sixth nuclear test. Photo: 38 North
The respected 38 North website, which is linked to Johns Hopkins University in the US, published satellite images taken Monday showing changes in the surface at the Punggye-ri test site where the ground had been lifted into the air by the tremors, and small landslides going into stream beds.
"These disturbances are more numerous and widespread than what we have seen from any of the five tests North Korea previously conducted," it said.
A closer look at the Punggye-ri test site suggests disturbance of gravel and scree fields after the sixth nuclear test. Photo: 38 North
"There does not appear to be any evidence of a collapse crater, as might have been suggested from the post-test tremor," it added.
Japan's Defence Minister Itsunori Onodera told reporters that his ministry's upward revision to 160 kilotons was based on a revised magnitude by the Comprehensive Nuclear-Test-Ban Treaty Organisation (CTBTO).
"This is far more powerful than their nuclear tests in the past," Onodera told reporters.
The US bomb that destroyed Hiroshima in 1945 carried a yield of 15 kilotons.
Japan's latest estimate far exceeded the yield of between 50 and 100 kilotons indicated by UN political affairs chief Jeffrey Feltman at the UN Security Council.
Early Wednesday, Onodera held telephone talks with US Defence Secretary Jim Mattis and both agreed to step up "visible pressure" on North Korea, the ministry in Tokyo said.
"North Korea's nuclear and missile development is at a new stage of grave and imminent threats," Onodera told Mattis, the ministry said, adding that his US counterpart shared the view.
Pyongyang's Sunday test of what it described as a hydrogen bomb designed for a long-range missile triggered global alarm and has divided the international community as it scrambles for a response.
Watch: US accuses North Korea of 'begging for war'
US Ambassador Nikki Haley told the UN Security Council that Washington would present a new sanctions resolution to be negotiated in the coming days, but Russian President Vladimir Putin on Tuesday rejected US calls for more sanctions as "useless".
Putin's comments appeared to have widened a split among major powers over how to rein in Pyongyang, pitting Moscow and Beijing against Washington and its allies.
Japanese Prime Minister Shinzo Abe is expected to press Putin for his support over the North Korea's provocation, when the two leaders hold talks in the Russian Far East city of Vladivostok on Thursday.
"We have to make North Korea change its current policy and understand that there is no bright future if North Korea continues the present policy," Abe told reporters ahead of his departure.
Abe, who will separately hold talks with South Korea's leader Moon Jae-in in Vladivostok, said he wants to send a message to the North from his two talks with Putin and Moon.
US President Donald Trump tweeted on Tuesday that he would allow Japan and South Korea to buy more "highly sophisticated" US military equipment.
Pressed on this during a regular news conference, Japan's Chief Cabinet Secretary Yoshihide Suga declined to comment on the specific proposal, saying only that Tokyo would continue to purchase necessary equipment from the US and other countries.